#Hindustan_ke_dil_dekho (Zero) #Dadas_MP_soloride #আবার_অরণ্যে …. It could have been Cliffhanger or Chardham or even the Mae Hong Son loop … But this time I chose a less glamorous destination compared to all, in spite of the possibility of incurring much greater expenses. I chose the less discussed #Madhya_Pradesh this time. When I ask myself Why the answer that I come to my mind is:-
I want 14 days of "me-time". It's these own personal solitary times that I can reflect best on self, motorcycling and life.

I want to see some good, serene jungle and Tiger… If you have seen a Tiger once in its natural habitat, will you realize what "Being a Tiger" actually implies? It definitely is a huge, huge adrenaline rush.

I am intrigued by the Narmada River, which flows through the most awe-inspiring and fascinating landscape in the country. Mythologically too, it is said that our holiest river Ganga, bathes in Narmada to purify herself; such is the glory of Narmada. I want to feel Narmada in my veins.

Talking of rivers and landscapes, who can forget "Chambal ki Ghati", and the fear of the Dakus, to include Gabbar Singh Gujjar (made immortal by Amjad Khan in Sholay), Phoolan Devi and Pan Singh Tomar.

I want to feel the footsteps of Purushottam Sri-Ram, Lakshman, Sita, Veer Hanuman… the characters who stay in the core consciousness of us Indians.

My appetite for history is unending.. From Neanderthal man's painting to Ashoka's benevolence and art, Akbar and Tansen's friendship, Scindhia's glory, Lakshmibai's spirit.. all are my food for thought.

Finally, I am at my best… alone, on my motorcycle… looking for Stories, contemplating, feeling. It's a selfish, happy, solitary time for I, me, myself. Where I am not moment to moment accountable. A welcome break from my professional life.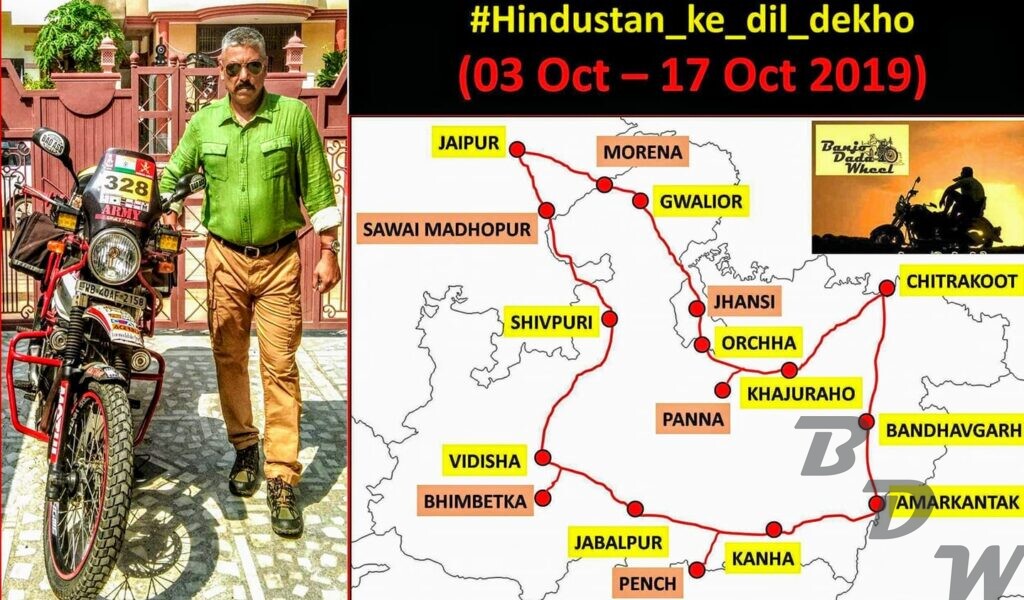 The route plan is given in the schematic map in the photo. It will give a good idea about the circuit I shall cover. It's approx 4000+ km in 14 days. As I usually do, I'll post interesting snippets and pics #From_the_road as I encounter them; and every night, I shall give a comprehensive write-up covering all aspects and info including pics, and my thoughts for the day. Writing will be in mixed language (80% English, 20% Bengali). The hashtags may help in connecting the reads and pics. A hilarious info… I got tired of riding with Black Tees (as it is, I am not a Safety-jacket and trouser man). So changing my dress this time… See Dada riding in colourful shirt & cargo, instead of the traditional black.
 গোদা বাংলায়…
"দাদু গেল চমকে,পাড়া গেল থমকে
মাথা গেল বমকে, কি দেখে ভাই?
খোকাবাবু যায় সবুজ জামা গায়
বড় বড় দিদিরা সব উকি মেরে চায়"
I shall be immensely happy if you stay with me during the solo ride. I enjoy my evening Old Monk and Adda with friends. Also, your likes, comments, queries, observations, suggestions keep me motivated, strong and going… Because I feel connected to all of you on my ride. একটা আমার প্রিয় ডায়লগ দিয়ে আজকের মতো শেষ করি "আমি জংলী নই' আমি আলতামিরার মতো বাইসন আঁকতে পারিনা"। Marching off now… Let's Ride … Cheers to the 14 days ahead!
#আবার_অরণ্য …. Reached #Gwalior in good time. Started at 3-15 am and reached around 9-45 am. (330 km in 6.5 hrs). Quick checking in at Oyo facility, freshening up and off I went out to know the city, fort, temples saturated with heritage.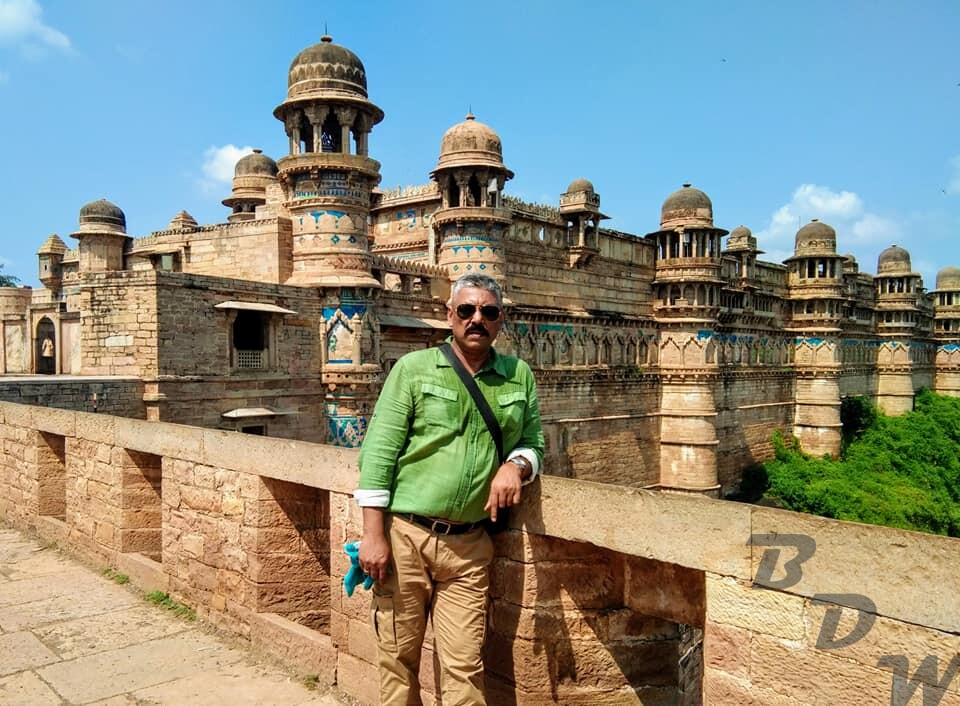 #Road_taken. From Jaipur, I took the Jaipur-Agra Highway till Bharatpur and thereafter turned right to take the Agra – Dholpur Highway, crossed Morena and the Chambal River, turned right onto the Dholpur – Jhansi Highway and bifurcated left to reach Gwalior. The last 30 km to Gwalior is in bad shape and takes more than an hour to cover. The city roads in Gwalior city are desperately bad, and the erratic city traffic can leave even the cooler guys frustrated like hell.
#Chambal_ke_Ghati. My quick breakfast (two roadside puri sabji and a cup of tea) was on the Ghati itself, on the banks of the Chambal river. I remembered a few interesting facts which had automatically registered in my mind long back. Did you know, that the general area of Bhind-Morena was the kingdom of Shakuni (Duryodhan's maternal uncle) of Mahabharata. The ill-fated game of dice between Pandav and Kaurav was played here, and here only Draupadi's shameful disrobing took place. Draupadi cursed that this kingdom's men will be robbers and drink Chambal's water (which was bad then, since Chambal is fabled to have been born with the flowing blood of animal sacrifice. Today Chambal river is one of the few pristine rivers left though) and their women will never be able to safeguard their honour (the area was the Rape capital of India till late 80's and still figures high on the list). Thinking about Gabbar Singh Gujjar, Phoolan Devi, Pan Singh Tomar, Nirbhay Gujjar… I wondered if the place strife with social and caste discrimination, women oppression and with an external calm, is still suffering from Draupadi's curse. A quick breakfast, a few photos of the dangerous Beehad, and Shwet_Agni sped off.
#Gwalior_at_present. I always thought that Gaya is the worst possible city in India. I am convinced today, Gwalior will give Gaya a stiff competition in coming last. Smeltering hot, dusty, dirty, narrow roads, broken to the state of nonexistent roads, zero traffic discipline, people… I wish I had something good to say. I can only wish good for the city… Because if you are in a dark abyss, the only thing you can do is improve.
#Heritage_of_Gwalior. My jaws dropped reading and knowing about the city; and yours will too, if you take the trouble. The centerpiece of Gwalior city (ancient name Gopaparvat, Gopachal Durg, Gopagiri, Gopadri) is the Gwalior fort. I can write 20 pages of the fort's history, but won't bore everyone. I'll just list out the Dynasty (and one/two most famous rulers) who had owned Gwalior fort. That itself will give you a fair idea that Gwalior and its fort is as old as India itself:- Nanda of Patliputra – Naga (Saisunaga) – Kushana (Vanasphara) – Yaudheya – Arjunayanas – Kuninda – Malava – Naga (Ganapati, Bharasivas) – Gupta (Samudragupta, Kumaragupta) – Huna (Mihirkula) – Gurjara Pratihara (Nagabhatta, Bhoja, Mahendrapala) – Chandela (Dhanga) – Kacchapaghata (Vajradaman) – Mahmud of Ghazni invasion – Muhammad Ghori – Qutbuddin Aibak – Iltutmish – Pratihara -Yajvapela – Balban – Khilji – Tomar_Rajput (Man Singh Tomar) – Mughal (Babur to Aurungzeb) – Maratha (Scindhia) – British in absentia – Scindhia – Sepoy Mutinee – British (Scindhia) and now Government of India. The great scholars who visited include Jiauddin Barauni, Ghous Muhammad, Tansen, Ibn Batuta, Guru Hargobind, James Tod and many more.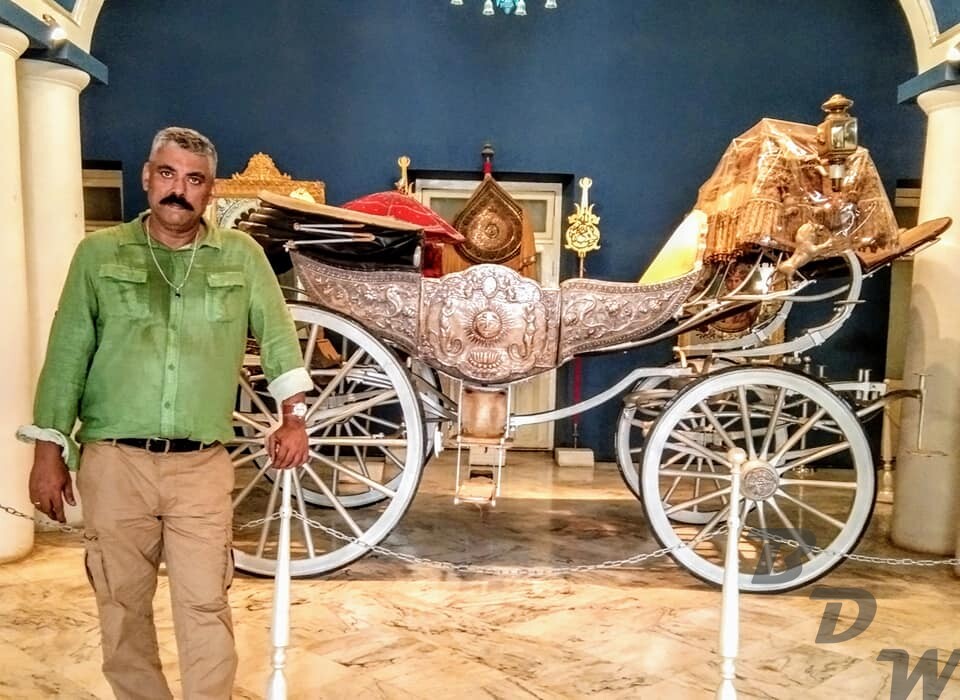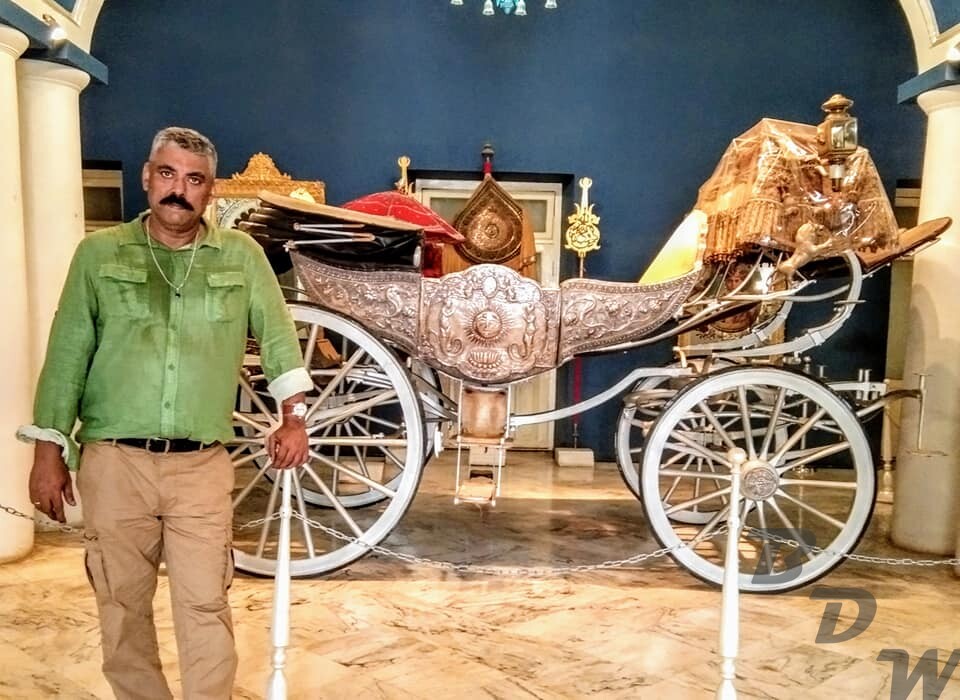 #Gwalior_Fort. You can call me a (self-styled) pundit on forts and monuments and studying about ancient warfighting is my hobby. I was mindfucked seeing the Gwalior fort. No wonder it is known as "Gibralter of India" Babur called it the "finest pearl in the necklace of forts of Hindustan". At a height of 300 ft on a cliffhang, the layered wall, well-sighted cannon standings, the scarped overhangs makes this fort almost impenetrable (surprising then how it changed hand so many times, Isn't it?? Every defence can fall to superior tactics and psyche). The most famous gates are Gwalior gate, Unwahi gate, Alamgir Darwaza, Badal Mahal Gate, Bhairon Gate, Lakshman gate, Hathia Paur gate etc. The gigantic Digambara Jain sculpture (carved under Dungar Singh Tomar) on the western rockface is unmissable. The fort has seen battle Infinitum and has seen one major Jauhar post Mughal conquest.
#Man_Singh_Palace. Built by Tomar ruler Man Singh between 1486 and 1516, is definitely one of India's more quirkily decorated monuments: its colourful exterior tilework includes a frieze of yellow ducks and mosaics of elephants, crocodiles and tigers in blue, yellow and green and is now considered the only intact pre-Mughal palace in India. It's a labyrinth of a building on four levels, often referred to as Bhulbhulaiya. Two circular, columned halls on the lower levels were designed for hot weather and connected by 'speaking tubes' built into the walls – and later used by the Mughals as cells for high-ranking prisoners. Some of the darker passageways are now full of roosting bats.
#Gujri_Mahal. Gujari Mahal, Gwalior was constructed by Raja Mansingh for his favourite queen, Mrignayani (who was a Gujjar commoner) in the 15th century. The story goes that after the king succeeded in winning over Mrignayani she demanded a separate palace for her with constant water supply from river Ria and also, she would not observe purdah.. hence, Gujari Mahal was built. It is the best-preserved building with a magnificent external facade.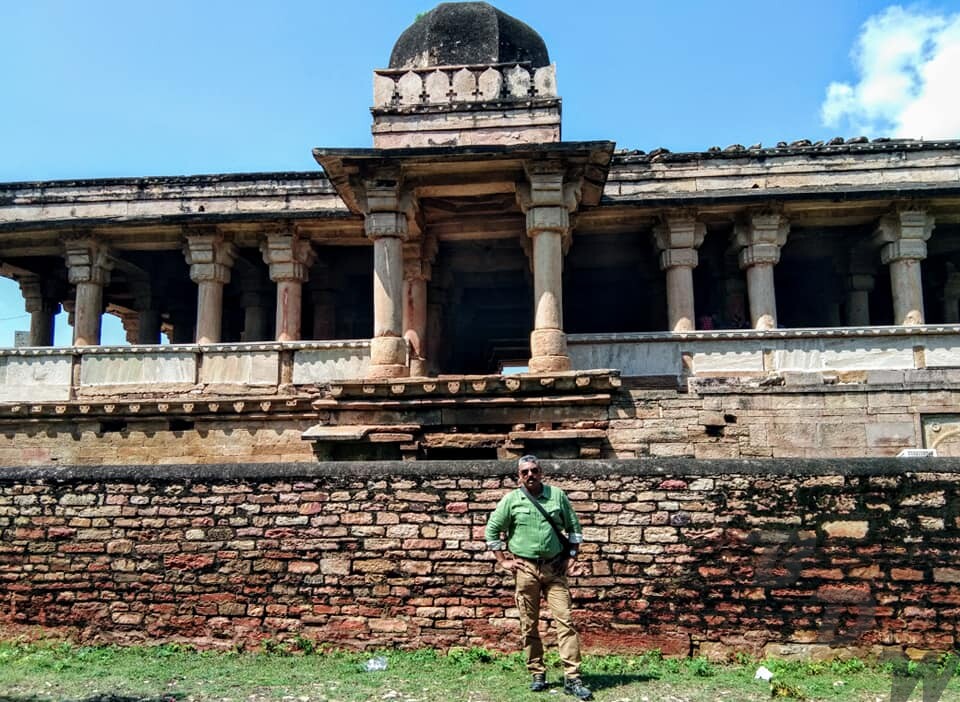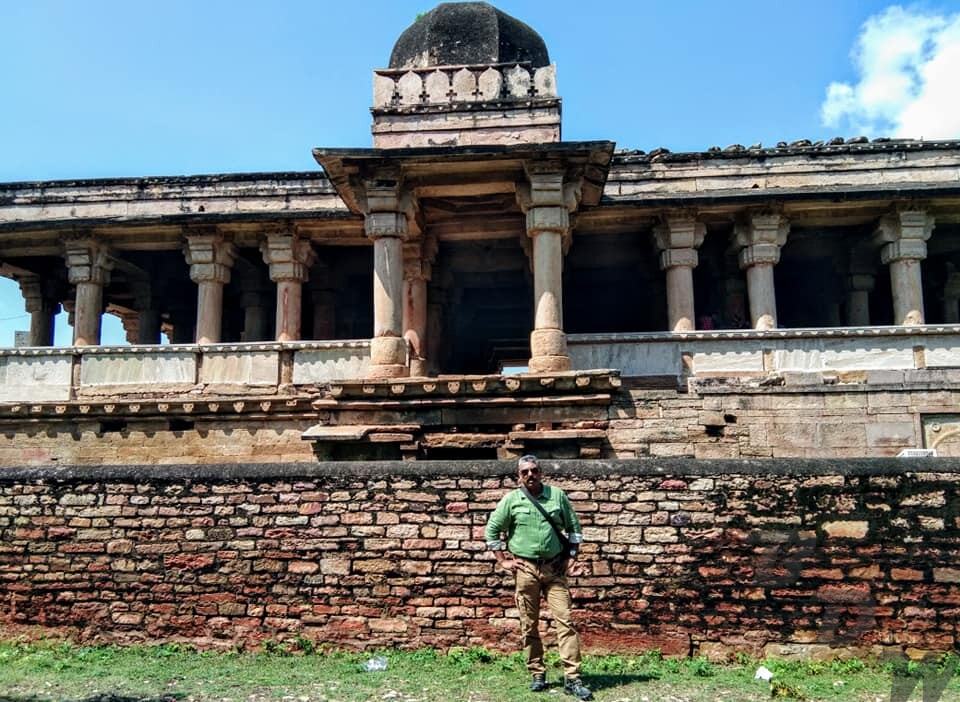 #Saas_Bahu_Temple. 11th-century twin temple of Sahasrabaahu (1000 armed Lord Vishnu in Padmanabha form) which in local lingo has become Saas-Bahu temple. like most Hindu and Jain temples in this region, it is mostly in ruins and was badly damaged from numerous invasions and Hindu-Muslim wars in the region. It was built in 1093 by King Mahipala of the Kacchapaghata dynasty.
#Teli_ka_Mandir. A very unusual Hindu temple, as it has a rectangular sanctum instead of the typical square. It integrates the architectural elements of the Nagara style and the Valabhi Prasada that looks like the Dravidian wagon-vault topped gopuram superstructure. The temple is based on a Pratihara-Gopagiri style North Indian architecture and was probably constructed by the Gurjara Pratihara king Mihirbhoja.
#Gurdwara_Data_Bandi_Chor_Sahib. Gurdwara in a Hindu and Mughal fort!!! Surprised?? The Gurdwara is associated with the nazarbandi of Guru Har Gobind Sahib in Gwalior Fort by Jahangir and his celebrated release in which he managed to win the freedom of 52 Rajas who had long suffered imprisonment in the Fort.
#Tansen_maqbara. Tansen, Ramtanu was from Rewa and was gifted to Akbar by Raja Ramchandra Singh of Rewa. Tansen's spiritual and musical preceptor was Shah Muhammad Ghouse. Both their Maqbara is in a single complex. While Muhammad Ghous's Maqbara is opulent, Tansen's Maqbara is just a simple square Chabutara.
#Jai_Vilas_Palace. Jaivilas Palace was constructed by Maharaja Jayaji Rao Scindia in 1874 at a cost of Rs. 1 crore. It is a fine example of European architecture, designed and built by Sir Michael Filose. A combination of architectural styles, the first storey is Tuscan, the second Italian-Doric and the third Corinthian. A part of being a museum, it is particularly famous for its large Durbar Hall. The interior of the Durbar Hall is decorated with gilt and gold furnishings and adorned with a huge carpet and gigantic chandeliers. The palace is riches personified and may appear to be a shameless display of wealth in a poor nation.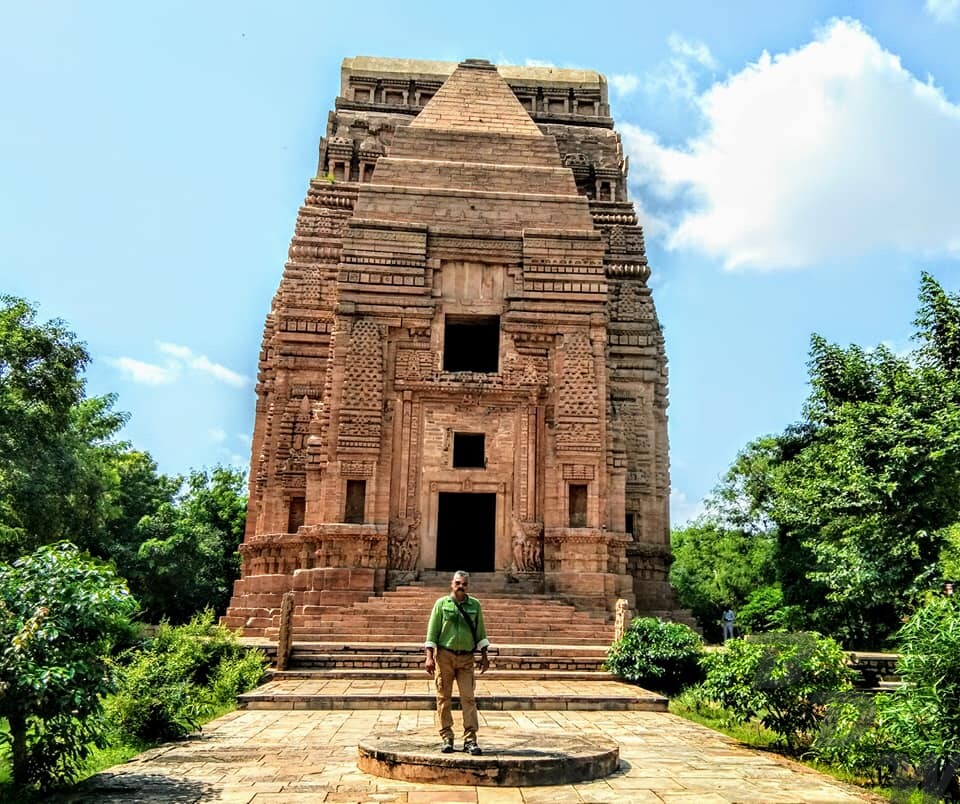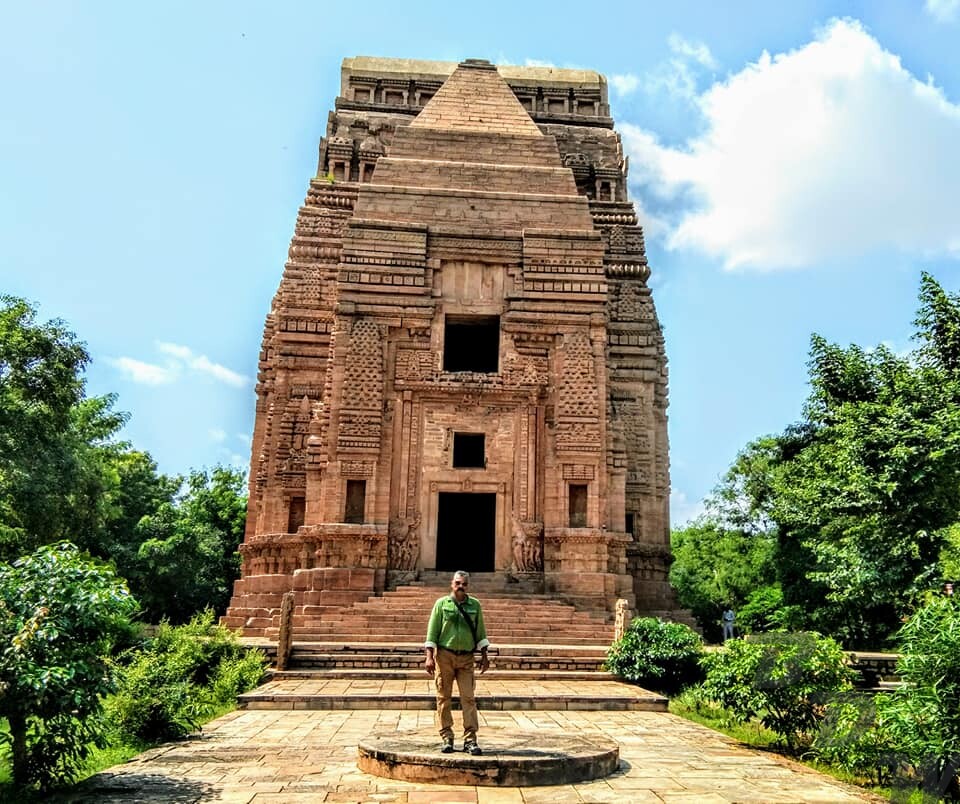 Thoughts
We have a rich heritage. But that means nothing, if most of us are low, senile, uneducated, dirty, immature, intolerant, mysogynist individuals. One can take heritage and shove it inside their ass… But it won't help a nation progress. Nation will go-ahead by the combined will and effort of all citizens… Not by heritage.

Being rich is good… But what good is riches?? For buying cars, and carpets and crystals and furnitures and dress and gold?? Opulent money is of no significance if it doesn't elevate the poverty of fellowmen. Royals are very rich… From my side… They can kiss my brown ass if their money has done nothing for the nation.

Gwalior is so disorganized… You cant find, let alone see anything. I knew this and managed to see almost all in 7 hours… Be ready to get a local along. My hotel boy took me around and got a generous tip. Yet, it's too tiring due to the pitiable city roads and traffic.
#Funny_tidbit
এত ক্লান্ত, যে একটু মদও খেতে পারলাম না। ভাবা যায়??

Tomorrow, #Jhansi and #Orchha calls… Jai Hind.
---
#Dadas_MP_soloride #আবার_অরণ্য …. Reached #Orchha, after seeing #Datia and #Jhansi. The distance today was not much, so started leasurely at 7 am. Had a hearty #paratha_on_highway lying down, personifying #thaat_on_khaat. Thereafter took two important planned pitstops in Datia and Jhansi to see the important pointhof interest. Checked into a comfortable Oyo Room in Orchha. 
(Annotated photos I have posted will help in identifying landmarks and history)
#Road_taken. With my Gwalior frustration lingering, I had asked for directions to a couple of people and thereafter an elderly gentleman gave me the best advice in chaste English; he said with a sense of purpose… "These young idiots will confuse the hell out of you, just use Google map to reach the highway, I use it and it's the best". Apropos, I followed Google and rode by wire literally to hit the Gwalior-Jhansi NH and rode via Antri, Tekanpur, Dabri to Datia. From Datia, continued to Jhansi, and thereafter took the Jhansi Tikamgarh connecter, and a right turn thereon to reach Orccha.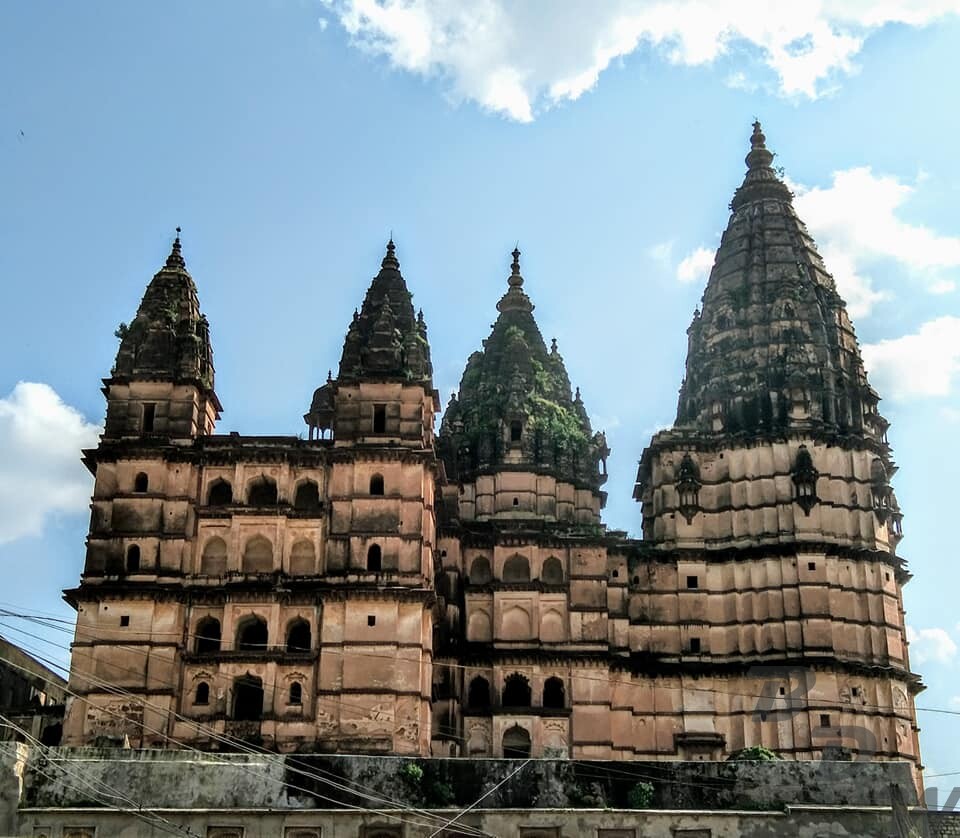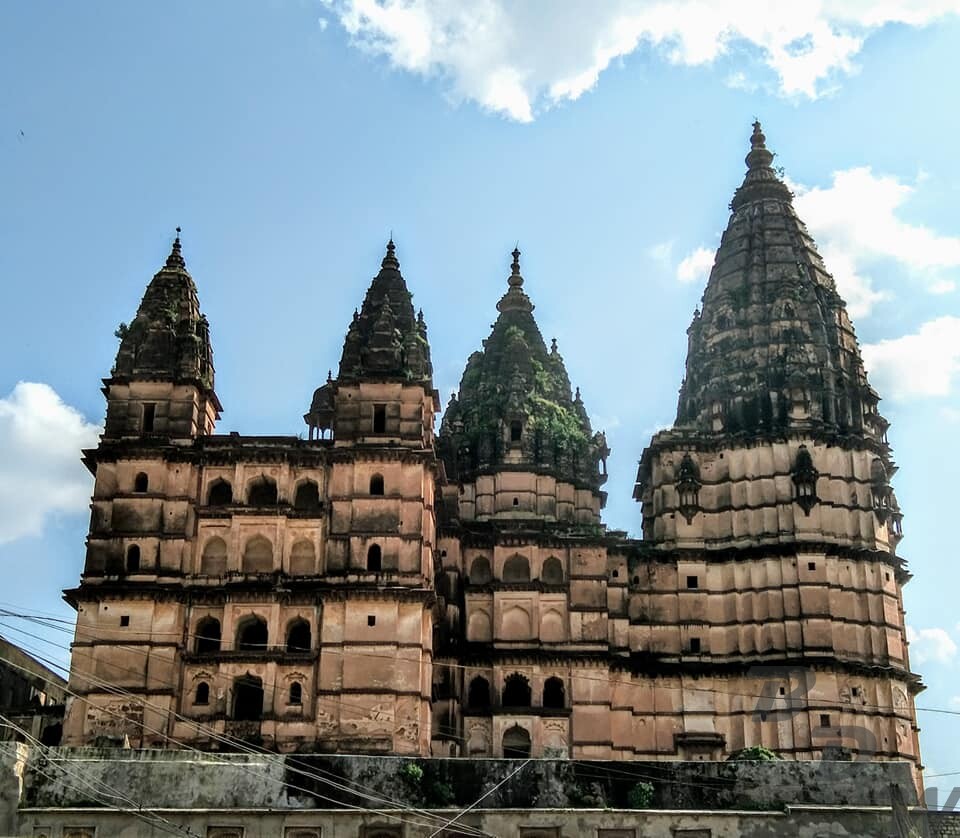 #Datia_Palace. Also called Datia Mahal, Birsingh palace or Satkhandi mahal (its a 7 storey palace with 2 stories underground). Constructed by Raja Birsingh Bundela of Orchha, in honour of his friend Jahangir spending 35 lakh rupees, this palace stands on a hillock on the bank of a huge lake to the south of Datia town. Constructed out of stone and brick and no iron or wood, this palace remains one of the most magnificent palaces in the entire Bundelkhand region. Unfortunately, neither Birsingh nor Jahangir ever came to this palace which remained unstayed forever. It is said that the palace is adorned inside with mind blowing hand-painted murals and frescos, however, the palace is in a terrible state of decay and dilapidation. I approached the local authorities for permission to go inside, however, they tried to dissuade me by announcing the biggest human fears .. Ghosts, snakes, scorpions, bats… Little realizing that all the four excuses quadrupled my interest. Finally, I had to give way to their insistence and administrative protocols and only clicked a few pics from outside.
#Datia_Pitambara_Peeth. It's actually a Shakti-Peeth, where Goddess Bagalamukhi and Dhumavati (part of 10 Mahavidya) are the resident deities. The Shivlingam of Shree Vankhandeswar Shiva is tested and approved by the Archaeological Survey of India to be of the same age as that of the Mahabharata. Mobile is not permitted inside, so I could click some pics from outside. It was a fulfilling darshan of Mother Goddess and Shivji in Navratri.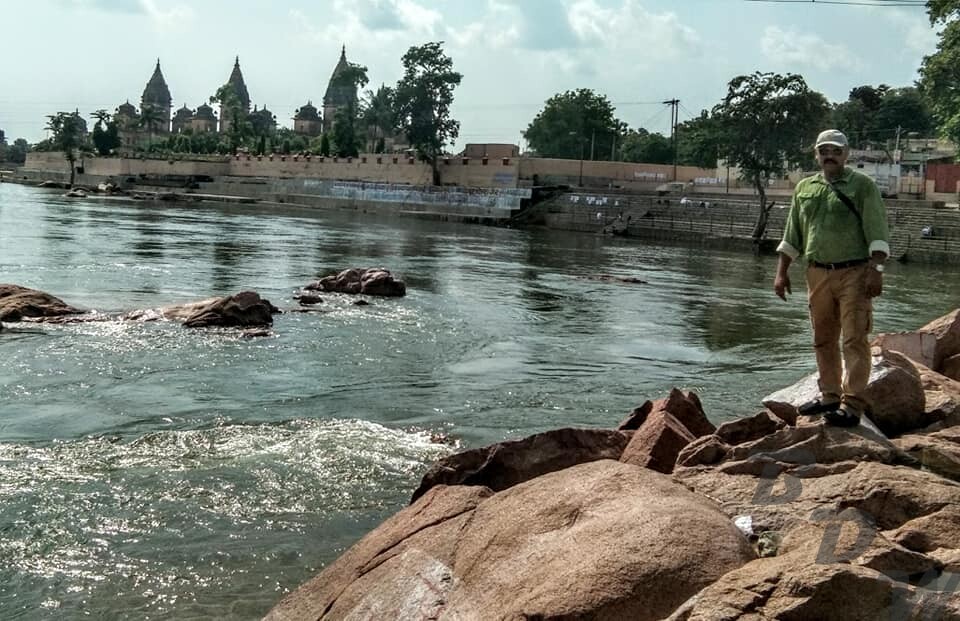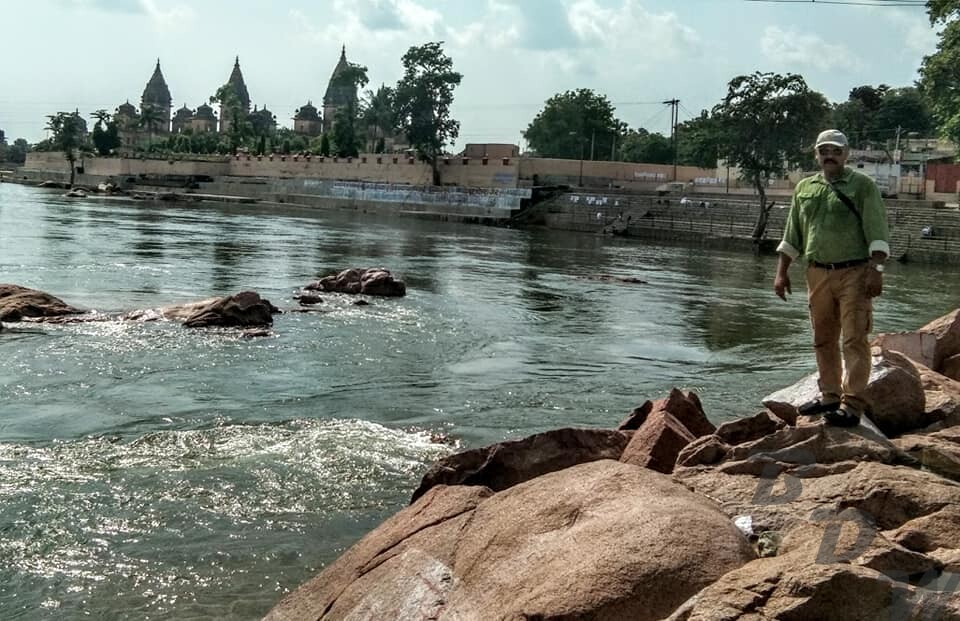 #Jhansi_Fort. It's a small and rather ordinary fort, built by Raja Birsingh Bundela of Orchha. The fort was handed over to Peshwa Baji Rao 1, who in turn handed over the fort to his Subedar (administrator), the Newalkars. The fort came to the limelight when the British applied the Doctrine of Lapse; on the death of Gangadhar Rao Newalkar, citing that his legal heir was a minor and adopted. The British asked Gangadhar's Queen, Manikarnika Tambe (popularly known as Rani Lakshmibai) to vacate the fort and accept a pension of Rs 60,000 per year. Lakshmibai denied and joined hands with the Revolt of 1857, personally leading troops of Jhansi against the British. In 1858, when the fort was under siege, Lakshmibai made a daring escape on HORSEBACK, JUMPING FROM A 30 FOOT HIGH WALL WITH NAKED SWORD IN HAND AND AN INFANT TIED ON HER BACK WITH DUPATTA. This is not the first time I am seeing this wall, but every time I see it and try and think… "CAN I JUMP ON A MOTORCYCLE FROM THIS WALL?".. and honestly speaking, every time "MERA GAAND FAT JAATA HAI". That's why… Rani Lakshmibai is a true Heroine and a Legend. (Don't miss the photo of the exact spot).
#Legacy_of_Orchha. Orchha was probably founded around 1530-40, by Rudra Pratap Singh of the Bundela Rajput Clan (Bundelas have the story that one of their ancestors cut off his own head and sacrificed to Mata Durga… the droplets/ boond of blood mixed with the soil and with this soil, the future clan was reconstructed by Mata Durga).
He created the Orchha Fort complex, which in itself houses many interesting monuments. Some of the interesting things that I saw are appended below:-
#Raja_Mahal. The royal residence of erstwhile kings of Orchha, was built in the 17th century by Madhukar Shah Bundela. The most popular feature of this palace is the huge towers crowned by 'Chhatris' present in its outer premises and the boldly coloured mural paintings based on Hindu religious themes present in its interiors.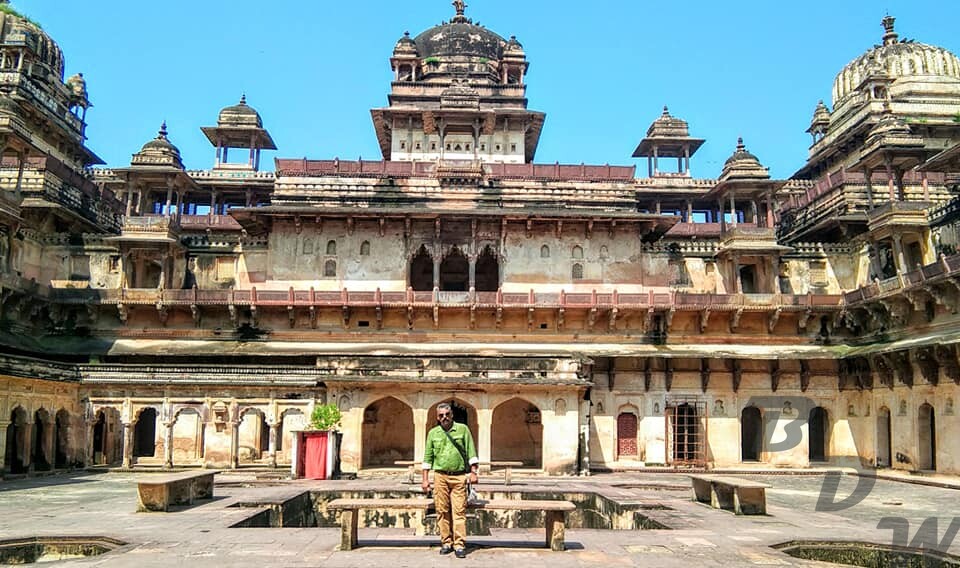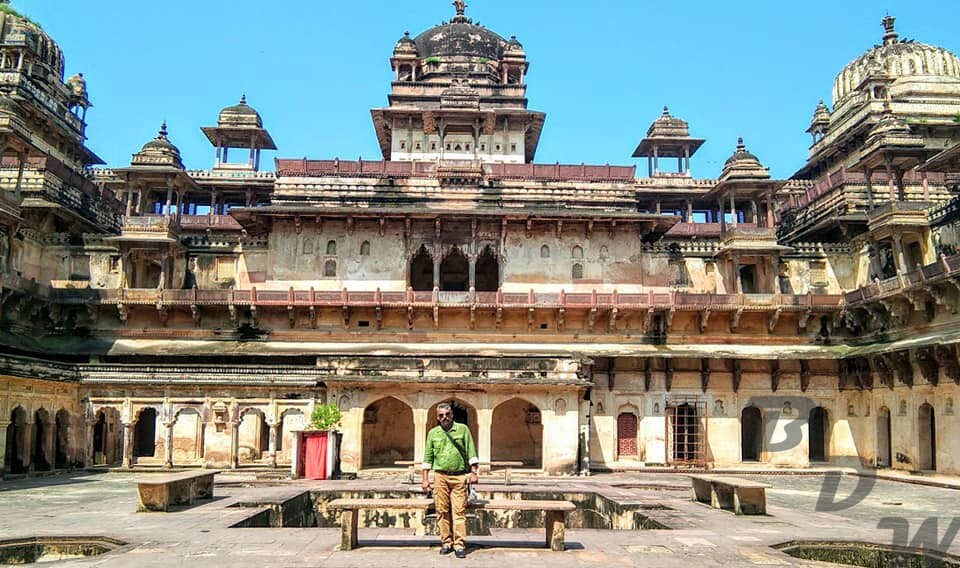 #Sheesh_Mahal. Adjoining the Raja Mahal and currently a high-end hotel; this building has amazing elevated balconies. Its different floors are interconnected via proportional paths present on its all four sides and mandapa styled courtyards.
#Jahangir_Palace. Also sometimes loosely referred to as Rani Mahal, this palace was basically built in the honour of the visit of Jahangir to the city of Orchha. This palace is perhaps the BEST EXAMPLE OF INDO-ISLAMIC architectural styles enhanced by its ornate gateway. The three-storied Mahal with 443 rooms, hanging balconies, terraces, apartments, and onion domes is a sight to behold. This palace was also the residence of Queen of Raja Madhukar Shah, whose room was decorated with mural paintings depicting scenes from Ramayan.
#Rai_Parveen_Mahal. Dedicated to a poetess named Rai Parveen (a muse Raja Indramani), who was sent to Delhi on orders of Emperor Akbar. This palace is a double storied brick building and was built in 1670. Its second floor is decorated with sculptures in Indian dance poses.
#Chhatris_or_Cenotaphs. Situated on the banks of River Betwa, there are 14 Chattris which are basically the tombs of Maharajas built around their spot of burning. A narrow footbridge across the Betwa river provides the best possible view.
#Lakshmi_Narayan_Temple. A huge temple, built by Vir Singh Deo, in 1622, displays a unique mixture of temple and fort architechture. The altar of this temple is constructed in the shape of a female genitelia, representing some tantrik ideology. The main attractions though are the ancient mural wall paintings in the inner walls of this temple reflecting a mix of Mughal and Bundela painting styles.
#Ram_Raja_Temple. The most famous temple of Orchha where Lord Rama is worshipped as a king. According to legends, Queen Ganeshi Ju went to Ayodhya to fetch Ramlala to Orchha. After a tough penance, Ramlala appeared in the form of a small boy and agreed to travel to Orcha on the lap of the Queen, but said that if he was put down from the lap, he wouldn't get up again. Also, once he reached Orchha, nobody will be called a Raja, except Ram. The Queen agreed… Ramlala in physical form came to Orchha on the lap of the Queen, however, the grand temple for him was not ready yet. The Queen had to put the small boy down from her lap on the kitchen floor of her palace, and the boy turned into a statue. In a few days, when the grand temple was ready, people tried to move the statue, but that couldn't be done despite all effort. Henceforth, Ram resides in the kitchen of the Queen's palace, which has become the Ram raja temple.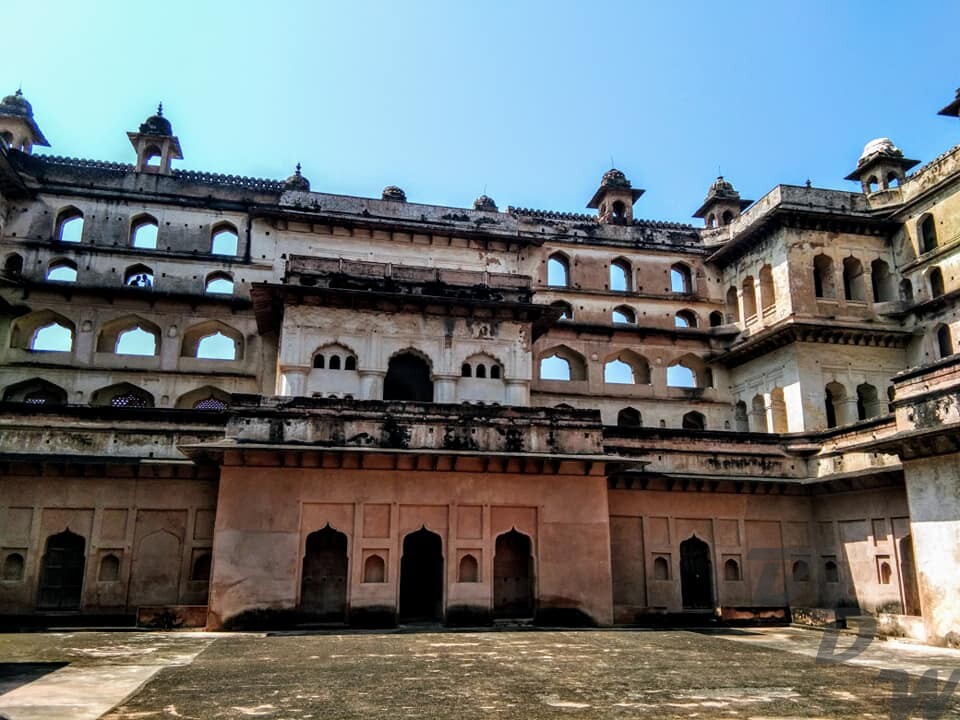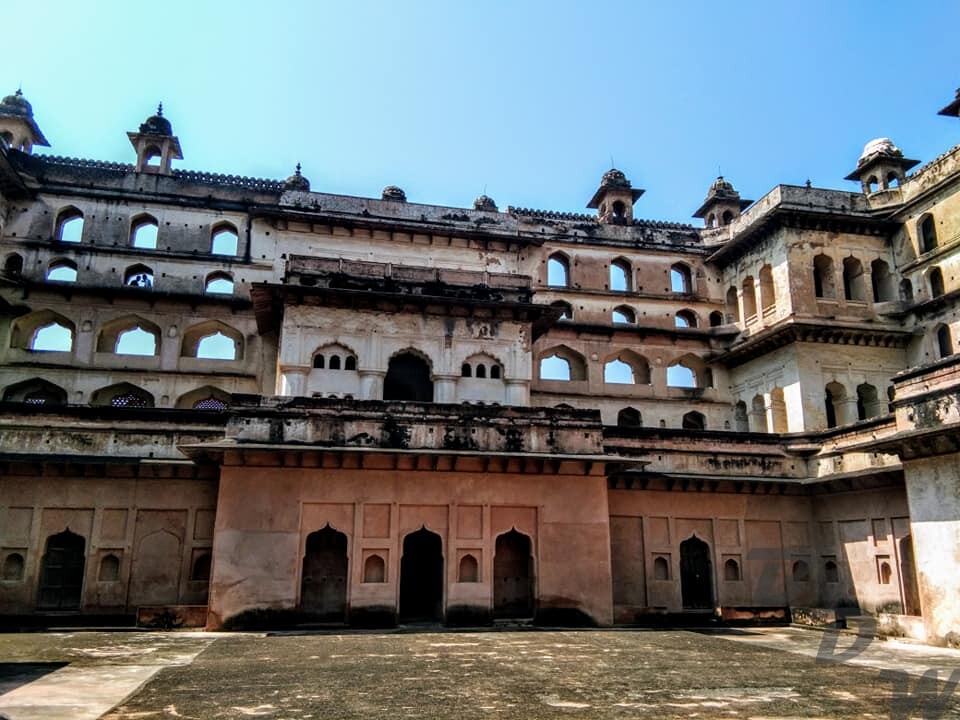 #Chaturbhuja_Temple. The grand temple which was built for Ram in which Ram could never be brought in, was later commissioned with a four-armed statue of Lord Vishnu. A grand example of interior Indo Islam architecture… The Chaturbhuja Temple is an awe-inspiring structure to behold.
#Hardaul_Baithki. Hardaul was the brother of one of the King of Orchha. Due to some conspiracy by Mughal's kings Hardaul's brother poisoned him. Later on, king realized his mistake and made this cemetery which has a strong appeal amongst the locals.
#Sawan_Bhado_Pillars. Though some local story exists about some brother and sister called Sawan Bhado, but it's uncorroborated. These pillars are actually natural air-conditioners, with an ingenious cooling system. Perforated on the top to catch the wind, while the lower parts were connected to a water reservoir.
#Phoolbagh. Once a fabulous garden, it is currently a mandi of local shopkeepers. No trace of any garden remains. 
There are also numerous minor monuments like Shyam Dada ki Kothi, Risaldar Kothi, Uunt-khana etc.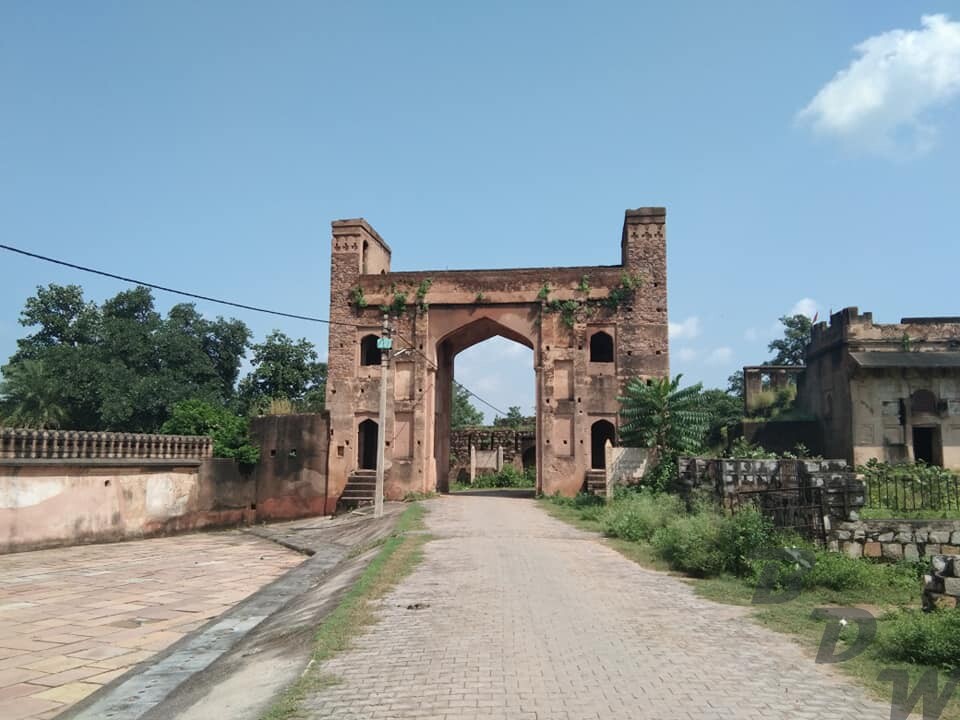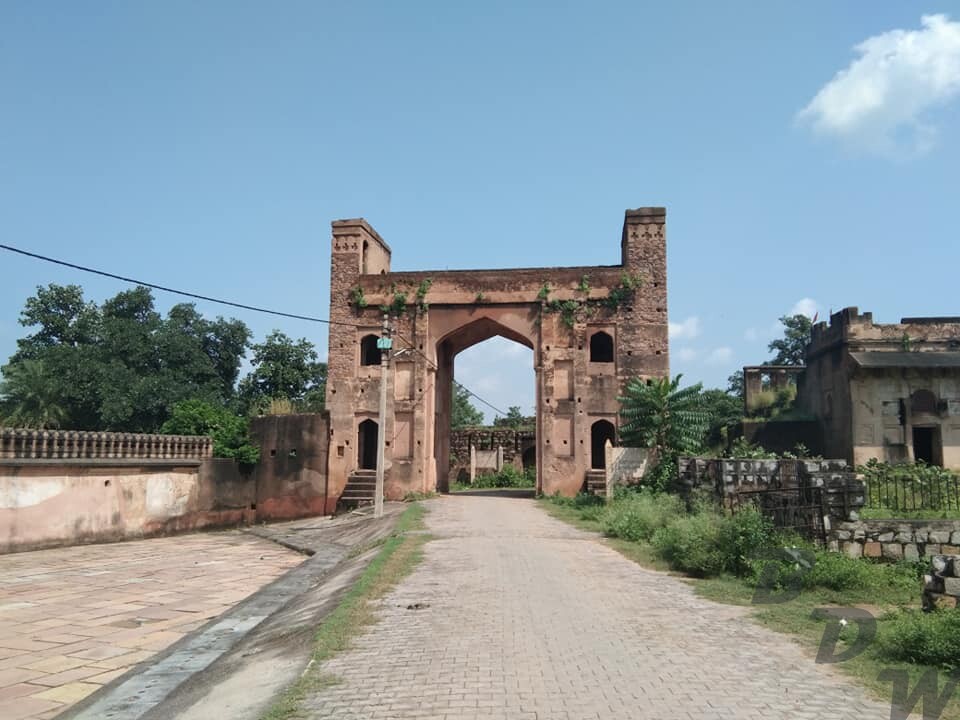 Thoughts
My friends have started calling me up and asking.. "How do you travel so much and write? Has your office given you the pink-slip?" My response… "Don't worry, I am still in a very very high position of the Government; and don't be envious, because I can follow my wishes while you have your excuses. But think for yourself… Why are you all alive?? To go to the office at 8 in the morning, and come back at 10 at night? Why feel disturbed, when someone has succeeded in breaking that jinx. Might as well follow me, take some tips from me on time and family management, rather than ridiculing me."

For heaven's sake… Take a guide. It costs a bit… But guides can show you a place in 3 hours covering all essantials including photo spots… all that you will need 7 hours to find out. My trouble is that often I know history and architecture much more than the guides… That's because I prepare myself and study hugely before any trip. I don't watch TV, play games on mobile etc.
Tomorrow lets see #Khajuraho and understand #Kamasutra… Jai Hind.
---
Reached #Khajuraho. Started from Orchha at 5 and did 180 km in approx 6 hours, roads are in the worst possible condition. Checked into a good 3★, hired a guide, saw Khajuraho temple complexes in detail, took an Ayurveda massage and now with some Old Monk and chillies.
#Roads_taken. Came out from Orchha taking the Orchha-Tikamgarh axis and turned right to catch the Jhansi- Mauranipur NH 39, crossed Barua-sagar, Niwari, Mauranipur, Nowgong, Chattarpur and turned left to Khajurraho. The state of roads in short is pitiable and shameful. In fact, in many places, there is no road, just an alignment cut which the vehicles are using. My wife had worked in Bundelkhand extensively with Bill Gates Foundation and had observed that Bundelkhand is one of the most backward areas in India. I wanted to see it firsthand before I formed my opinion. I think now I concur. It's not money, a car or a house… People are stuck in a time warp of backwardness. Nobody in this part of the country would have heard of "Swachh Bharat" or "Sauchalaya". In fact, the funny (or sad) part is that, since I am a very early morning traveler, I am tired of seeing womenfolk "lota-party" crapping in bunches. Interestingly, they follow a tactic… They sit in bunches on the fields for crapping and all cover their faces. The message from the womenfolk is loud and clear … "I don't mind you, idiot, seeing me crapping, as long as you don't know who I am." Modiji… Do some magic here, it's badly needed.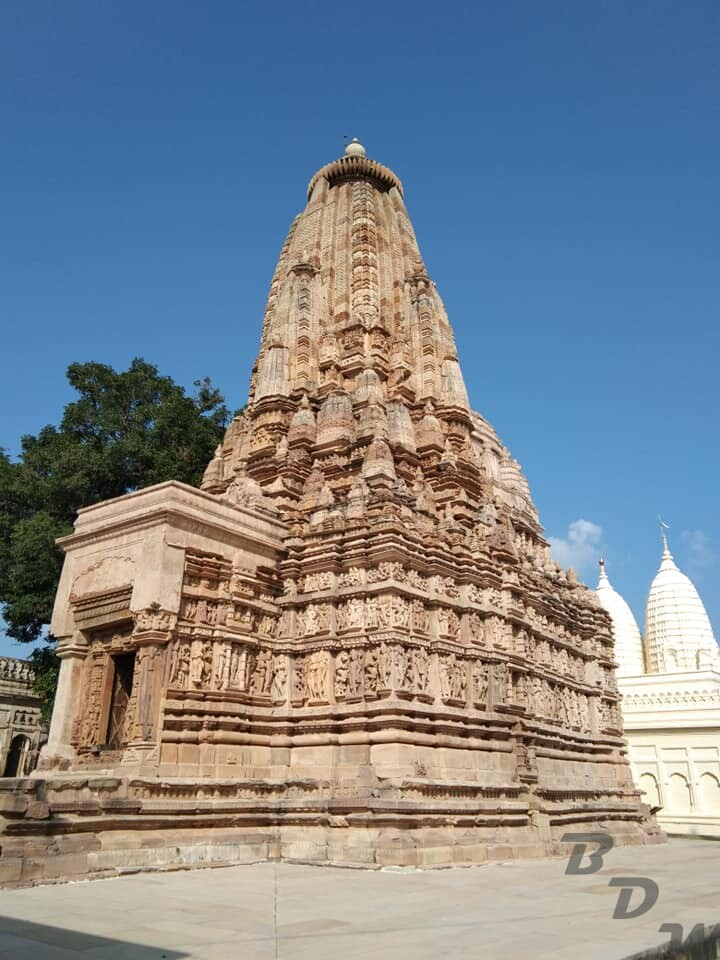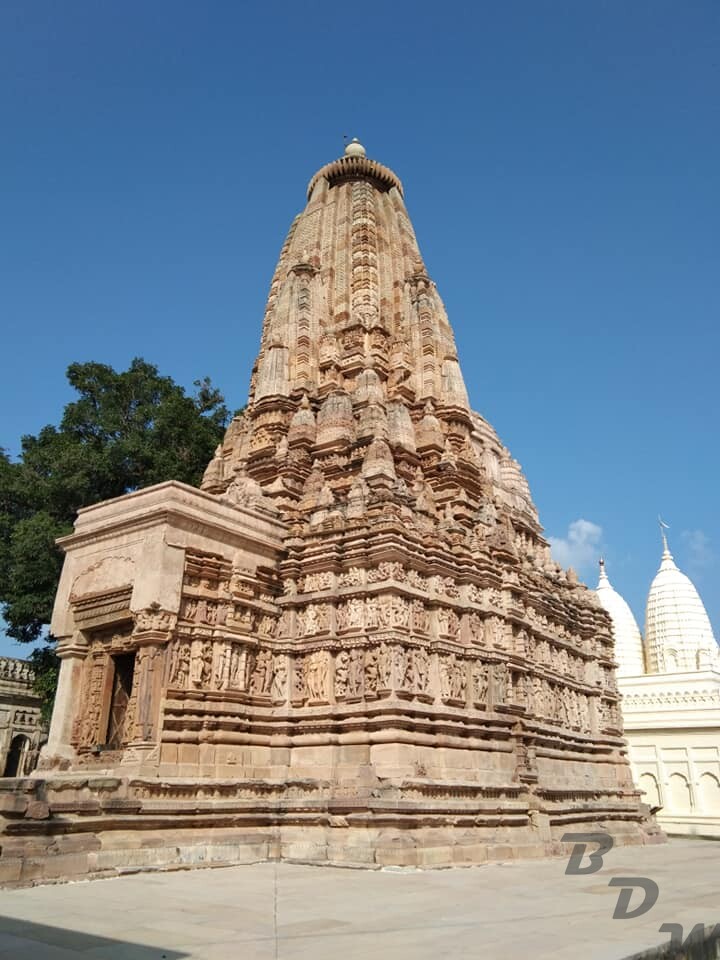 #Khajuraho_legacy. The first recorded mention of Khajuraho temples is in the accounts of "Abu Rihan Al Barani" (1022 CE) and Arab traveler Ibn Battuta (1335 CE). The temple complexes were built by the Chandella rulers between 900 – 1130 CE. The Chandellas ruled over ancient Jejabhukti, were a Rajput mixed blood clan claiming descent from the Moon (Chandravanshi) through the legendary sage Chandrateya. The Chandellas dotted their realm with forts, palaces, tanks and temples in Mahoba, Kalanjar, Ajaygarh, Dudhai, Chandpur, Deogarh and most of all Khajuraho. The most notable among the Chandella dynasty who were great patrons of architecture were Harsha, Yashovarman, Dhanga, Ganda and Vidyadhara.
#Style. Almost all temples of Khajuraho peratains to a cognate style and manifests a distinct and concerted architectural movement. All are built of fine grained sandstone of buff, pink or pale yellow colour quarried from Panna. They are all compact, lofty, on a high platform and all have distinctive ardh-mandap (entrance porch), mandapa (hall), antaral (vestibule) and garbhgriha (sanctum). They are all adorned by intricate sculpted figurine carvings of formal cult figures (sgiv, ganesh, vishnu, kuber, surya, varaha, ashtabasu etc) family, attendant and enclosing divinity (dasdikpalas, gorgoyles, gargoyles , apsaras and sura-sundari (nayika/heroine expressing moods) and erotic couples displaying myriad sexual activities.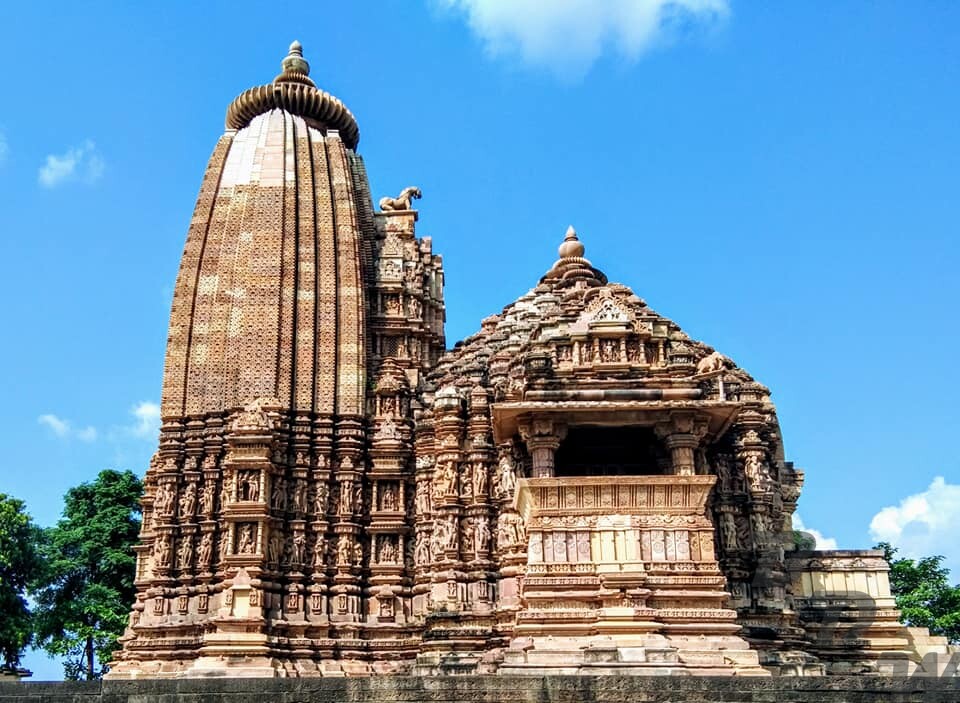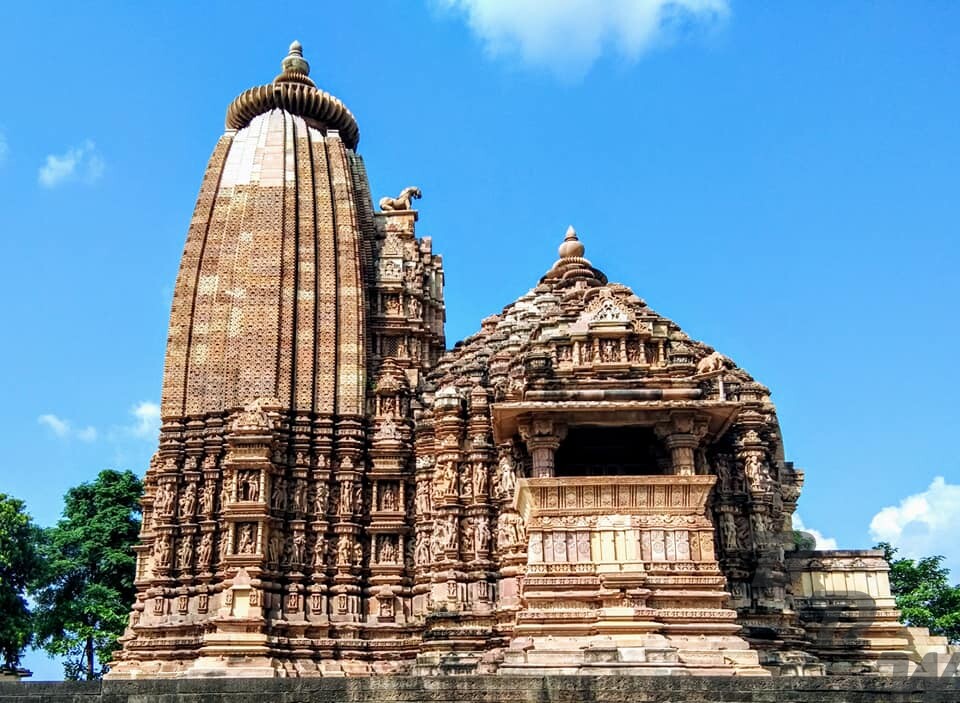 The Khajuraho group of temples have been included in World Heritage List for their "Universal Values" and "Human Creative Genius". One can write a book describing eac temple and each woman figurine with their expression, posture, sexuality and interpretations… Carnal or divine. I wont get into that. Just worth mentioning… " Words cant describe the genius of the artists". Ill simply name the temples that I saw:
#Western_Cluster… Varah Temple, Laxmi Temple, Laxman Temple (most exotic), Kandariya Mahadev (biggest), Jagadamba temple, Mahadev temple.
#Eastern_Cluster… Brahma Temple, Vaman Temple, Jawari Temple, Khkara temple.
#Jain_Complex… Parsvanath Temple, Aadinath Temple, Shantinath Temple. #Southern_Cluster… Dulhadeo temple, Chaturbhuj temple.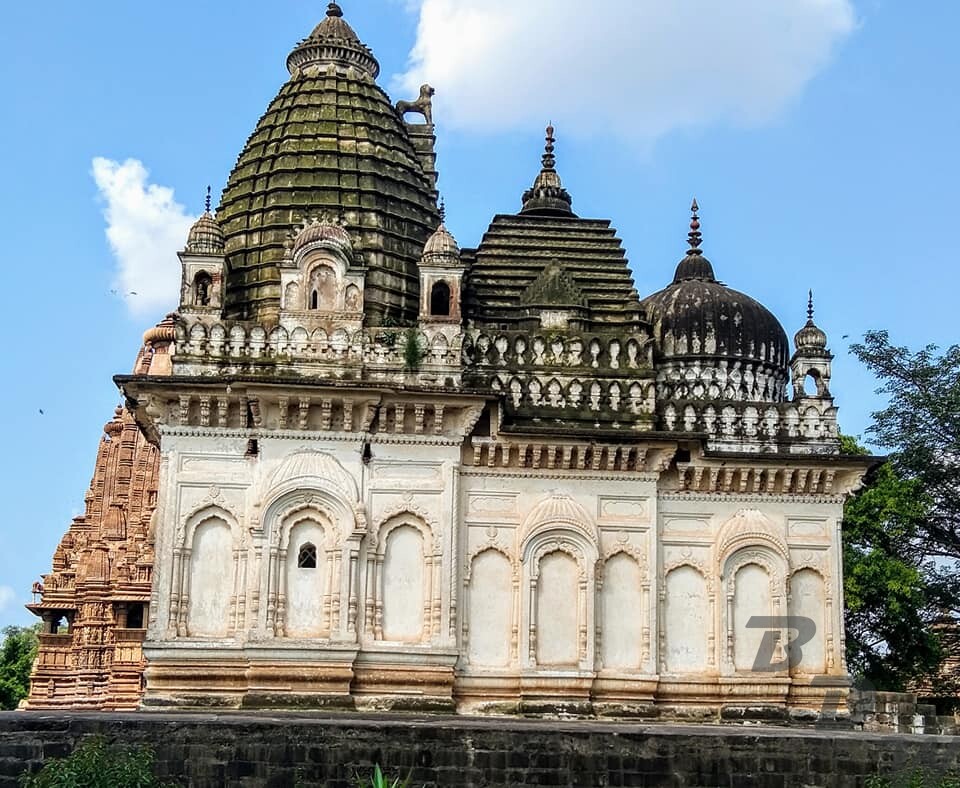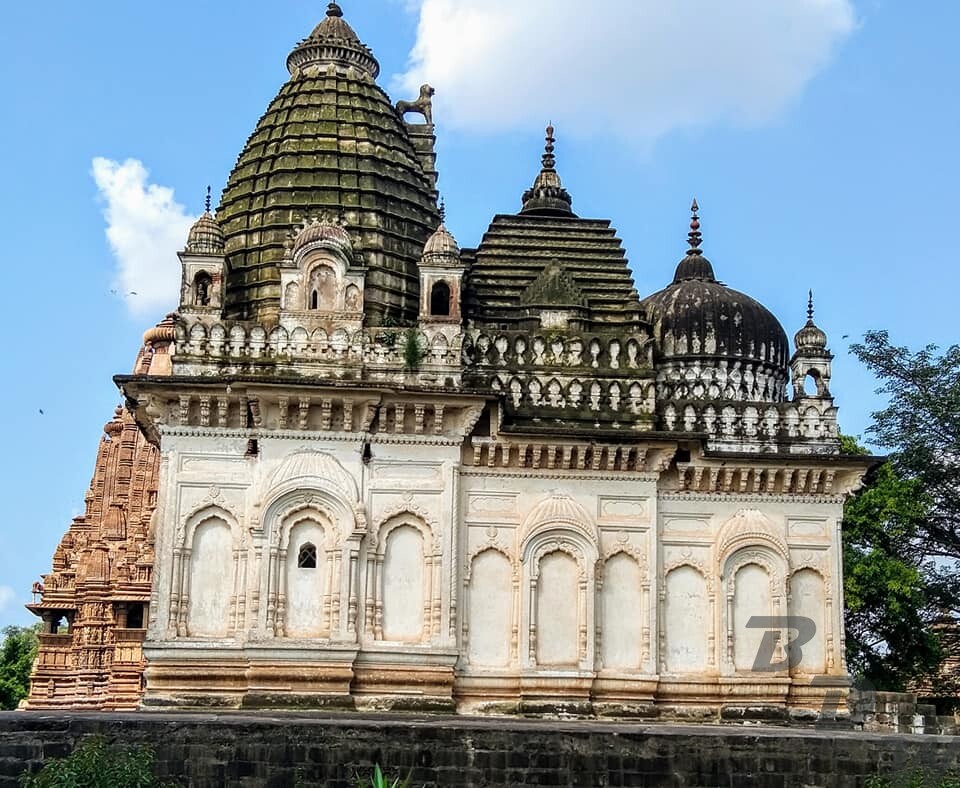 Thoughts
আমি তো দেখতে দেখতে লজ্জায় লাল হয়ে গেছি প্রায়… ওরে বাবা.. ভারতীয় নারী ও পুরুষ যে এমন সাঙ্ঘাতিক #চোদনবাজি বা #চোদনলীলা করে সেই আদি অন্ত কাল ধরে, এখানে না এলে বোঝা যেত না.. শালা সাধে দেশের এত পপুলেশন!! কাজকর্ম ছেড়ে শালা শুধু ইন্টুমিন্টু খেলা!!!! কামসূত্র বলো আর যা ইচ্ছে বলো.. আমরা ভারতীয়রা শালা রাম ঢ্যামনার গাছ!!! বিবাহিত ভাই বোনেরা… পাক্কা দেখে যেও খাজুরাহো … পাক্কা কান গরম হয়ে যাবে (কান ছাড়াও আরও কিছুও গরম হতে পারে)
---
Reached #Chitrakoot. Of course #Ram_exists. My Ram is a very tall, sun burnt dark man with deep piercing eyes, not overtly muscular, but fit to the core. He doesn't smile frivolously, he is in deep thoughts mostly, perhaps appearing to be brooding to others. He speaks deliberately and knows exactly how to communicate with sages, demons, birds, animals. Ram respects women and for who they are and believes in true emancipation. His wife, children, brothers, peers, elders, nature, animals love him and belong to Ram, but they all know in their heart, that Ram doesn't belong to them; because for Ram, "the safety honour and welfare of his Nation comes first, always and every time". My Ram believes in true equality, where all people irrespective of birth, faith, sex has the right to excell in his chosen field. If my Ram had to choose between love and nation, he would choose nation without a second glance. A weapon expert, master tactician and an able strategist.. my Ram is the true personification of the scholar warrior. My Ram will never give up, however tough might be the path chosen, my Ram always chooses the difficult Right from the easier Wrongs. My Ram is sure footed on divinity, he is aware that Life is just a miniscule insignificant part of the big game of the dance of the cosmos, hidden in the locks of Shiva and mouth of Vishnu. My Ram is nothing like the million of Indian's Ram. My Ram inspires me… I want to be like Ram… Who says " Ram doesn't exist"??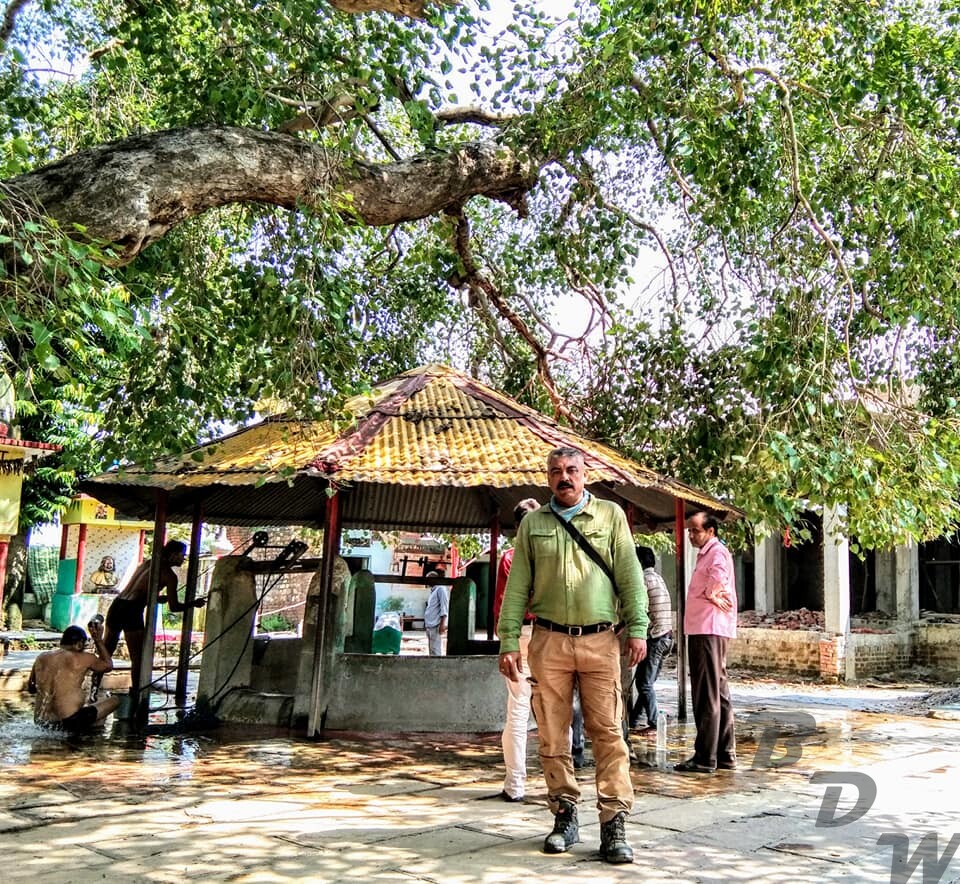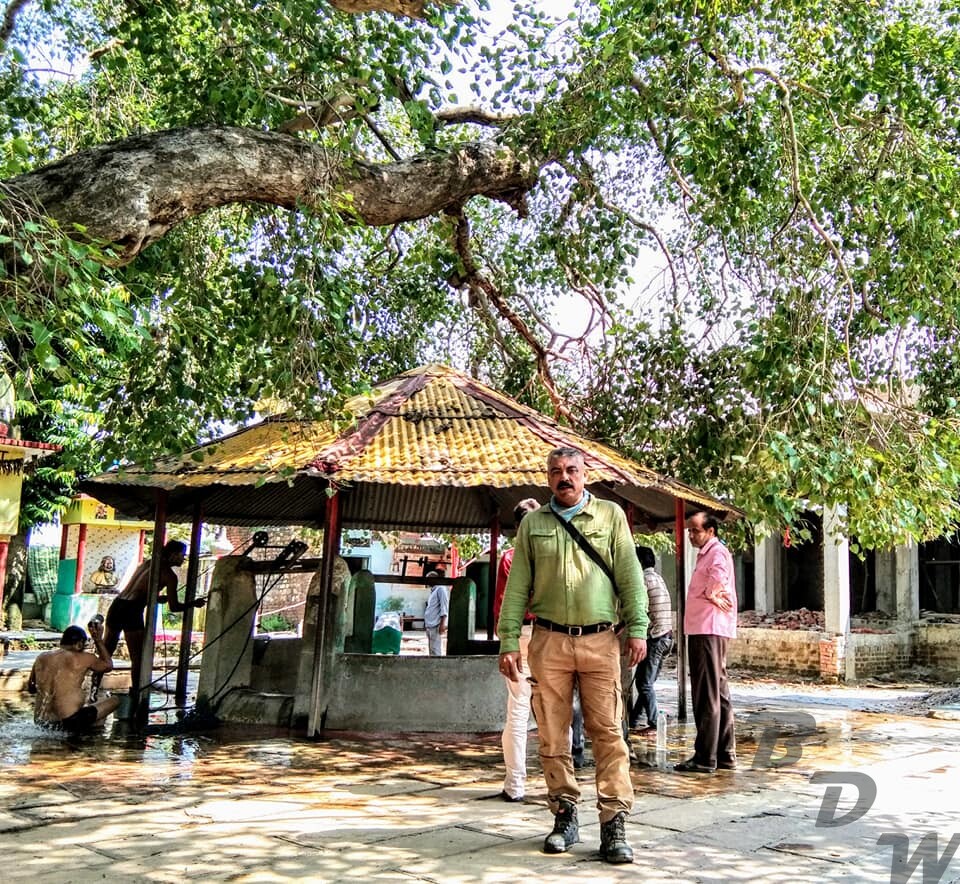 #Road_taken. From Khajuraho, I took the Airport road to hit NH 39, and turned left towards Panna. The road for about 30 odd km was pristine, cutting across deep forest. Took two pitstops at the #Panna_Tiger_Reserve (its not open yet due to heavy rains this season… Makes me worried) and the #Panna_Diamond_Mines (remembered… বিদূষক, তোমারও তো হীরার বড় শখ… চাই নাকি একখানি?). From Panna turned left on Ajaygarh SH to cross Ajaygarh, Narani and Attara (saw a good barwari Durga puja), then turned right to reach Chitrakoot. 180 odd km in 5 hours, road is terrible; in many places there are no roads. Area is backward to the core; Cattle all along, children, errant two wheelers and overenthusiatic SUVs increase the risk factor substantially. By now, I am sure… People of MP neither know nor believe in what good road is.
#Chitrakoot. In search of my Ram, I land up in #Chitrakoot, which covers a major part of his life and transforms him from a young married boy to an adult. 11 out of 14 years of His vanbaas (exile into the forest) with Sita and Lakshman; and the circuit thereon what Chitrakoot is all about. Therafter he moved to Dandakaranya from Chitrakoot. Situated on the bank of Mandakini, Chitrakoot is perhaps the BEST place I have seen till now. Interspersed with forest and rolling hills, this place is surprisingly clean for a Hindu Teerth_Dham. In my search for Him, I could manage to see the followong:-
#Pandav_Falls (and Pandaav Goofa). Pandav Falls and Goofa is about 100 km from Chitrakoot. Pandav Falls is a perennial fall fed by a tributary of the river Ken and cascades down from a height of about 30 meters into a heart shaped pool. Surrounded by lush green forests, the landscape is serene, mystic and spectacular, and frequented by all sorts of birds and bear. At the foot of falls there are some ancient caves overlooking a large pool of water. The Pandavas of the Mahabharata are believed to have spent a part of their exile here.
#Bharat_Koop. To incarnate Ram to be the King, Bharat collected all the holy water from across the Nation and stored in this well. The water is supposedly holier than Ganga. I drank and washed in it… It's cool, refreshing and sweet to taste; that itself is a very big deal.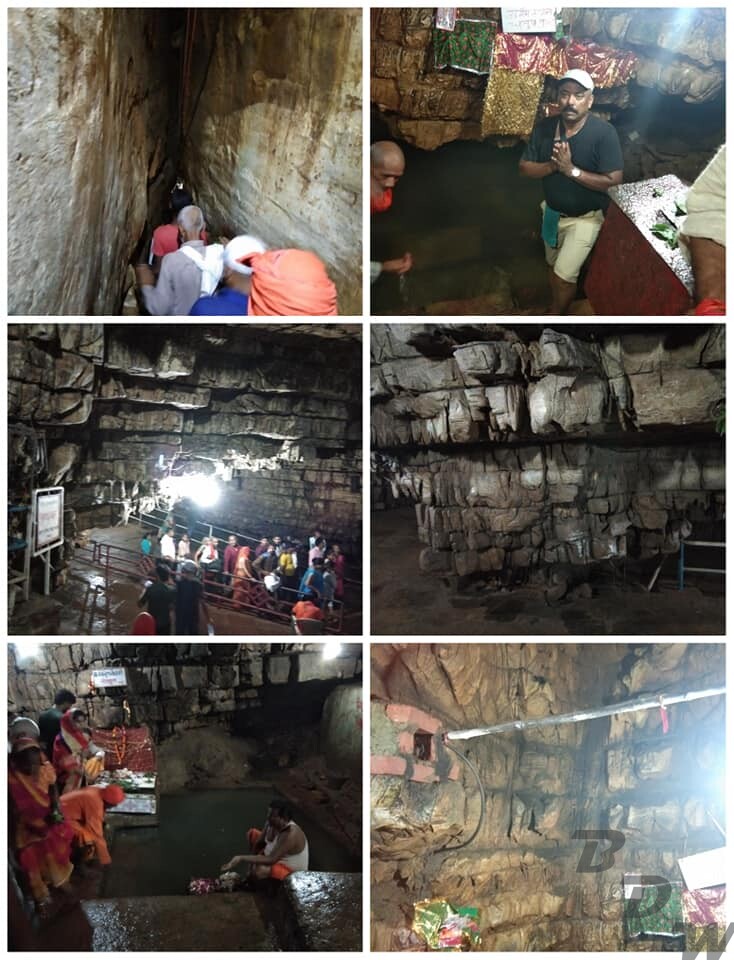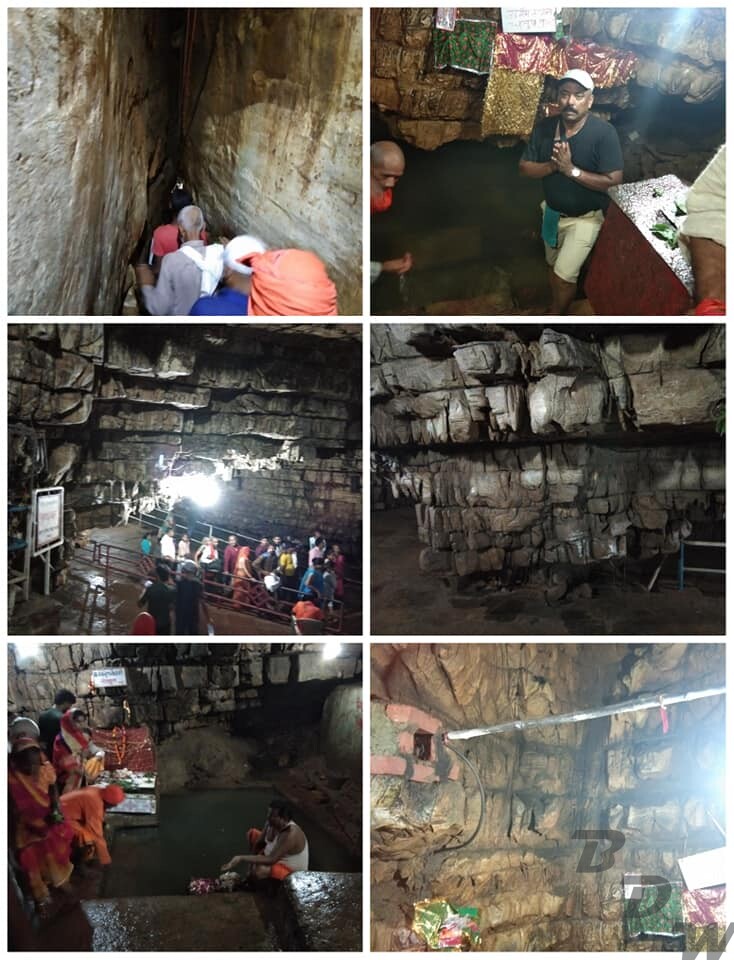 #Gupt_Godavari. 15 km from Chitrakoot is this spectacular spot with 2 prominent caves. The first cave has an extreme narrow slit opening (a man can barely pass) and opens into a huge wide hall adorned by stalactites and stalagmites. Ram is fabled to hold his local court here in this cave. And here, he used to hide his mythical weapons. The mark of his bow is still visible. The second cave is long and narrow, half immersed in water and one has to wade through in knee deep water. A big spring is appearing from the rocks and is fabled to be Godavari. Do visit these caves. They are better than those of Meghalaya. Its reasonably crowded and pandas aplenty will irritate you for money.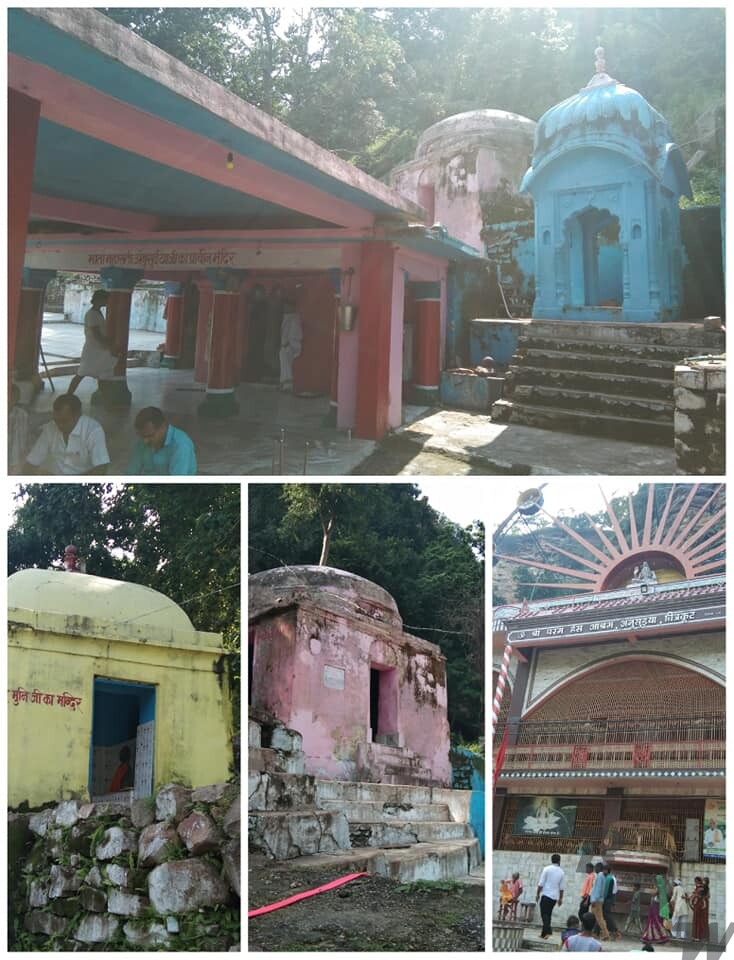 #Sati_Anusuiya. The sacred spot is about 16 km from town, in thick forest on the bank of the Mandakini. Atri muni and his wife Anusuiya meditated here, in fact the Mandakini is created by Anusuiya's meditation. Ganga also has come to Earth on Anusuiya's prayers. Don't be fooled by the dazzle of a huge commercial temple which almost all think to be Anusyiya temple, its not. 500 metres only ahead on a small hillock is the small, insignificant temple of Sati Anusuiya, Rishi Attri and Rishi Dattatreya. Sitting there for 10 minutes will make you calm and filled with tranquility.
#Hanuman_Dhaara. Hanuman Dhara is the spring which sprouted from a rock when Lord Ram shot an arrow into it to extinguish the fire that was caught in Hanuman's tail and to cool him down; when he came back to Ram after burning down Lanka. It's about 300 ft on a steep rock face and involves a climb up and down of about 800 steep stairs. The climb is arduous, and back breaking. But the view is spectacular. The water is perennial, cold and sweet to taste and fabled that regular consumption helps blood pressure and sugar patients.
#Sita_Rasoi. Atop the hill, about 100 steps more is Sita rasoi, another small yet mystical cave.. Where Sita is fabled to have cooked and fed the five great sages / rishis of India… Agastya, Atri, Sutikshan, Sarbhang and Valmiki.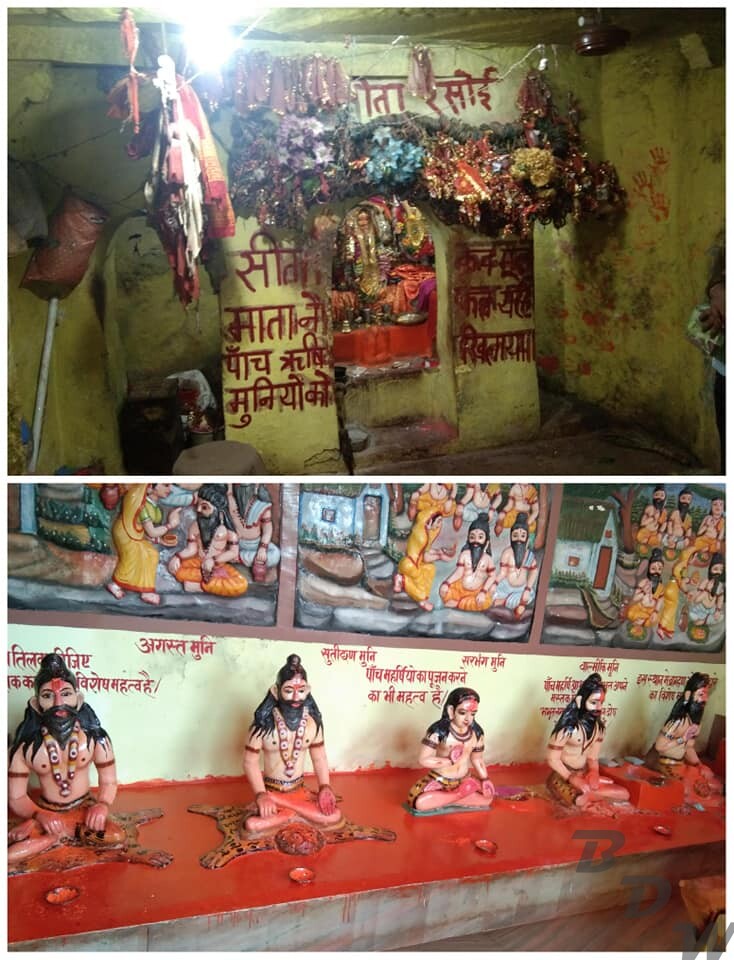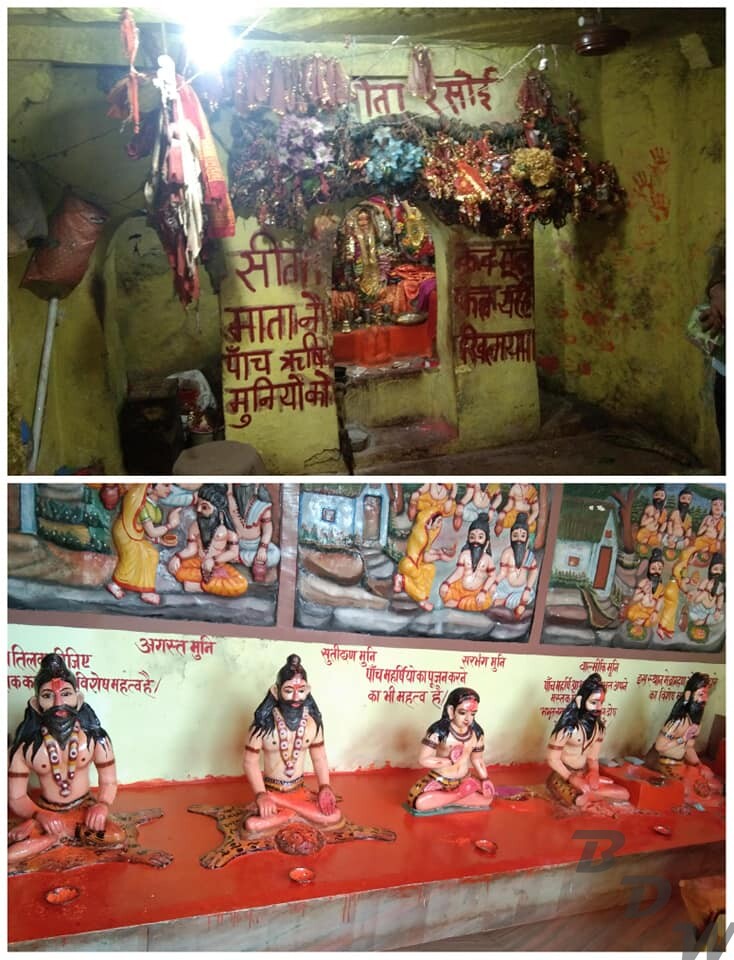 #Sphatik_Sheela. Around 7 km from town again in deep forest and bank of Mandakini.. Ram and Sita sat on a highly polished rock while Ram adorned Sita with jewellery of flowers. A crow named Jayant pecked Sita drawing blood, and Ram shot an arrow blinding the crow in one eye. The footprints of Ram and Sita is very much present on the Sphatik Sheela.
#Janki_Kund. Janaki kund is situated along the banks of Mandakini river and it is believed that this is where Sita used to bathe during the period of exile. Marks of footprints by the river side believed to be hers are prominent.
#Ramghat. Mandakini river is lined up with a few holy ghats, the holiest being Ramghat. Ramghat is where lord Ram, Sita and Lakshman appeared in front of the famous poet Tulsidas and he used to sit on the river side and write Ram Charitra Manas. I took a boat ride and sat there for some time to soak in the holiness and peace. It's a very clean and impressive place.
#Kamtagiri. I had saved the holiest temple and the barefoot parikrama for the night. Kamadgiri is the main teerth attraction of Chitrakoot Dham. The Sanskrit word 'Kamadgiri' means the mountain which fulfills all the wishes and desires. The place is believed to have been the actual abode of Lord Ram, Sita and Laxman during their exile. Lord Kamtanath, another of Ram's names, is the Ishta Deva or principal deity of the whole of Chitrakoot. It is believed that all the holy places (i.e. teerthas) are in the Parikrama or its pilgrimage-path. The pilgrimage path around this hill is about 5 Km long. There are a large number of temples in the Parikrama Path. Except during the summers, the place remains green throughout the year. I did 5 km of barefoot walking in 50 minutes. The path is very clean and lined with shops and a very insightful walking to understand India.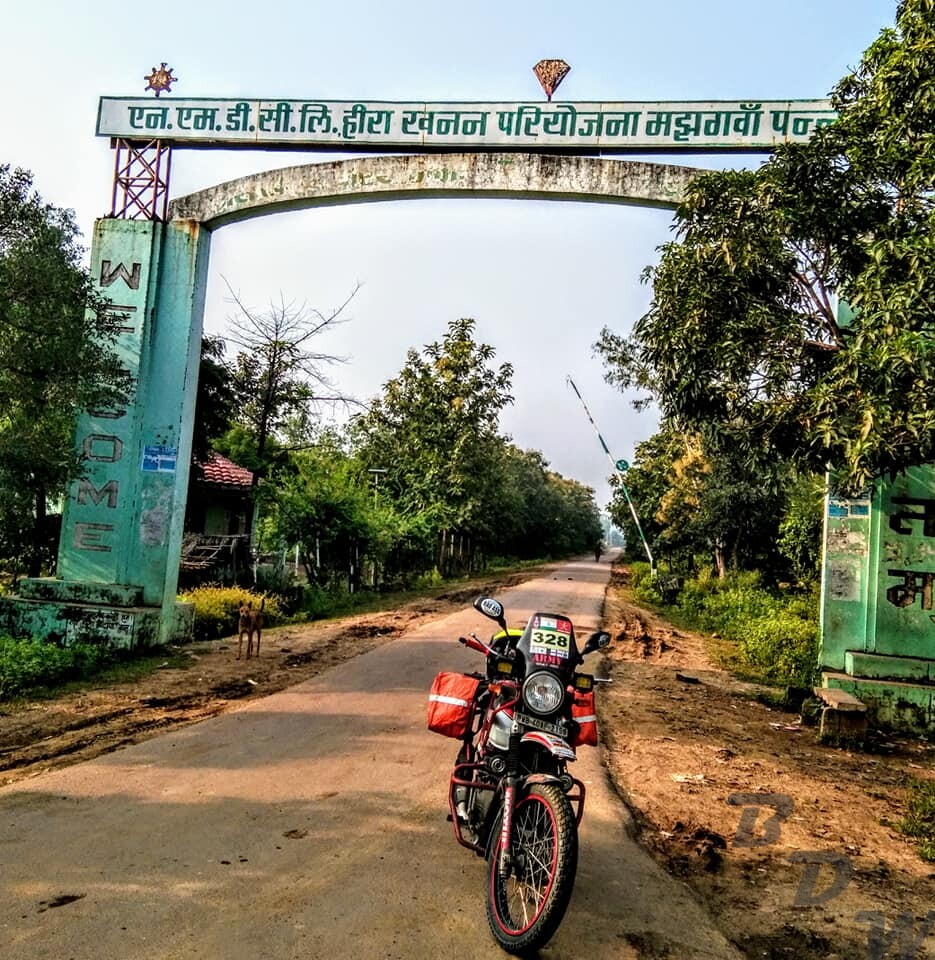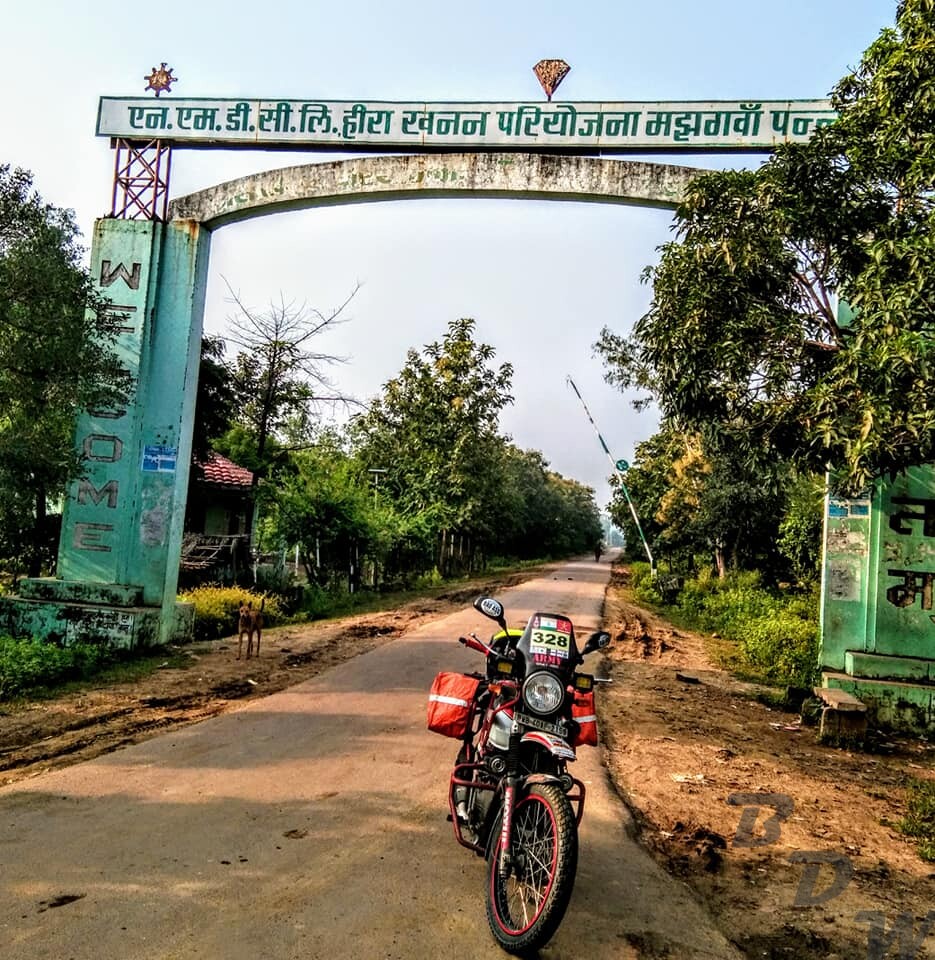 Thoughts
Organized religion leads to enslaving. Personal spirituality leads to freedom and enlightenment. 
Bandhavgarh calls… But worried that the National Park might not have opened yet. If that be so. Will think whats the next course on reaching there. Jai Hind.
---
Reached #Bandhavgarh… Thank God, Tiger safari had started from 01 October in Bandhavgarh, and is currently in full swing. Rode from Chitrakoot for around 7 hrs and directly reached the Tala Safari Booking Counter. As luck would have it, one motley group literally pounced on me to include me in their Safari team. I readily agreed.. The money spent is drastically reduced if you can drown their cacophony.
We did one evening safari (#Magdhi zone); no sighting of Tiger.. Yet. The entire group of unknown men, who became friends… decided that we shall try tomorrow morning and tomorrow evening safari too, but we shall do #Tala zone and #Khittauli zone successively.
Well settled for the night in a comfortable hotel. Pepper chicken, chilli chicken, chicken soup, chicken noodles and Old Monk is on (it was only veg meal for the last 4 days).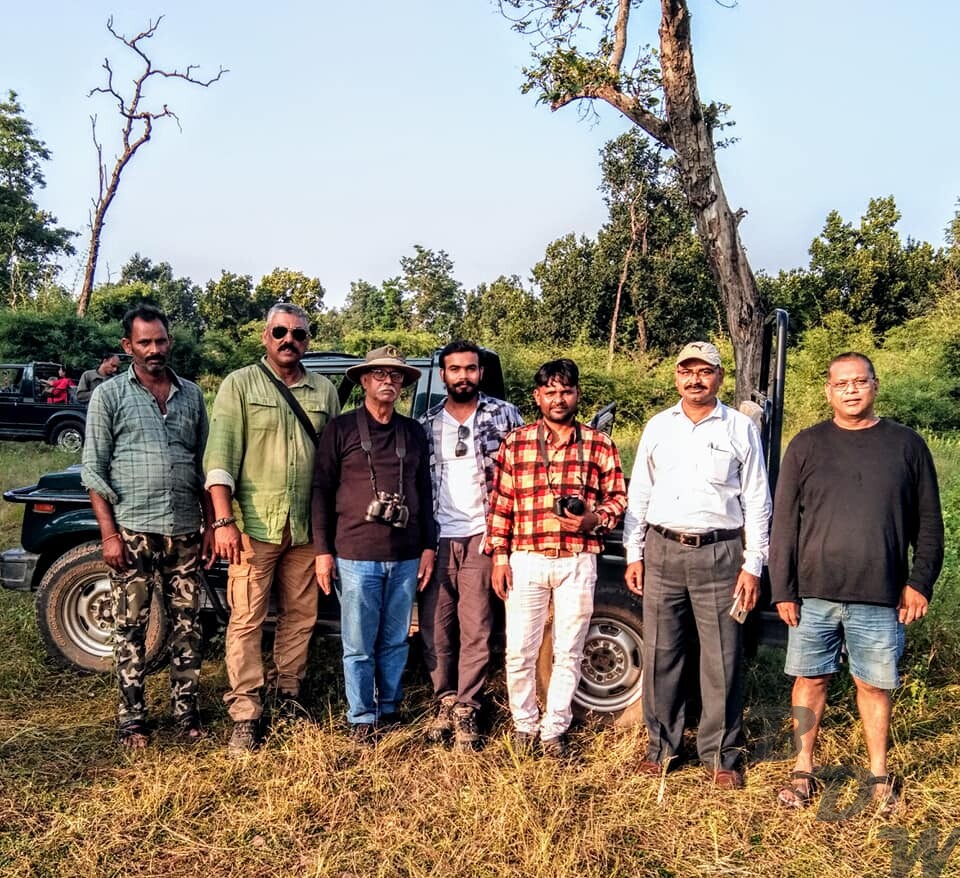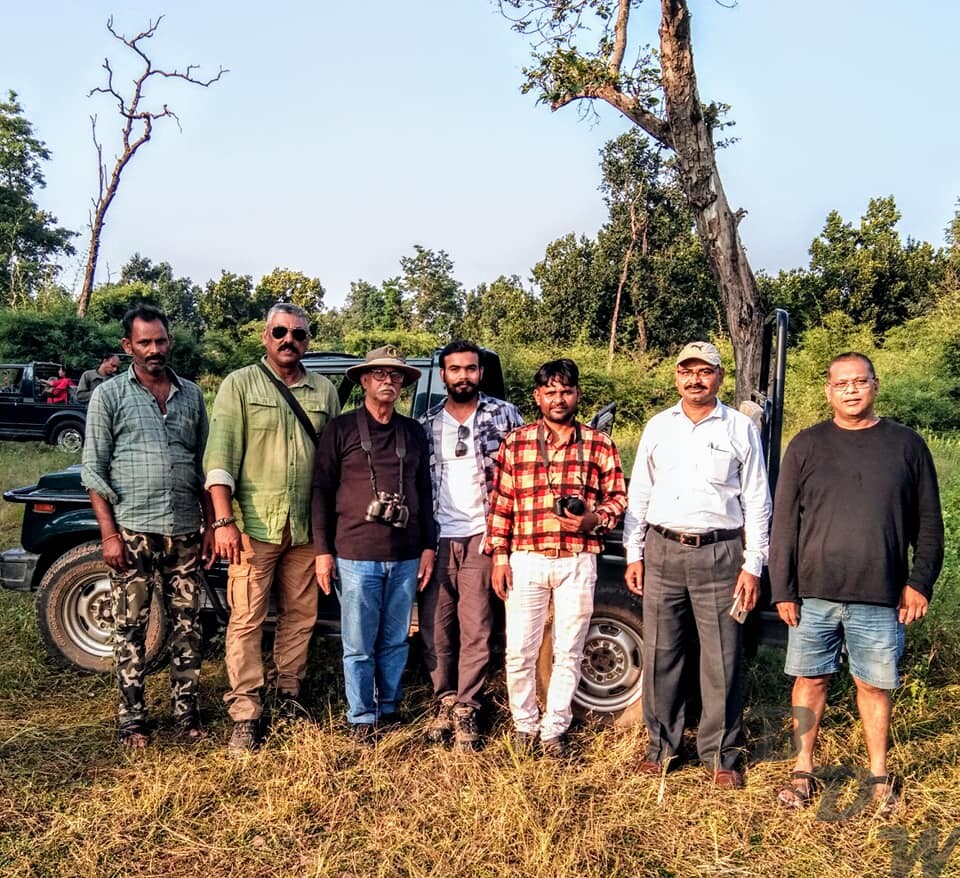 #Important_Info_and_thought.
Documentation and booking procedure is strict here and different from other places.

80% of the Core area has been permanently stopped Tourist access.

Safari visit to Bandhavgarh fort and temple has been stopped quite a few years back.

There are quite a number of tourists, today 70 gypsies went in the core area.

If I understand anything… Tiger tourism in Bandhavgarh will very slowly be stopped permanently (my guess… in 10 years time) due to too much tourist influx. A few other Tiger tourism destinations will open up in a few years.
---
Overnight in #Bandhavgarh… Did 3 safaris, covered the #Magdhi, #Khitouli and #Tala core zones… Did 130 km in the core area in all, spent 11 hours inside the core area, spent a good amount of money … Didn't see one SOB, friggin, behenchod Tiger !!!
.. Sightings were happening on and off for a few lucky ones, just that I was not there in the right place in the right time
…
Saw a sloth bear (which I understand is a rare sighting), clicked some good sunset photos.. But not in the mood to post those shit. Bheem, Tara, Pannalal, Dotty… I'll come for you again… Thats a promise… In the meantime, stay healthy, stay hearty dear Royal Bengals .. Tonight I'll drown my momentary disappointment in some Old Monk… Sorrow is not permanent.. Good things will surely happen in the near future.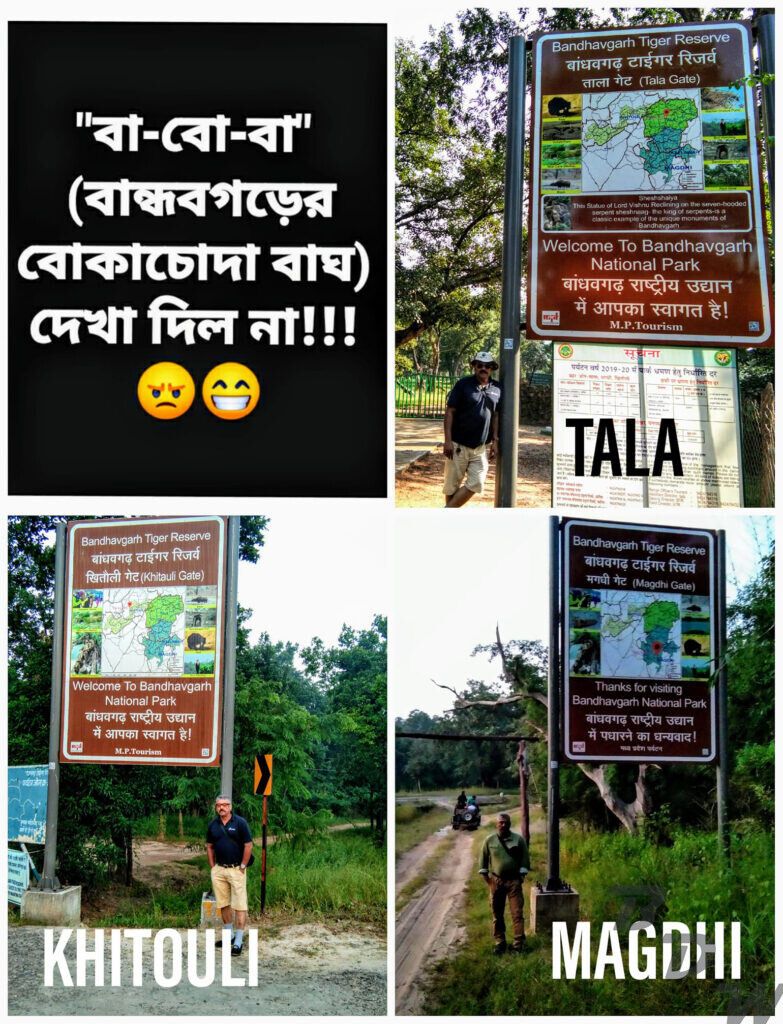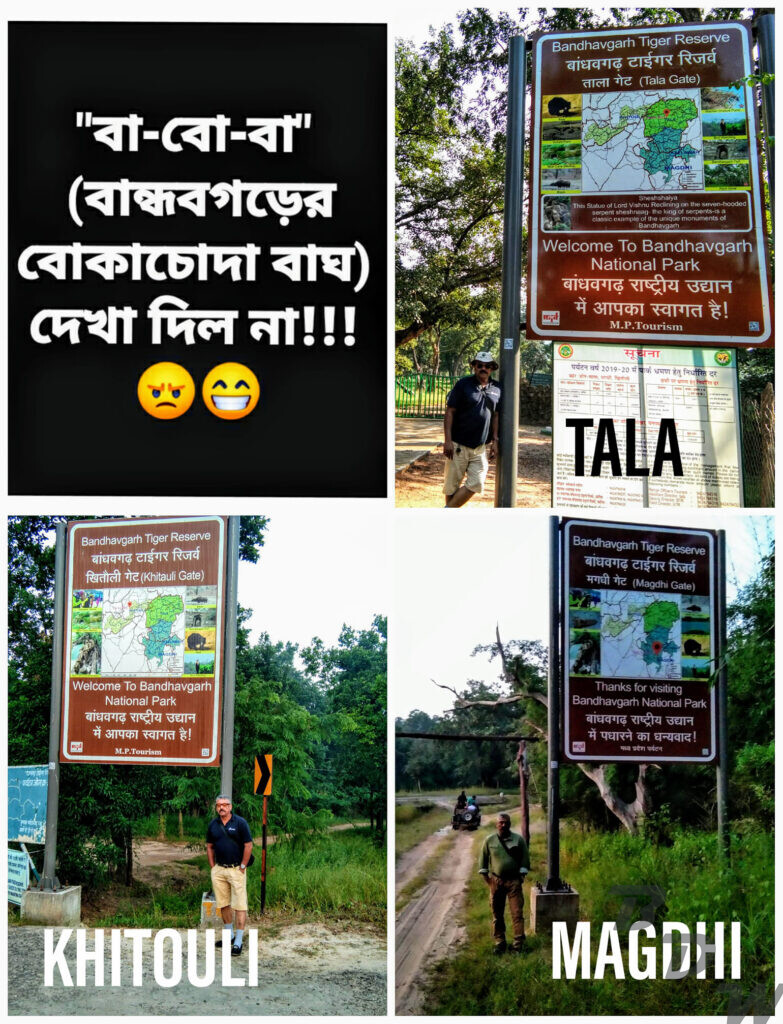 Tomorrow… #Amarkantak calls… (সবাইকে শুভ বিজয়ার প্রীতি, শুভেচ্ছা, ভালবাসা, আশীর্বাদ
)
completes #half_lakh_km deep inside the buffer-zone of Bandhavgarh Reserve Forest. Desolation, Silence, Solitude, Intensity, Petrol in my vein. #Cheers."অচেনা নক্ষত্রে ভরা আকাশ, এই বিপদের আশঙ্কা – এইতো জীবন। শান্ত নিরাপদ জীবন, নিরীহ কেরানীর জীবন হতে পারে – তার নয়"… #চাঁদের_পাহাড়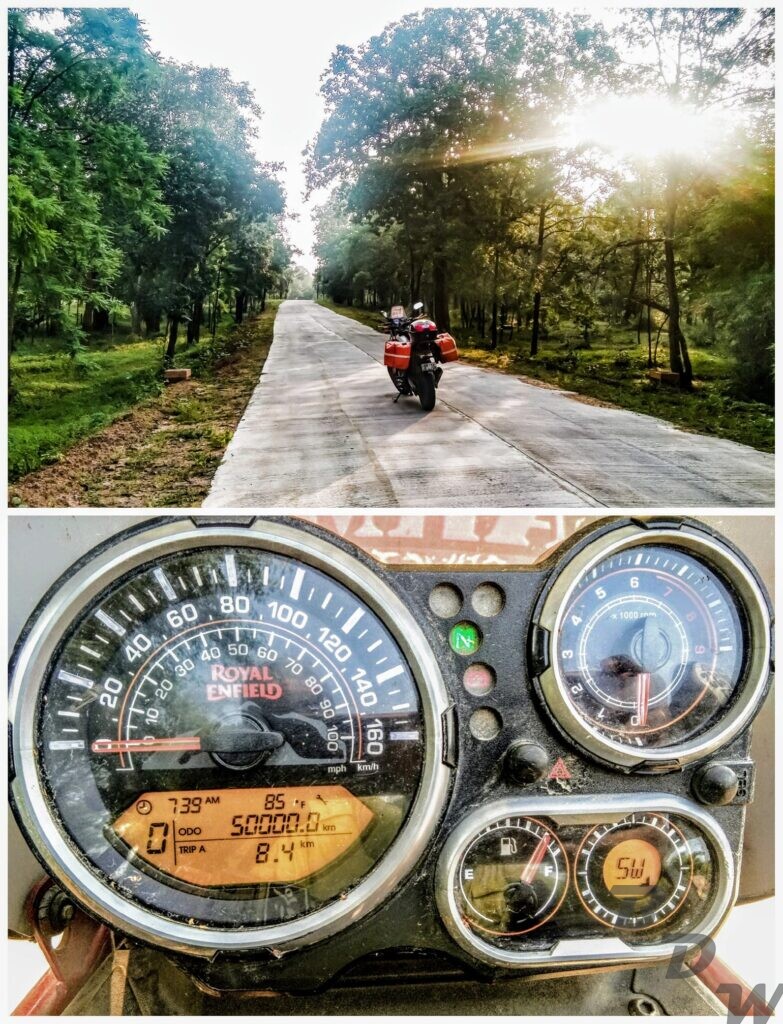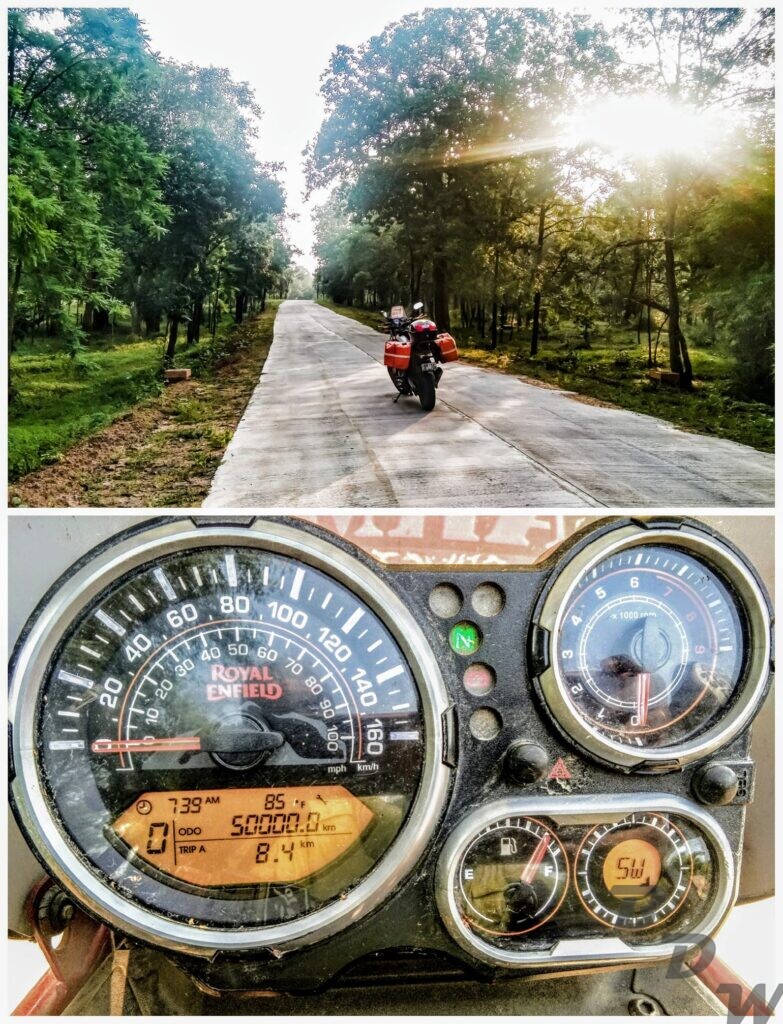 ---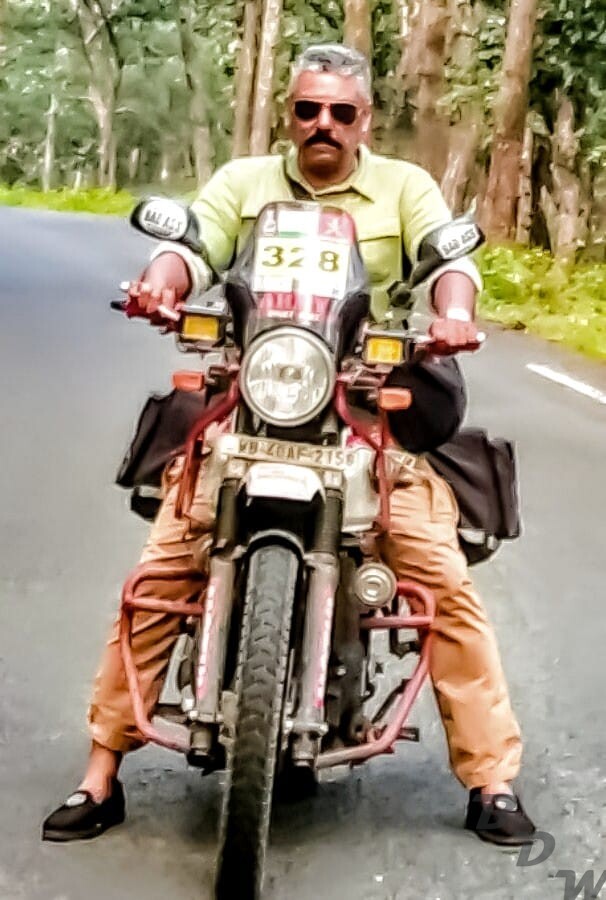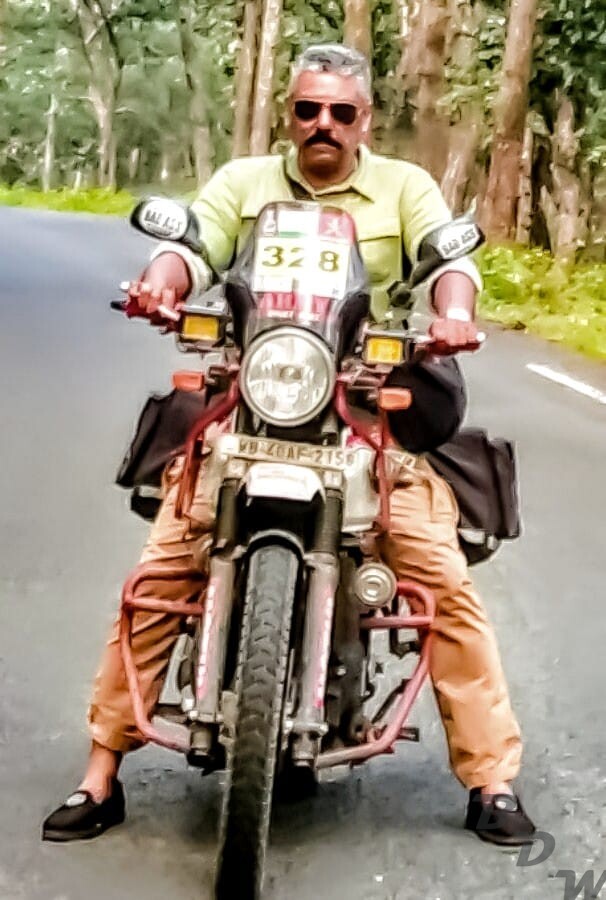 অমৃতর নেশা যতো বাড়ে, বাইরের খোলস গুলো আমার ততো খসতে থাকে… ধীরে ধীরে আমার সব গেল … জ্যাকেট গেল, প্যান্ট গেল, হাঁটু বর্ম গেল, গ্লাভ্স গেল, জুতোমোজা গেল, হেলমেটটাও খানিকক্ষণের জন্য গেল… এখন আমি আম-আদমী, শতকরা ৯৯% ভারতীয় মোটরসাইকেল চালক… যেভাবে চলছে… মনে হয় আর কিছুদিন বাদে লেঙটি পরে, কাঁধে গেরুয়া ঝোলা নিয়ে বাইক চালাবো… চরাতি চরৈবেতি… চলাটাই জরুরী… (বাকিরা সবাই গালাগালি করার আগে নিজেই নিজেকে গালাগালি করে দি) … "এ কি বালের বাইকার, প্রোটোকশান ব্যাপারটাকেই বুঝতে চাইছে না… ভেরি ব্যাড… ভেরি ভেরি ব্যাড"… I am not a good example to follow… I have my own trip, and own reasons, not for all to pay heed to also.. Guys… You be protected adequtely when you ride.
It was one of those times… I bike a few hundred kilometres, I walk a few arduous miles and feel I am God's own shit.. And something happens to change my world. I had walked to Durvasa munis taposthal to see how the young #Narmada won over the temperemental rishi Durvasa … And I find the two sahelis… Narmada and Ganga dancing in front of me… The young Narmada asks me.. "Uncle, ek photu khinch doge hamari? "… Suddenly this alpha-male Dada was teary eyed… Narmada talking to me? I oblige silently, and also click a photo in my mobile. My world, sight, thought, suddenly changed. Narmada and Ganga still comes and dances in front of us.. Just that we don't notice…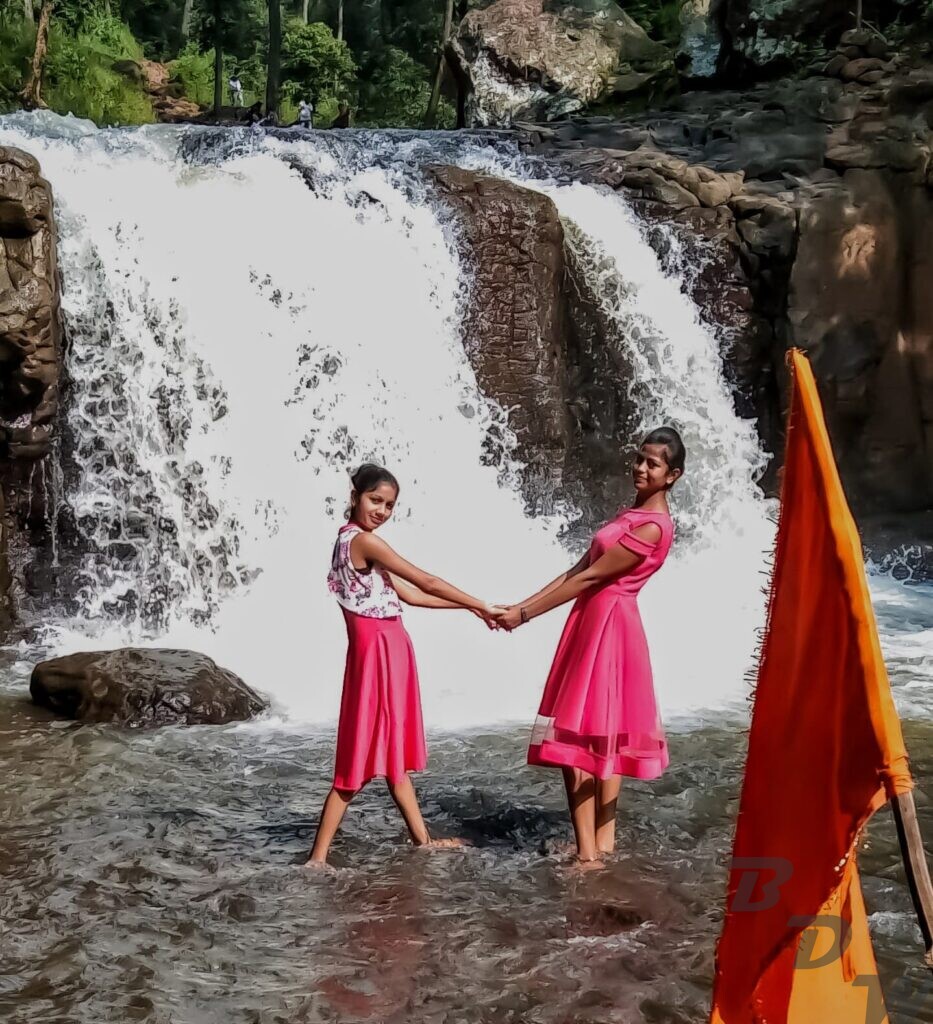 ---
It was one of those times… I was in Sonamura, to search for the divinity in how the young #Son appears on Earth and jumps from #Maikal to #Satpura… and lo… I find divinity waiting for me. Son sits on the Goddess's platform, she is in intense search.. Perhaps she IS… Or in the process of becoming the Goddess we keep running after. Life and divinity is happening… Just that we don't notice…
#চুপচাপ_নারীমুক্তি… এটা আমার তোলা একটা বেশ পছন্দের ছবি। কোন দারুণ ক্যামেরার লেন্সের কারিকুরি নয়, কোন বিরাট প্রকৃতির শোভা বা বদ্যুয়ের আর্ট নয়… চলতে চলতে পট্ করে মোবাইলফোন ক্যামেরায় তুলে ফেলা। ছবিটা আমার প্রিয় শুধুমাত্র একটা কারণে… মুড্… একটা মুহুর্ত যেন কত গল্প বলে চলে গেল।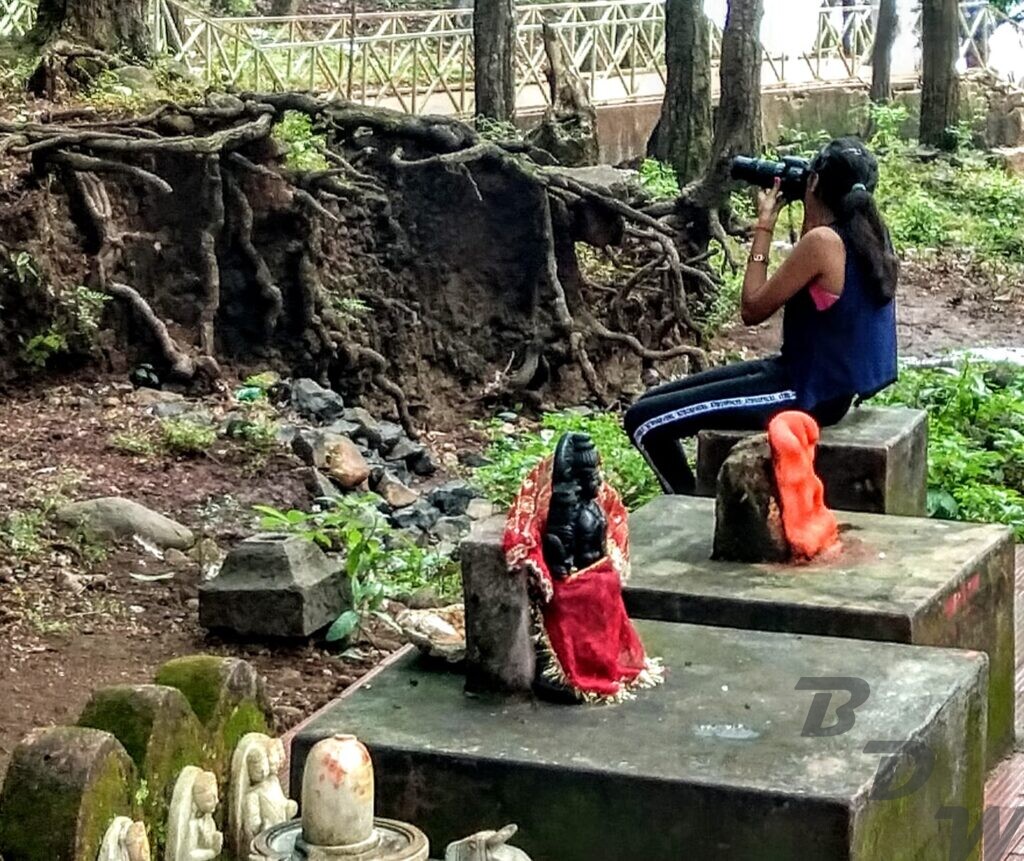 জায়গাটা অমরকণ্টকে, নাম সোনামুরা, যেখানে সোন নদীর (নামান্তরে সোনভদ্র) উৎপত্তি, আর ওখানেই সোন নদী ৮০০ ফুট উঁচু থেকে লাফ দিয়েছে মাইকাল পর্বত থেকে সাতপুরা পর্বতে। আমি ঢুকঢুক মোটরসাইকেল চালিয়ে পৌঁছে গেছিলাম সেখানে, জায়গাটা সাংঘাতিক সুন্দর হলেও; আর পাঁচটা ধর্মক্ষেত্রের মতোই, জঙ্গলের মধ্যে এদিক ওদিক শিবলিঙ্গ, দেবীমূর্তি, ত্রিশূল ইত্যাদি ছড়ানো ছিটানো। নির্জনই বলা চলে। সেখানে ঘুরতে ঘুরতে, হঠাৎই এই দৃশ্যটা নজরে এল। একটি জিন্স আর টপ পরা মেয়ে, বয়স হয়তো মেরেকেটে ১৮-২০ হবে, একটি শিবলিঙ্গের বেদীর ওপর, শিবঠাকুরের পাশে বেশ গুছিয়ে বসে, একটা ডিএসএলআর ক্যামেরা তাক করে মনে হলো পাখি দেখছে বা খুঁজছে । আমার মনে হলো… হয়তো বা একটা মধ্যপ্রদেশের অত্যন্ত রক্ষণশীল সমাজের (যেখানে মেয়েদের মানুষই মনে করা হয় না) বাবার অত্যন্ত আদরের এক মেয়ে, বাবাকে জপিয়ে বা ঢপ মেরে বাবার ক্যামেরাটা বাগিয়ে, কাউকে কিছু না বলে একদম কাকভোরে পালিয়ে এসেছে জঙ্গলে, পাখি দেখবে আর ফটো তুলবে বলে। অথবা এটাও হতে পারে, যে একটা কলকাতার কলেজে পড়া মেয়ে, বাবা মা বন্ধুদের সাথে ঝগড়া করে "বাবা, আমার কোন সঙ্গীসাথি, ছেলে সাথে থাকার দরকার নেই, আমি নিজে একাই যাব জঙ্গলে পাখির ছবি তুলতে" বলে… অল্প মায়ের দেওয়া টাকা পকেটে ভরে, ট্রেন-বাস চড়ে চলে এসেছে… অমরকণ্টকের জঙ্গলে, পাখির ছবি তুলবে বলে…
আমার ছবিটা সাধারণ; কিন্তু ওই সময়, গাছের আড়ালে, মেয়েটিকে একদম ডিস্টার্ব না করে দাঁড়িয়ে থাকার সময় মনে হয়েছিল…. "ভারতবর্ষে নারীমুক্তি চিৎকার করে হবার জিনিস নয়… ঘণ জঙ্গলের মধ্যে একদম একা, একটা ক্যামেরা হাতে একটা মেয়ে গভীরতায় ডুবে পাখি খুজছে… আর নারীমুক্তি আমাদের দেশে – চুপচাপ হয়ে চলেছে "।
---
Reached #Amarkantak; checked into the MPTDC Hotel Holiday home, its rather expensive, but good.
#Road_taken. From Tala, I had decided to take the buffer zone. I reached Shahdol and turned left on the Umaria axis to hit Amarkantak in around 6 hours. I avoided NHs, and apropos, today was perhaps the best road and riding time I had. SH are two lane, but pristine; panchayat roads are narrow, yet doable. There were forest ghats aplenty to keep me engaged mentally.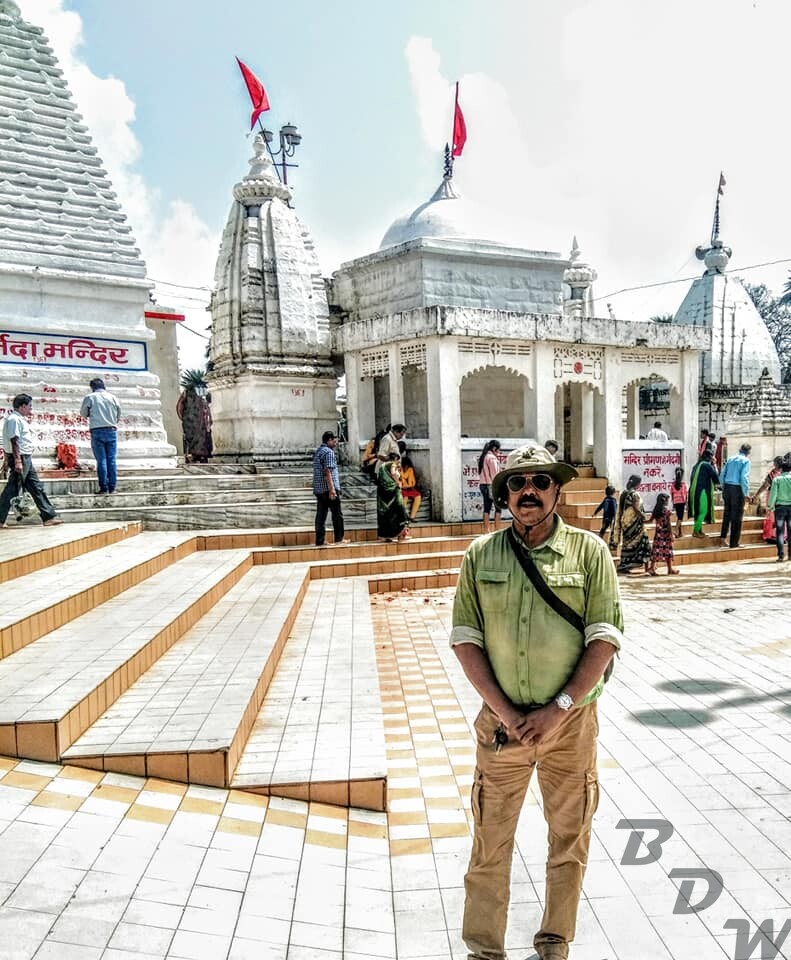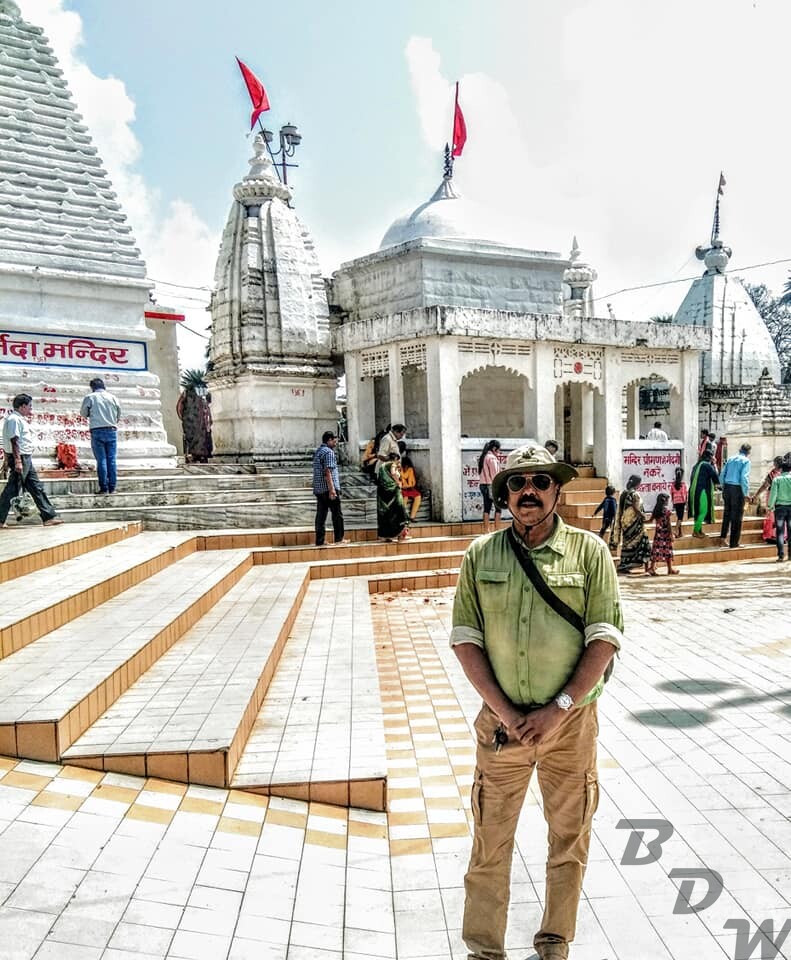 India, a riverine agrarian civilization always had and still has a special place for her rivers. River Narmada always holds a place of reverence and awe in my life. In my mind, river Ganga is a mid twenties woman, serene and somber. River Yamuna is a nineteen year old girl, beautiful and naughty. However, Narmada is a ten year old girl, who can suddenly jump, suddenly twirl and dance, shout loud, cry out, go deep… See how Narmada flows.. Appears, disappears, goes oppossite, changes directions, cuts across inaccessible terrain.. Youll get what I mean. Having born out of the throat of Neelkanth Shiva, Narmada is "Cheerkumari", (unmarried). Narmada is so revered for her holiness that it is beleived that Ganga bathes in Narmada to wash of her collected sins. In search for Narmada, I land up in her birthplace Amarkantak and managed to see the following:-
#Narmada_udgamsthal. Its a big temple complex, but the temple is largely matter of fact. The interesting part is the kund which has a natural 11 feet long shivling, and from the base of which Narmada appears on Earth. The place is crowded with largely overtly religious crowd, nevertheless, darshan is not too difficult. Narmada for around a km thereafter has been dam struck to give a wide appearence, but actually visible at places if you walk along… The stream is no wider than a few feet. She is seen to change directions so many times, one will actually feel amused.
#Old_Kalachuri_temple_complex. This holds quite a few old Kalachuri dynasty temples. Two important ones are #Pataleshwar (fabled to have been commissioned by Adi Shankaracharya, the garvgriha is about 5 ft below the ground level; perhaps thats why the name pataleshwar) and #Karna_Temple (the locals will tell some story about Pandavas and Karna, but thats generally nonsense. The temple complex was built by King Karna of the Kalachuri, hence the name. Whats interesting is the presence of 3 temples of varying proportions on the same sanctum).
#Sriyantra_temple. A strange modern temple of strange shape, and God only knows what purpose. The Mahanta who was getting it built has died, the temple is closed. The main building and the gateway is unspeakable … as per me, its just a wasted effort and undue spending of money to create something neither beautiful, nor of any use to man or beast.
#Sonamura. The birthplace of River Sonbhadra and where from he jumps about 800 ft into the Maikal Satpura gorge. A beautiful location.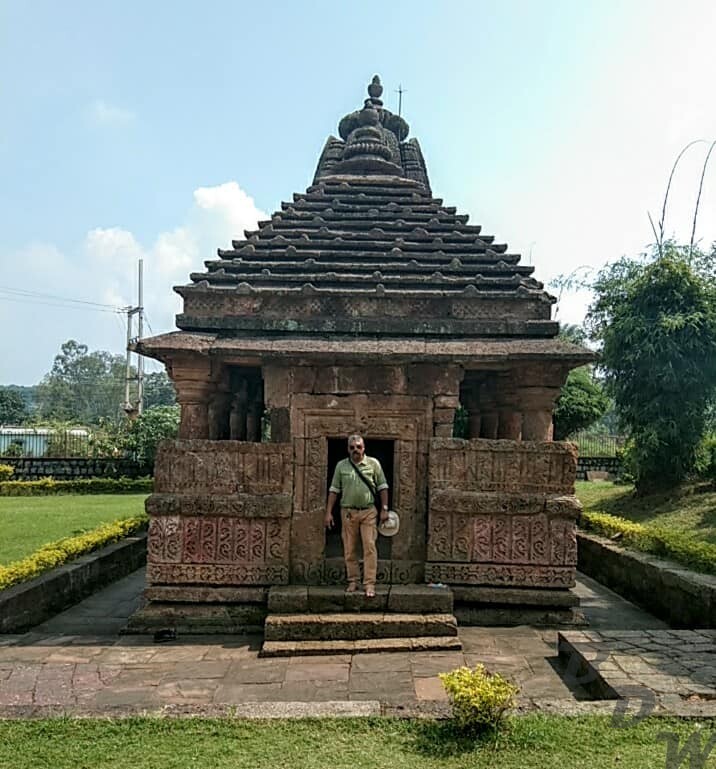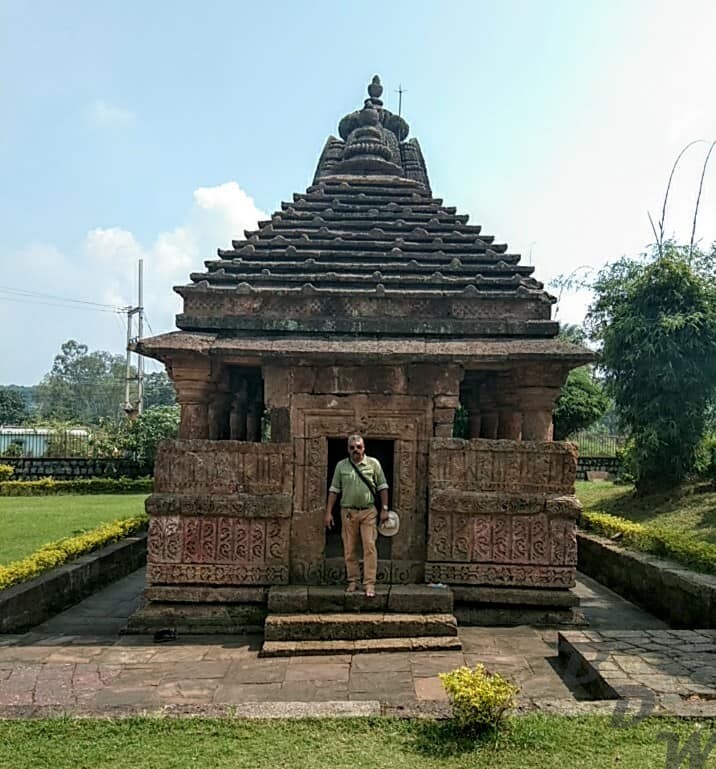 #Mai_ki_Bagiya. A very religious, beautiful and important place. It is fabled that Narmada goes underground and comes up momentarily in Mai ki Bagiya to play with her childhood friend (forgot her name, but its the flower from which eye drops are made). Because of this strangeness of terrain and course… This is the ONLY place where #Dishaparivartan (change over from North to South bank or vice versa) can happen during #Narmada_Parikrama. The parikrama itself is a fascinating thing, worth writing a book.
#Kapildhara. A beautiful waterfall, by which Kapil muni used to meditate. As Narmada was on her free flowing style, Kapil muni stopped her. Narmada had to appease the muni by offering him sweet cold water to drink and could flow from there.
#Doodhdhara. Another small, yet beautiful drop on the Narmada course. This was Durvasa munis meditation spot. Not happy with watee, Durvasa wanted milk. Narmada brought her that to get the permission to flow through.
#Kabir_chabutara. Sant Kabir's hut, the spot where he used to do satsang and the tree where he used to introspect. Here also, Narmada appears momentarily. A holi place for all religions.
#Narmada_Erendi_sangam. The river Erendi meets Narmada. Supposed to be holier than Nashik or Gaya, many people do tarpan and pind-daan to their forefathers here. Its dam bound now, but nevertheless, a beautiful spot.
#Jaleshwar_Mahadev. A swambhu Shiva (who appearef himself). A holi spot for the Hindus. A rough and cylindical shivling.
#Johila_Udgamsthal. Currently a well, this is where river Johila appears. There are a few huge fishes swimming inside this well.
#Under_construction_Jain_temple. Its pretty impressive. The construction is on for quite a few years. On completion, this will further increase the already increasing visiting populace of Amarkantak.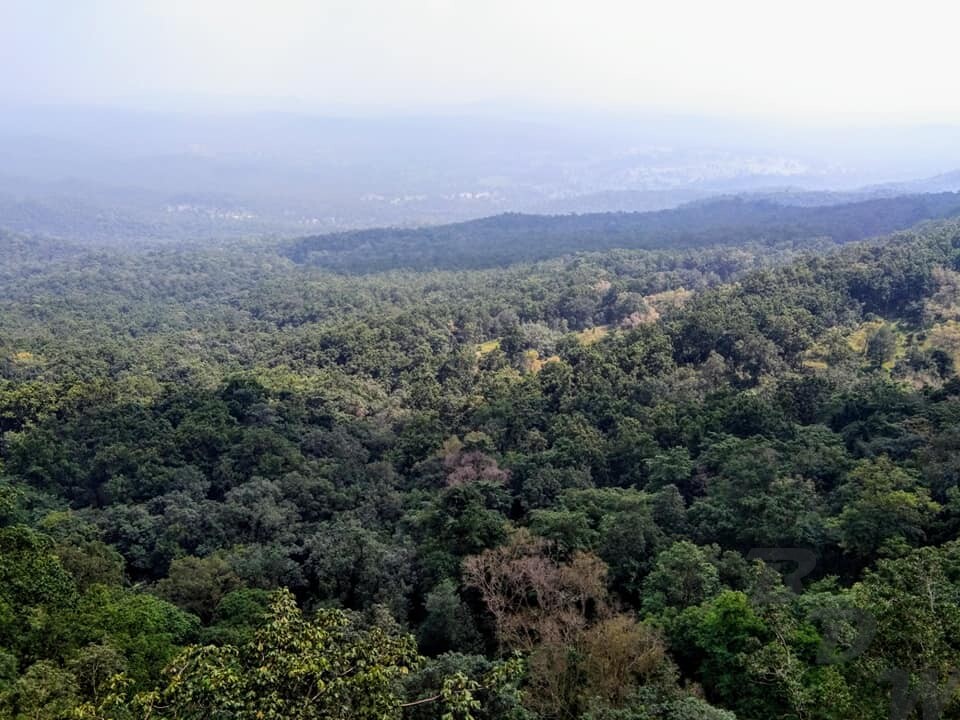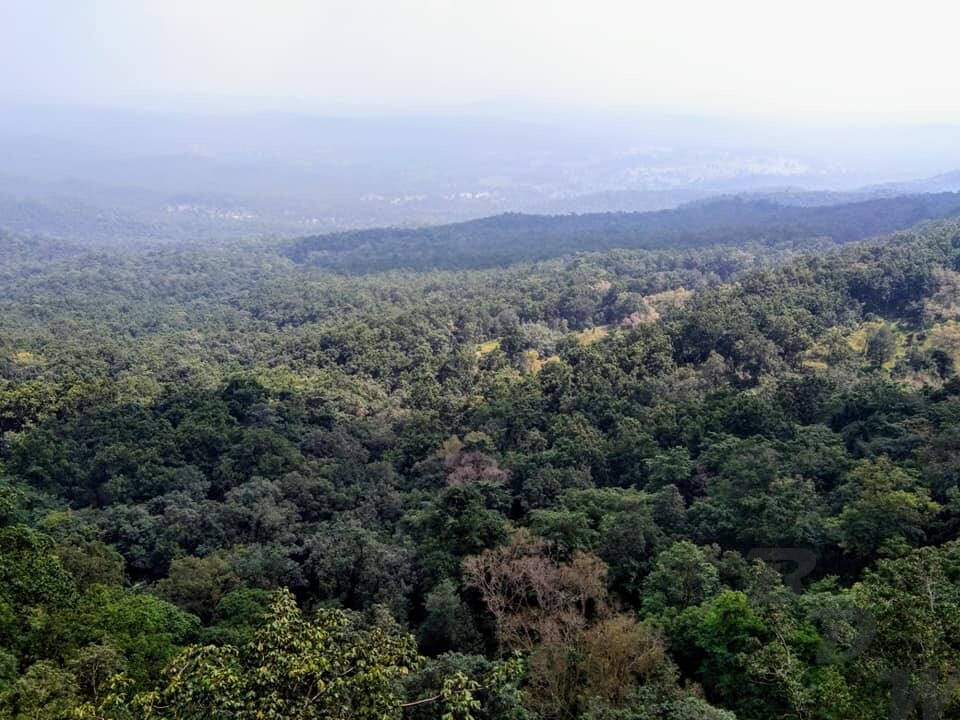 Thoughts
Temples are manifestations. I can't say temples are unimportant ; they are important because temples hold "Dharana" (imagination) that God exists within us. However, as a civilization matures, temples, mosques, churches loose relevance.. Because people start taking God in their personal sphere, external dharna is not required any more. However.. That day is not coming very soon in India. Uneducated, unfed, unhappy as we are… Our God has to stay in a place.. Not in nature or our heart.. And our Dharmraksha will not stop us from killing, maiming, breaking another faith. Tamaso ma jyotirgamayo… Jai Hind.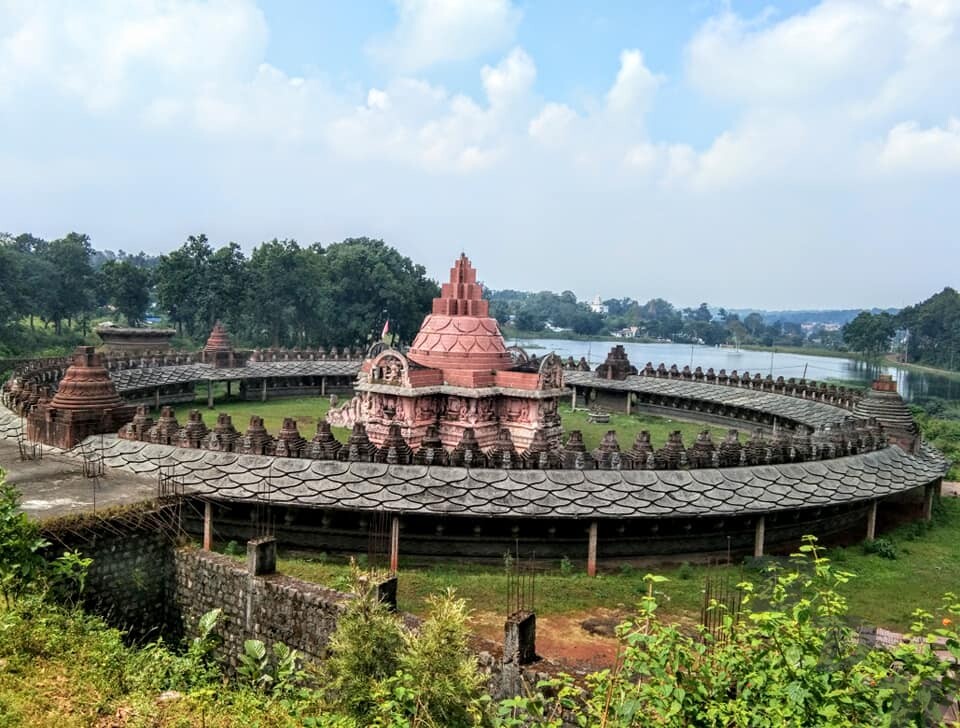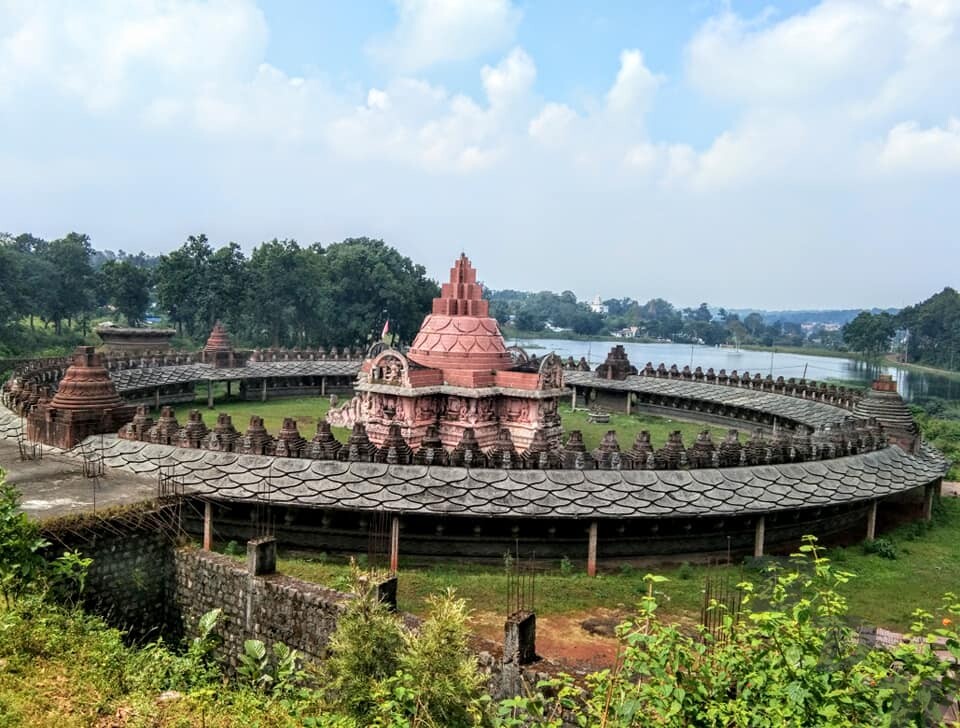 Cancelling #Kanha (nothing is happening there yet). Heading for Jabalpur straight.
---
"And upon this rock shall I build my church…" – Matthew 16:18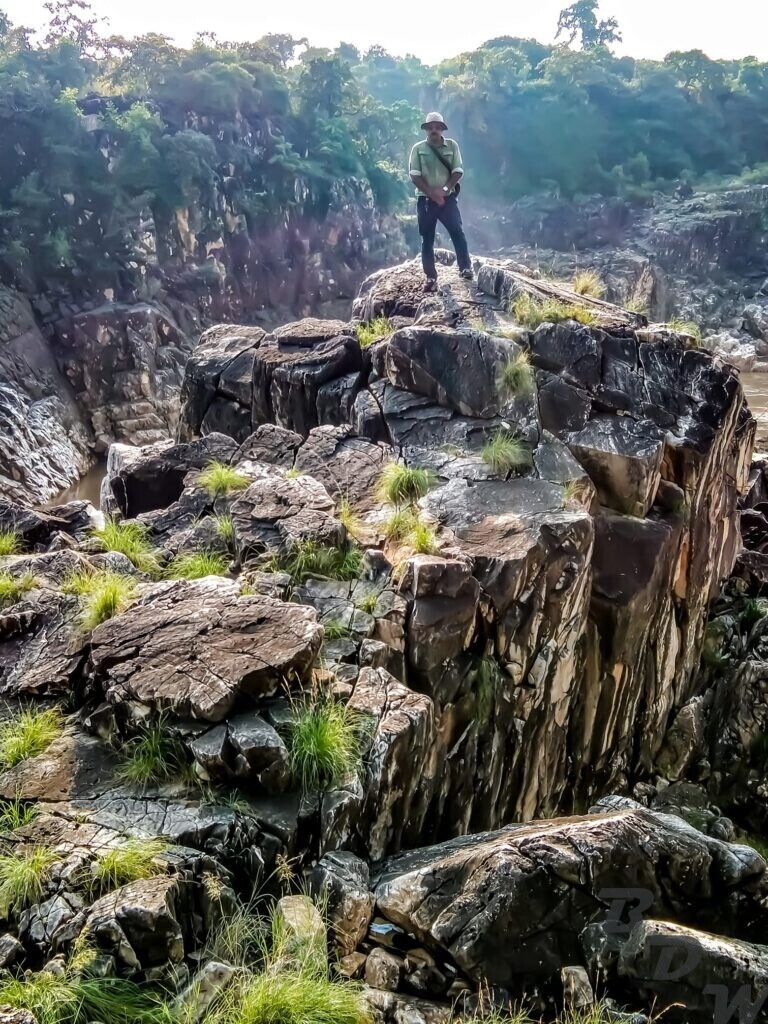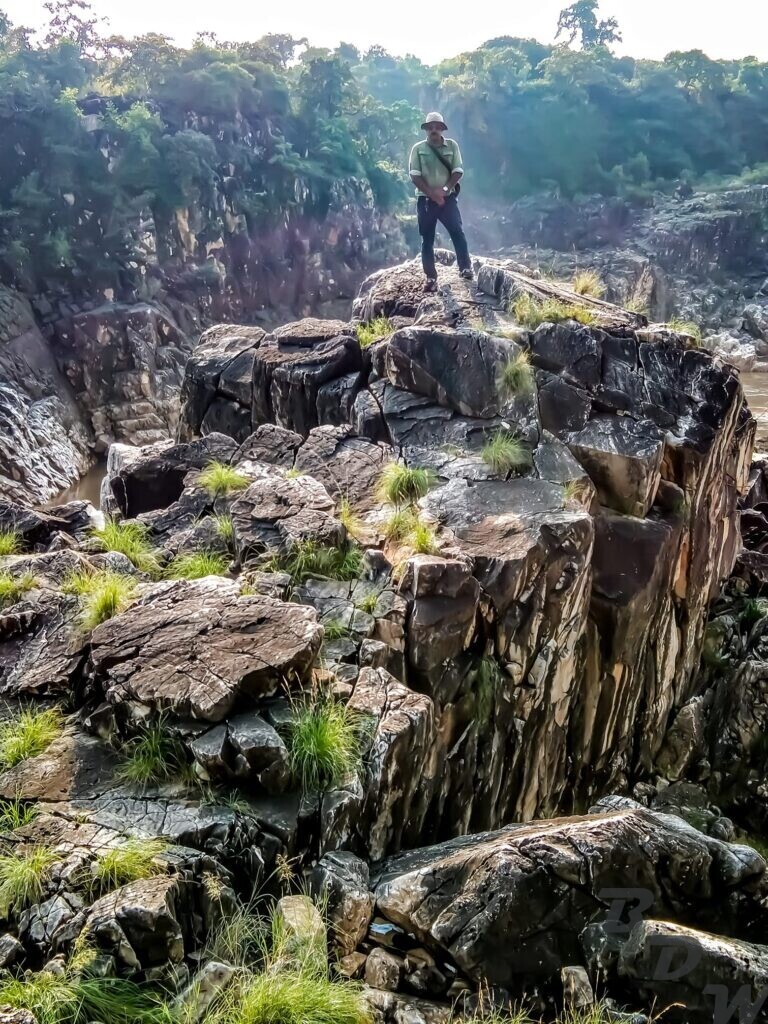 ---
Reached #Vedaghat (Jabalpur).
#Road_taken. I took the Amarkantak- Dindori axis right upto Dindori, then turned right on NH45E to Shahpura where I turned left, crossed Kundam to reach Jabalpur. Crossed the entire Jabalpur city (one of my very nostalgic place) and headed straight for Vedaghat Marble Rocks. With Jabalpur as destination, the places to see on my mind were only Dhuandhar Waterfalls, Chausath Yogini Temple and the Marble Rocks, hence it made sense to make Vedaghat as my night halt destination rather than Jabalpur. I am an old hand of Jabalpur, have seen areas around in details. But this time, I made it a point to visit the following:-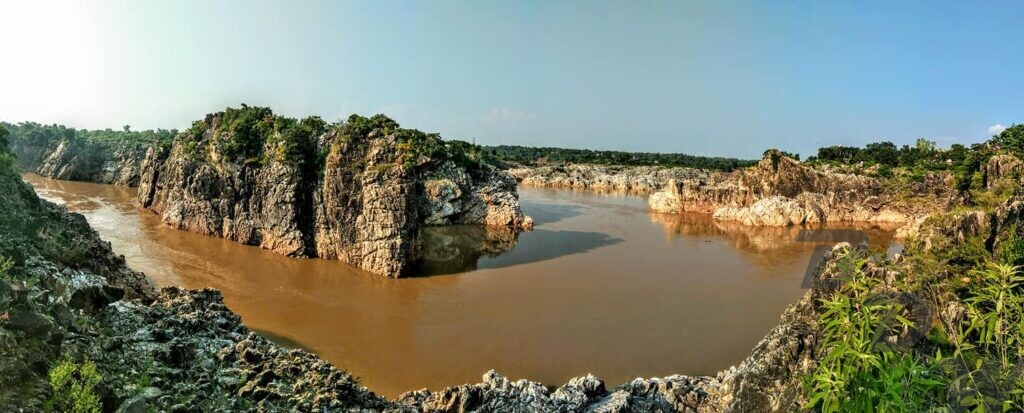 #Dhuandhar_Waterfall. River Narmada gets into the area of Marble rocks through a magnificient drop, called Dhuandhar due to the mist it creates. The best way to appreciate it is while riding the ropeway over the fall itself. A 3 minute to and fro journey costs Rs 95. For those that say its comparable to Niagra falls… Well !!! Dhuandhar is very beautiful all right.. But you cannot even fathom what Niagra is, unless you see it yourself.
#Chausath_Yogini_Temple. (64 Yogini Temple). A climb of 150 plus stairs to reach the top of a small hill, and I was privy to one of the most spectacular temples, a diamond in the crown of India. Bejewelled women once lived in Hindu temples, immersed themselves in art, danced and sang and made music in temples, had multiple lovers, were bound to the deity, not to any one man, and their beauty was captured in the sensuous images on temple walls. Unable to fathom such matriarchal structures, British and Islamist rulers of India deemed these free women as prostitutes. This was ironical, for ancient architects imagined the temple as the reclining body of a languid woman with her womb (garbha) housing the enshrined deity. Later-Vedic Temples were architectural celebration of sensuality and fertility that challenged the monastic sterility of Buddhist celibacy or Vedantic ascetism. In fact, a thousand years ago, India saw temples exclusively dedicated to womanhood – the circular temples of the yoginis.
Five of such temples still survive. There are two in Odisha: Hirapur near Bhubaneshwar and Ranipur near Bolangir, three in Madhya Pradesh at Vedaghat near Jabalpur, at Mitaoli of Morena district, near Gwalior and the not-quite circular ruins in Khajuraho.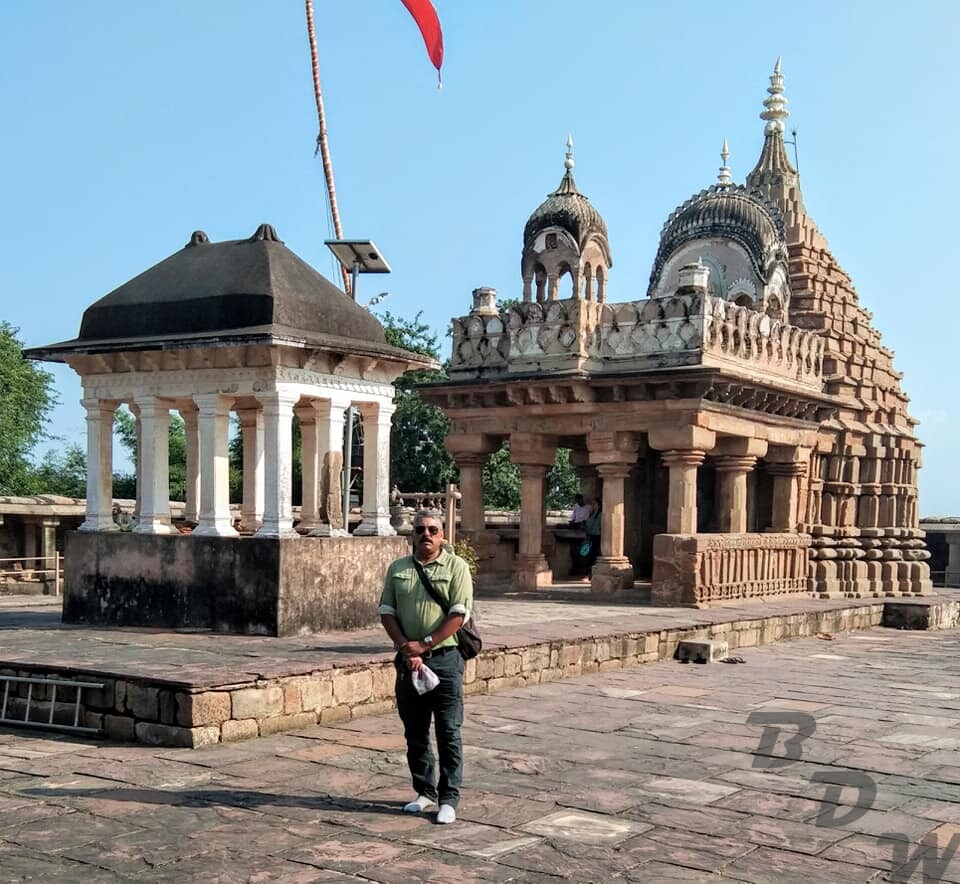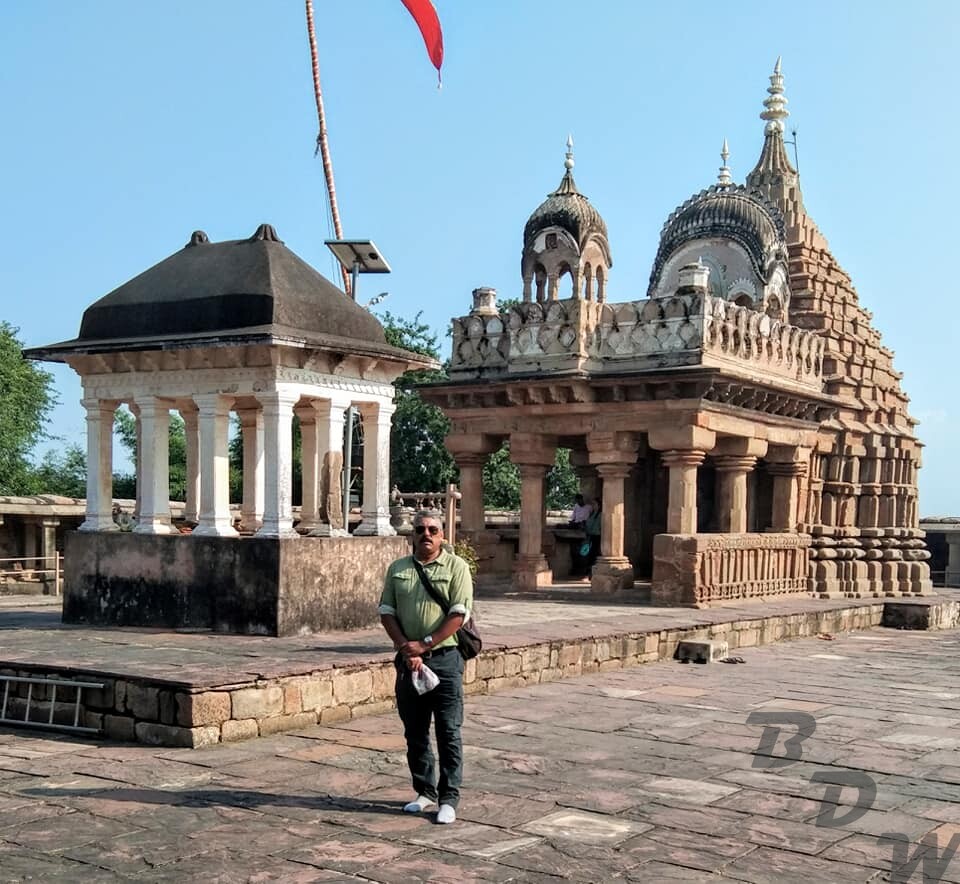 The yoginis here in Vedaghat, have individual pillared shrines with a roof but they all open into a central circular courtyard, housing a central temple with an mesmerizing statue of Shiva and Parvati riding Nandi bull. The images of yoginis show women in various postures. Some dancing, some hunting with bows and tridents, some making music on drums, some drinking blood, or wine, some doing household chores with a winnow in their hand. Most women are bejewelled, with fine hairstyles. Others have the head of a snake, or a bear, or a lion, or an elephant. They stand on human heads, male bodies, on crows, roosters, peacocks, bulls, buffaloes, donkeys, pigs, scorpions, crabs, camels, dogs, on water and in the midst of fire. What confirms, is that yoginis are life-affirming. If the yogi withdrew from life, the yoginis seemed to have embraced life. If the yogi yearned for immortality, the yogini did not fear mortality. If the yogi sought to withhold desires, the yogini unleashed desires.
#Marble_Rocks. When I reached here and came to know that boating is temporarily stopped and will recommence from 16 October, I was initially disappointed. But God had some better plans. A local boy, for a humble fee of Rs 250, agreed to take me for a walk for an hour and half all along the southern bank of the Narmada right upto Dhuandhar, and take me to the exact points which are so famous. Though it involved some rigourous upper class treks among huge boulders and rock face with some climbing up and down on all four, the views that I was presented is something one can live and die for. I have seen this before, but every time the canyons of Marble Rocks open up a new sense of feeling good inside.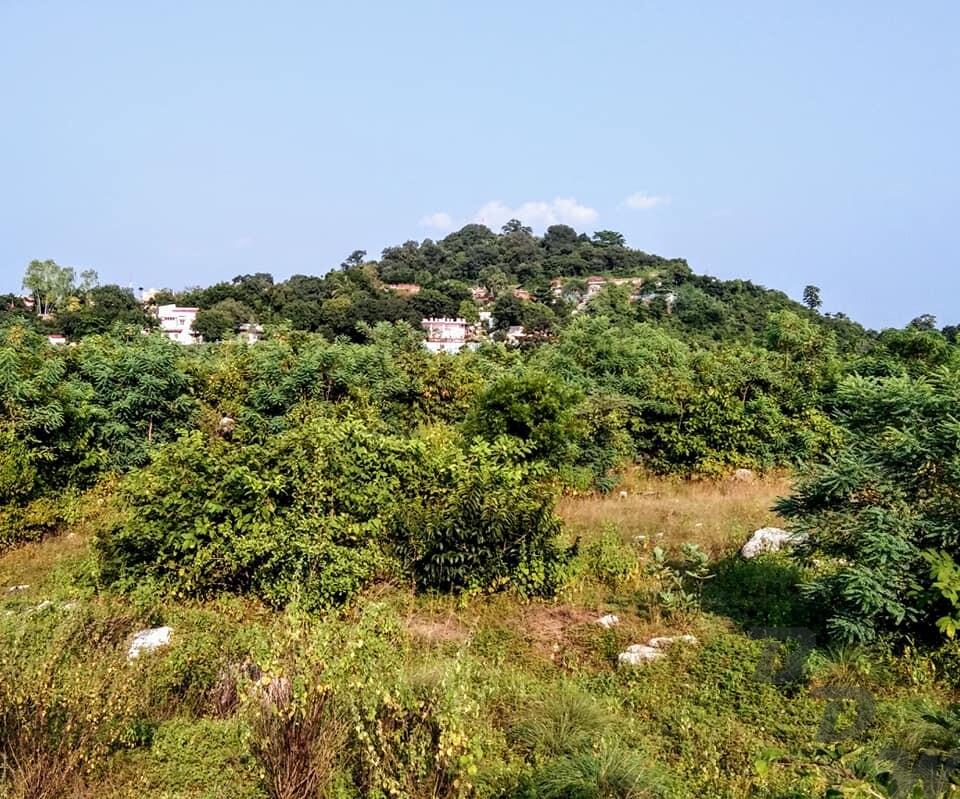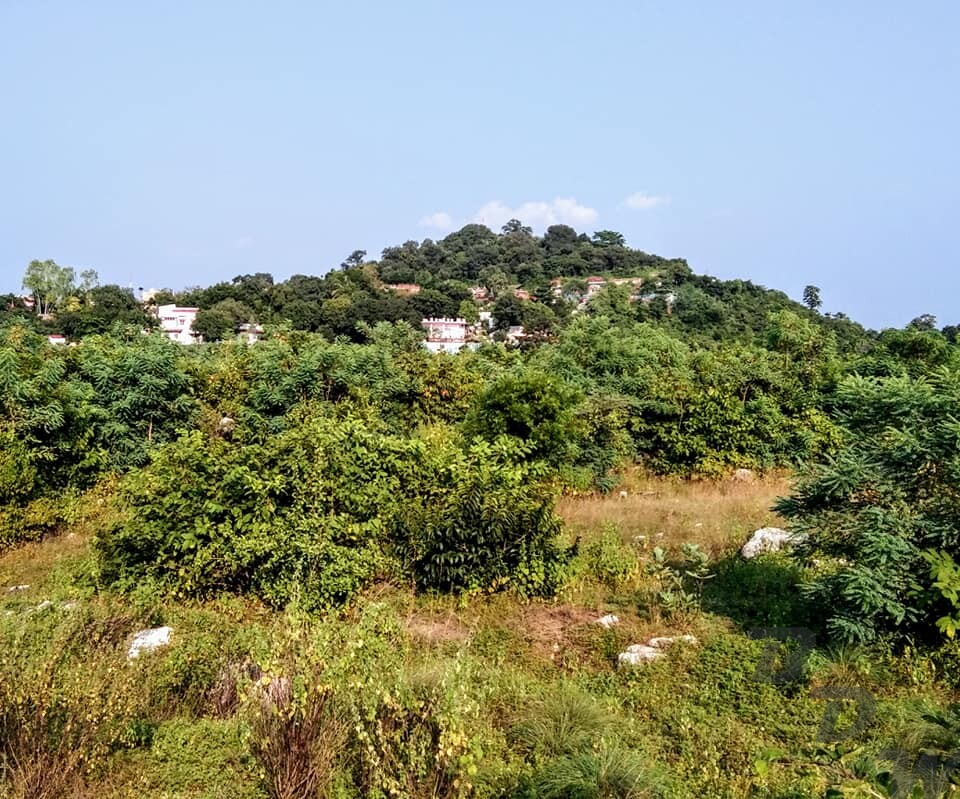 Thoughts
Though Dhuandhar and Marble Rocks were exsquisitely beautiful, yet Chausath Yogini was perhaps the most emotionally moving experience in Jabalpur. There is no doubt in my mind, that ancient Indin society had a very very reverred place for women. The later Vedic Brahmanical ascetic supremacy often represented by the fucked up Manu-smriti has made Indian common women a second class citizen. Warped sense of civilization and honour, selfish women's lib movement is not doing much good. A society which places women in a distant pedastal to be worshipped or a possession to show and bear progeny both are going wrong. Equality will be best formulated, perhaps by the initial step of recognition of uniqueness. Jai Hind.
The jaw dropping paintings of Early & Later Stone age and Chalcolithic age calls…
---
"আমি নিজে জংলি নই। এটা আমার পরম আক্ষেপের বিষয় যে আমি জংলি নই। আমি আলতামিরা (নাকি ভীমবেঠকার!! ) গুহাবাসী দের মতন 'বাইসন' আঁকতে পারি না।"… মনমোহন মিত্র (আগন্তুক সিনেমায়).
[My biggest regret in life is that I am not uncivilized]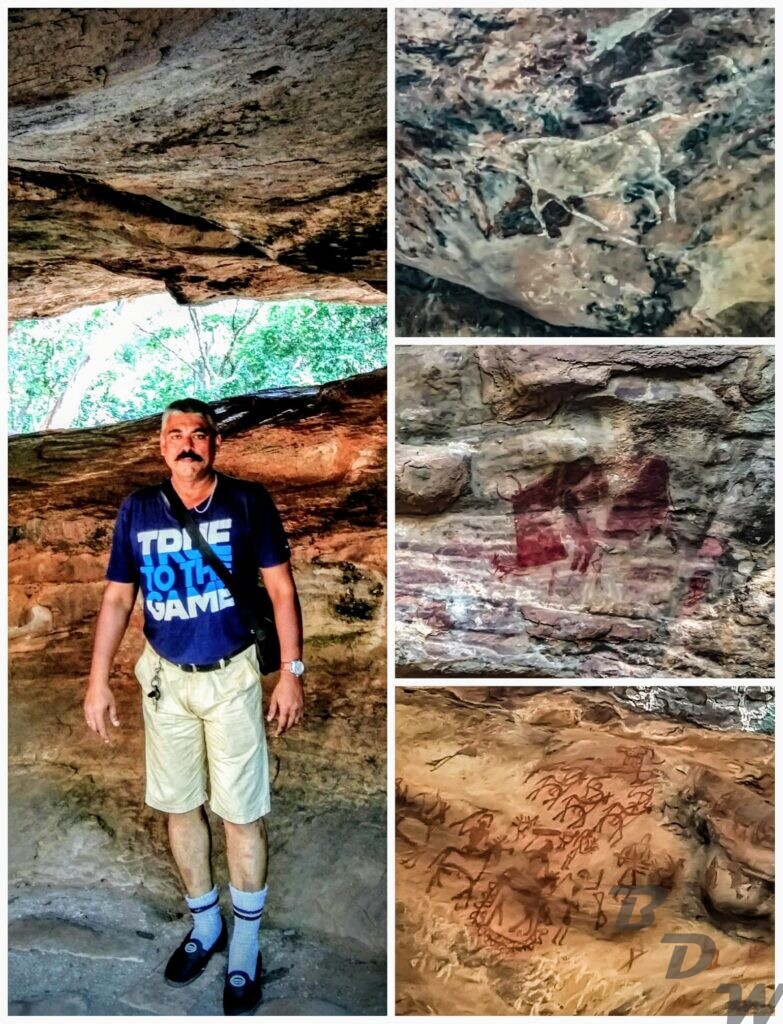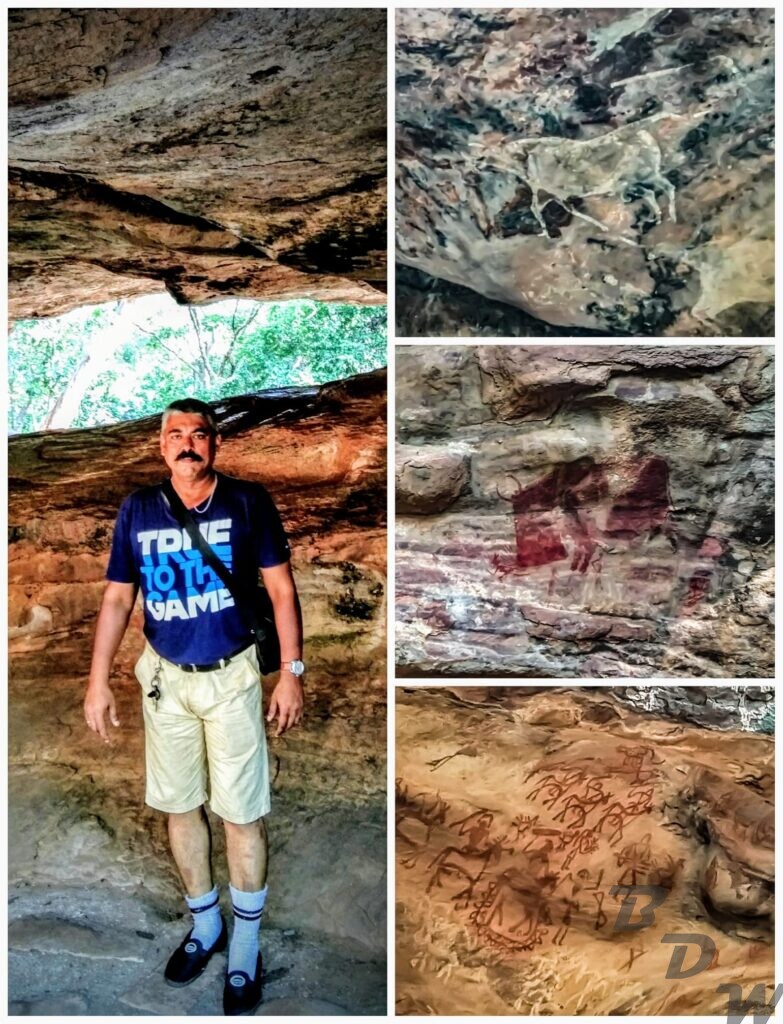 ---
Reached #Bheembethka (Bhopal). My third visit here, but still remain mesmerized over the prehistoric artwork at this place. Checked-in at the MPT Highway Retreat (beside the rail-line) for the night.
#Road_taken. It was a long distance and not so good roads. From Vedaghat, I took the Pippariya Hoshangabad axis and came to Shahpura and Narsinghpur. Thereafter turned right (around 13 km of good 4 lane highway) to again turn left to Karelli, Gadarwara, Bankheda, Sohagpur, Babai, Hoshangabad. Then again turned left to take the infamous potholed NH 12 /46, which is a piece of shit / lund, to Bheembethka. The distance is just 290 km, but the energy is sapped due to the stress on self and bike due to the bad roads.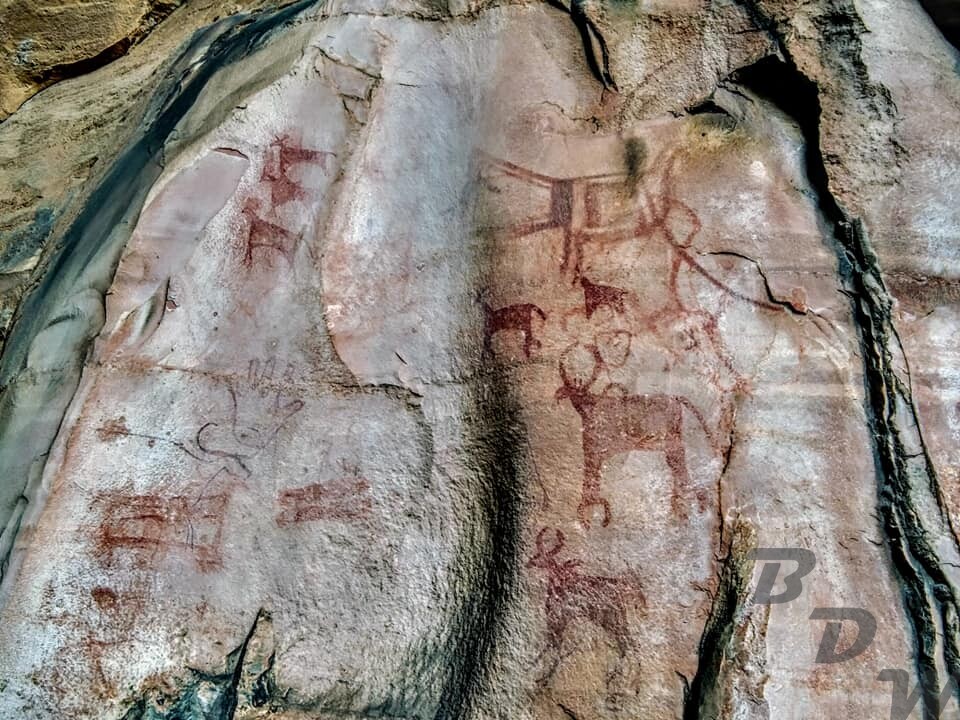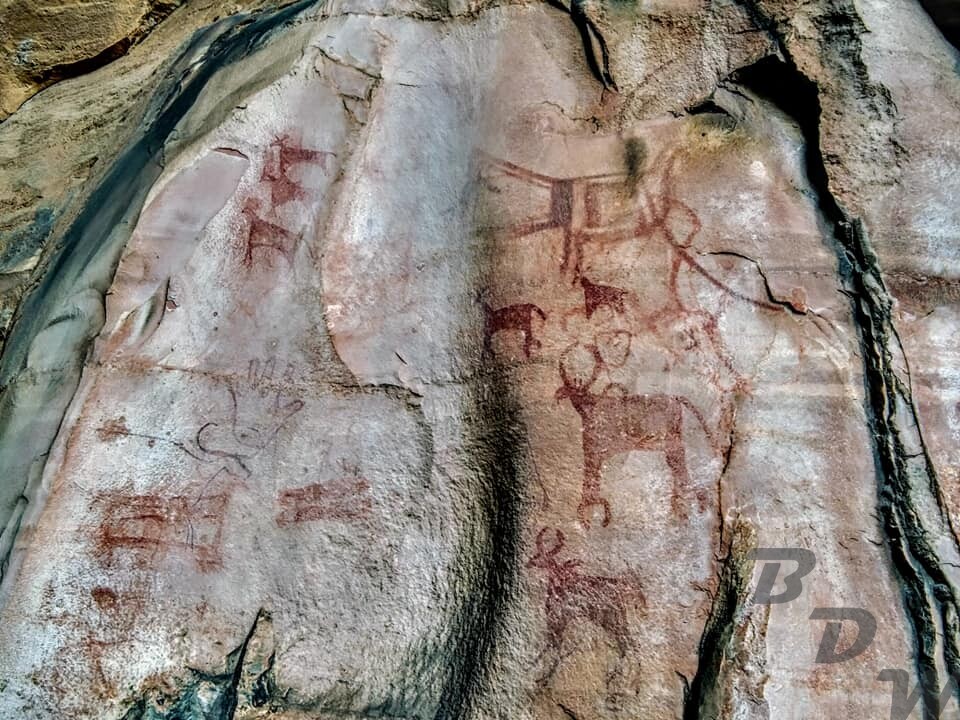 At the Northernmost tip of the Vindhya ranges, in this rocky terrain of dense forest and craggy cliffs, over 600 rock shelters of the Neolithic age has been discovered here. In over 500 of these, life of prehistoric cave dwellers have been repeesented by wall paintings by the cave dwellers, making the Bheembethka group an invaluable archelogical treasure to chronicle the History of Man. Mainly executed in red or white natural colours, use of yellow and green are also intermittently found. Manganeese, haemetite, soft red stone, charcoal, animal fat and leaf extracts were the ingredients of colour and they stayed over centuries due to the chemical reaction of the paint on the oxide present walls. Hunting, dancing, music, horse, bison, boar, deer, antelope, tiger, leopard, elephant, fighting, body decoration, popular ritual, has been amply represented in the paintings. They cover generally 4 periods…
#Period_I (Upper Paleolithic). Line drawings in dark red and green of huge bisons, tigers.
#Period_II (Mesolithic). Stylized figures showing body decoration, hunting scene, weapons, community dances, birds, drums, carrying dead animals.
#Period_III (Chalcolithic). Similar to pottery painting, depicting agriculture, farm, plantation.
#Period_IV&V (Early Historic). Schematic and decorative style mainly in red, white and yellow depicting horse riders, horses, religious symbols, yaksha, tree gods, sky chariots.
#Period_VI&VII (Medieval). Geometric and schematic but artistically crude.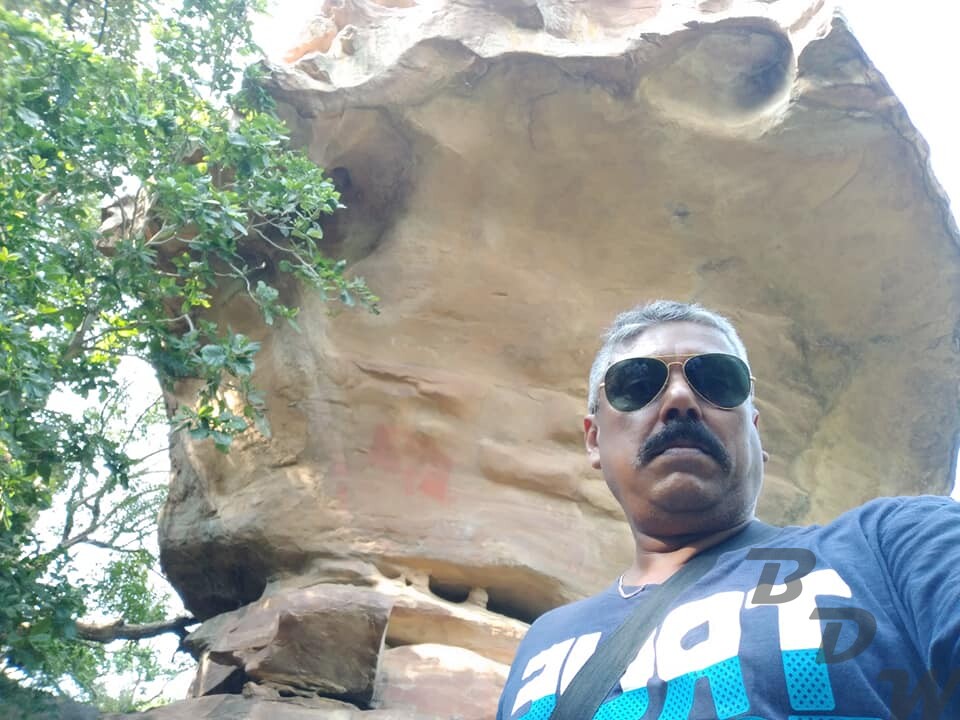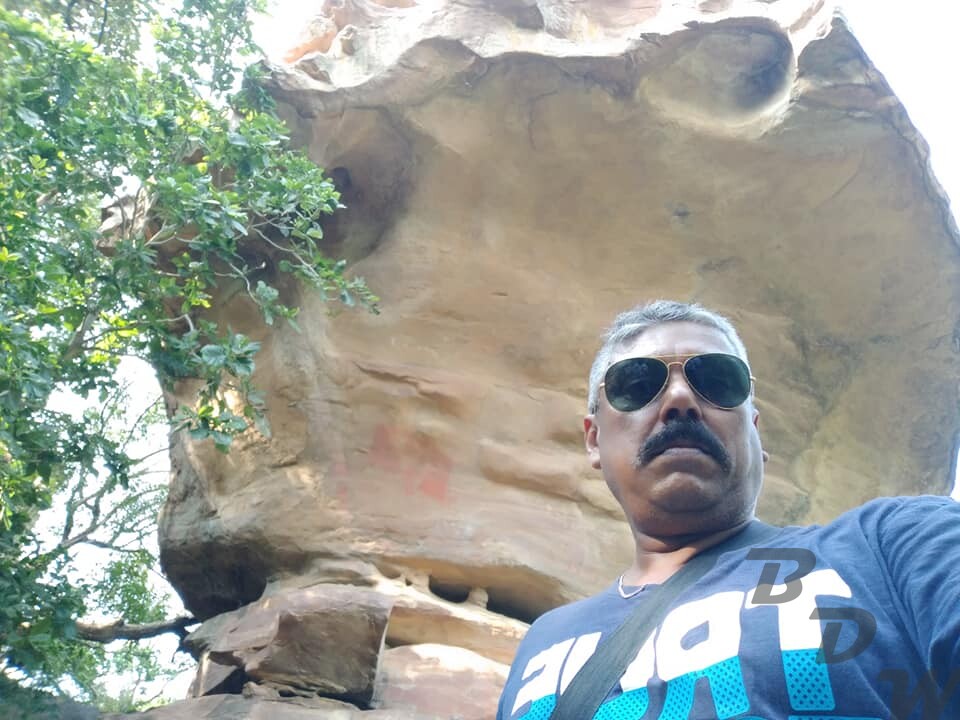 Thoughts
As humans get civilized.. They go with a natural flow of development.. The aim always remain.. How to make life easier, better, happier. Its man's quest for happiness which dicrates which direction civilization will take. Current world is privy to tyranny, oppression, division, hunger, destruction, devalueation. Humans today have to sit down together and decide deliberately the direction in which civilization and development will go. Only then, happiness for the entire race is possible. Jai Hind.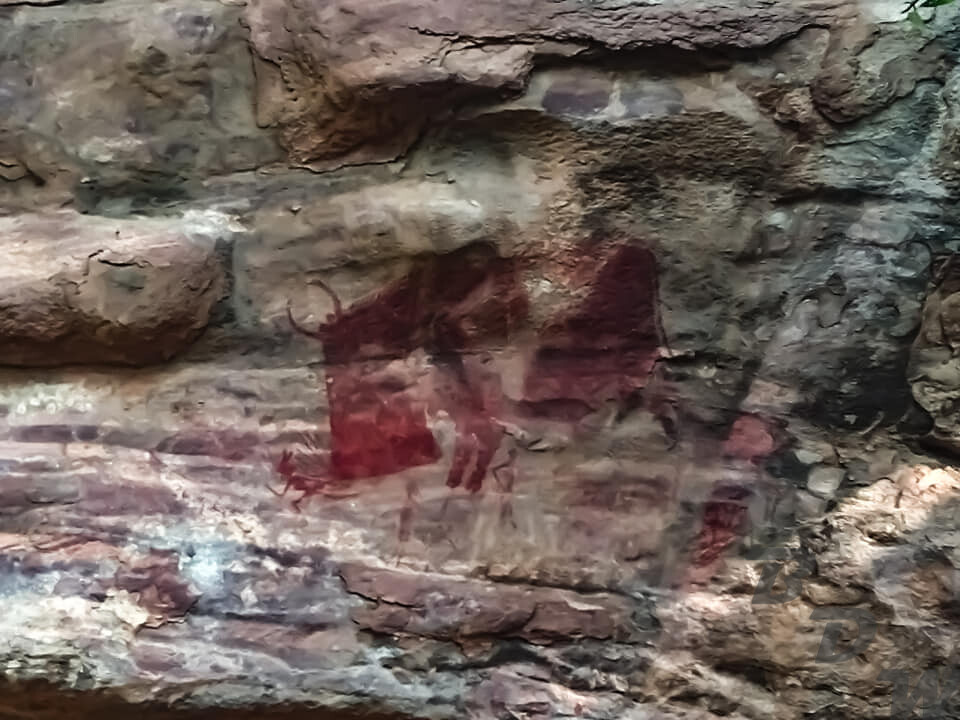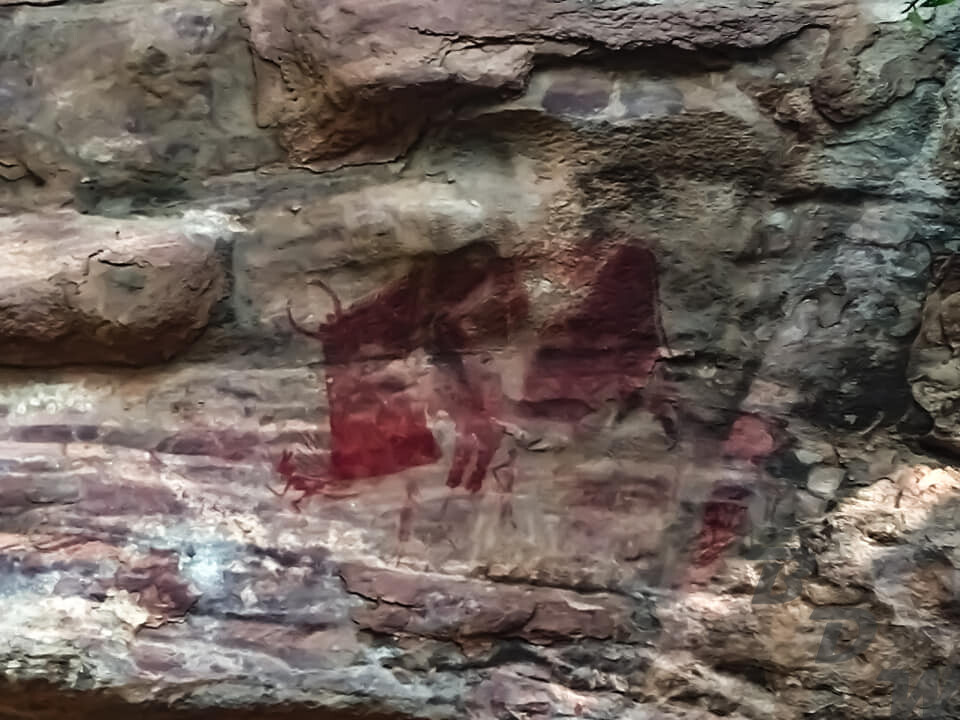 Buddha calls…
---
Reached #Vidisha. While doing so, visited Sanchi, Udaygiri and Gyraspur.
#Road_taken. I came up on NH12/46 and turned left towards Bhopal. Undoubtedly, NH12 is the worst possible road that exists in India. One may thank God if a person or his vehicle can come out of it safe. Continued upto Bhairopur on NH12 and turned right from there into the Bhopal bypass, continued upto the Vidisha circle and turned right to reach Khoha. Therafter turned right to hit Sanchi. From Sanchi, instead of hitting Vidisha city, I visited the the fringe places around Udaygiri, reached Vidisha and left for Gyraspur and back to Vidisha.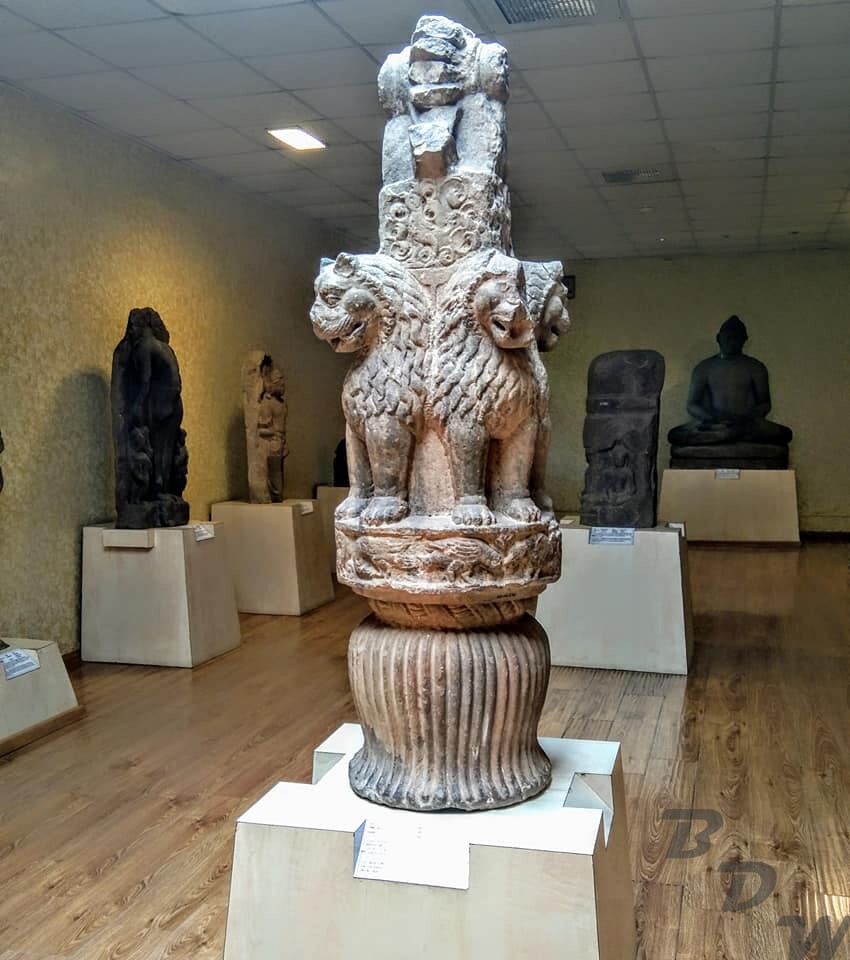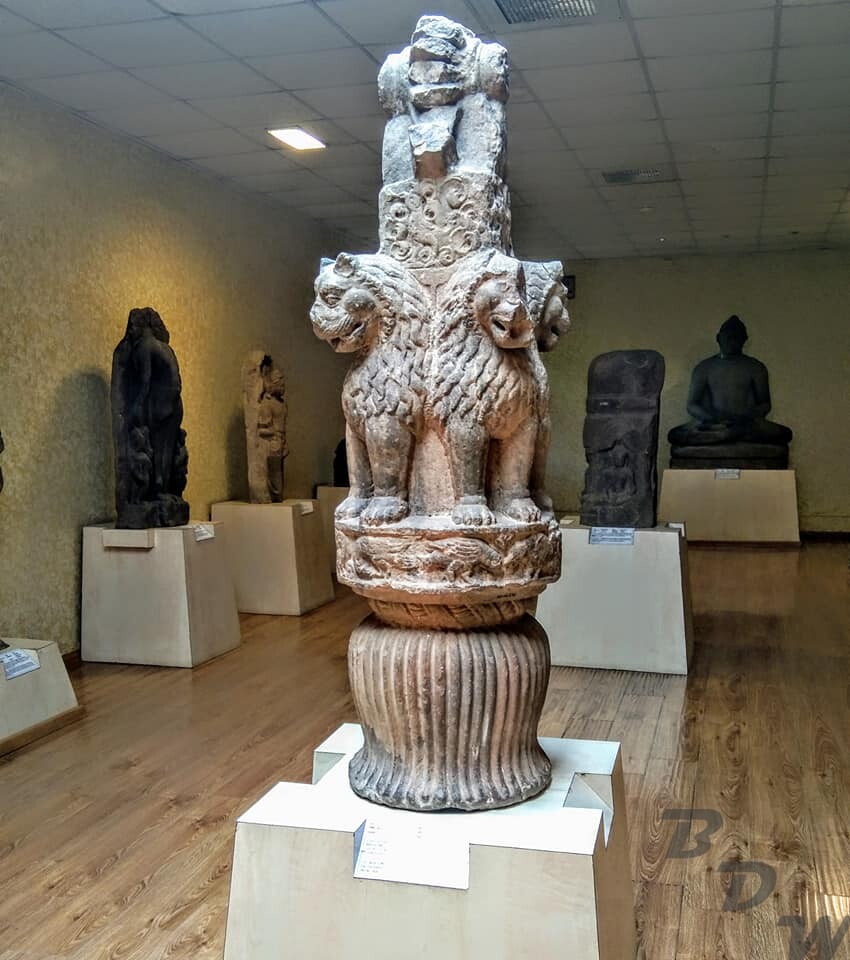 #Sanchi. The town of Sanchi is synonymous with Buddhist Stupas – hemispherical structures typically containing relics of the Buddha or his followers. The Stupas of Sanchi were constructed on the orders of Emperor Ashoka to preserve and spread the Buddhist philosophy. Sanchi has been protecting these beautiful and sacred architectural wonders, just the way these wonders have been safeguarding ancient history and art of the Mauryan period. The numerous stupas, temples, monasteries and an Ashokan pillar have been the focus of interest and awe for global audiences as well. In fact, UNESCO has given the status of 'World Heritage Site' to the Mahastupa. Whats of immemnse importance are The Stupa Number 1, 2 and 3, the four gateways, the Gandhara style Buddha statue, the remnants of the Ashokan Pillar, the Buddhist Vihara, the begging bowl and the Gupta Temple. Carved with stories of Buddha's birth and life, Sanchi is the finest example of early classical art and forms the seedbed for modern contemporary Indian artforms.
#Udaygiri_Caves. A group of twenty rock-cut caves around 8 km from Vidisha, from the early years of the 5th century CE. They contain some of the oldest surviving Hindu temples and iconography in India. They are the only site that can be verifiably associated with a Gupta period monarch from its inscriptions. One of India's most important archeological sites of India, made famous by the massive Varaha avatar, the reclining Vishnu and the ancient Ganesha.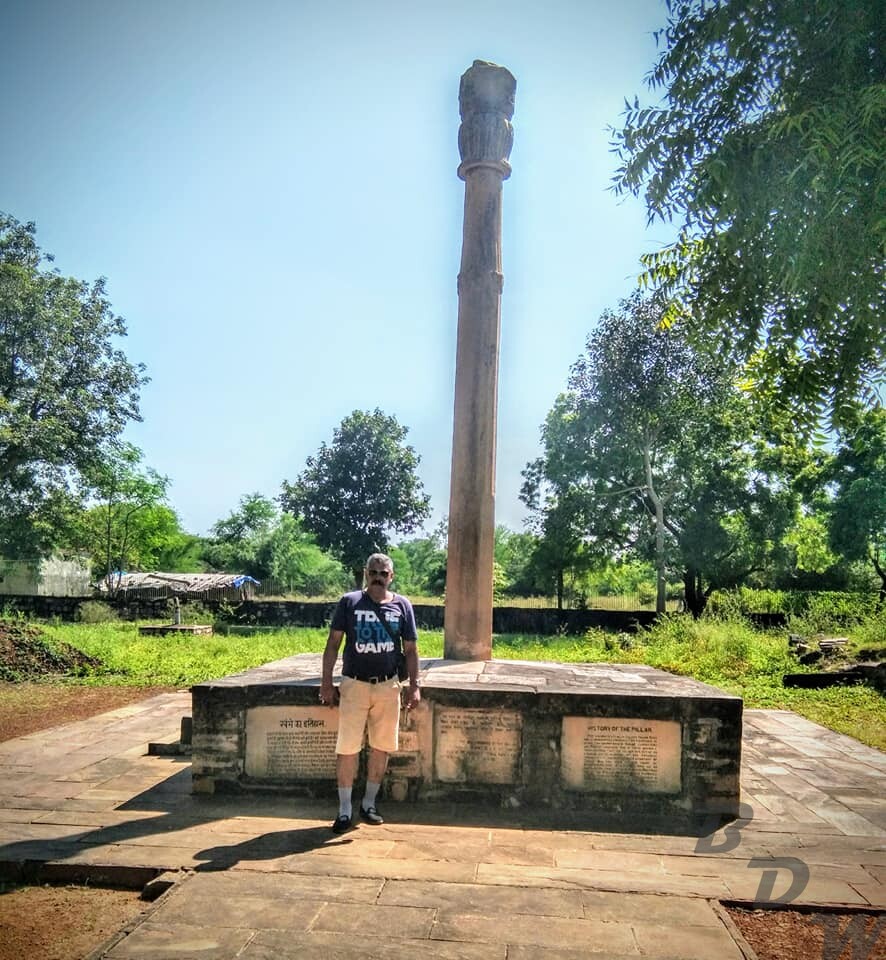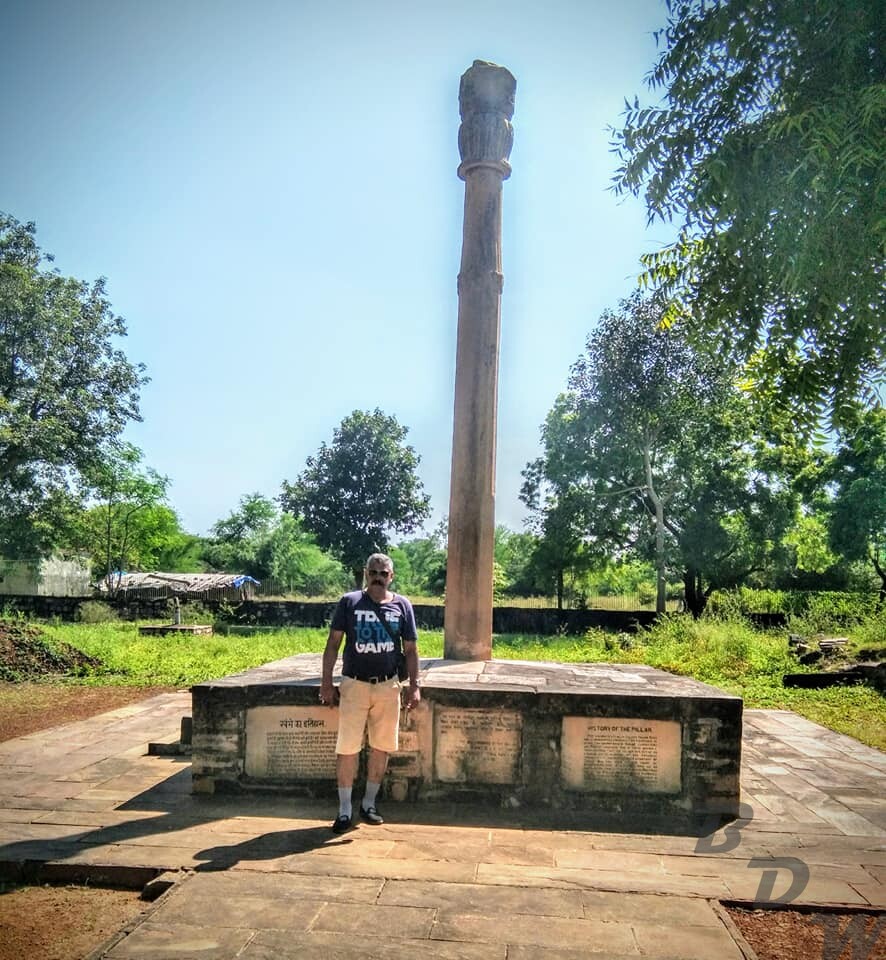 #Heliodorus_Pillar. Heliodorus was a Greek ambassador to India in the second century B.C. Few details are known about the diplomatic relations between the Greeks and the Indians in those days, and still less is know about Heliodorus. But that the column he erected at Besnagar about 113 BCE is considered one of the most important archaeological finds on the Indian subcontinent. It is known that Heliodorus was sent to the court of King Bhagabhadra by Antiakalidas (Antialkidas), the Greek king of Taxila. The kingdom of Taxila was part of the Bactrian region in northwest India, conquered by Alexander the Great in 325 B.C. By the time of Antialkidas, the area under Greek rule included what is today Afghanistan, Pakistan and Punjab. The transliteration if his inscription reads… "This Garuda-column of Vasudeva (Visnu), the god of gods, was erected here by Heliodorus, a worshipper of Vishnu, the son of Dion, and an inhabitant of Taxila, who came as Greek ambassador from the Great King Antialkidas to King Kasiputra Bhagabhadra, the Savior, then reigning prosperously in the fourteenth year of his kingship."
#Bijamandal. Near the eastern edge of the old Vidisha town are the remains of a large temple of the late Paramara period known as the Bijamandal. The building was probably started in the second half of the 11th century. That it was never finished is shown by carved niches and unfinished architectural pieces found round the base of the temple plinth. On top of the plinth is a small mosque made using pillars, one of which has an inscription dating probably from the time of king Naravarman (circa 1094-1134). It is a devotional inscription revering Chamunda, of whom he was a devotee. The mosque atop was constructed in the late 14th century. A step-well of the 7th century is in the same campus and has, beside the entrance, two tall pillars with Krishna scenes. These are the earliest Krishna scenes in the art of India. Bijamandal Temple at Vidisha is one of massive dimensions comparable with Konarak in Orissa.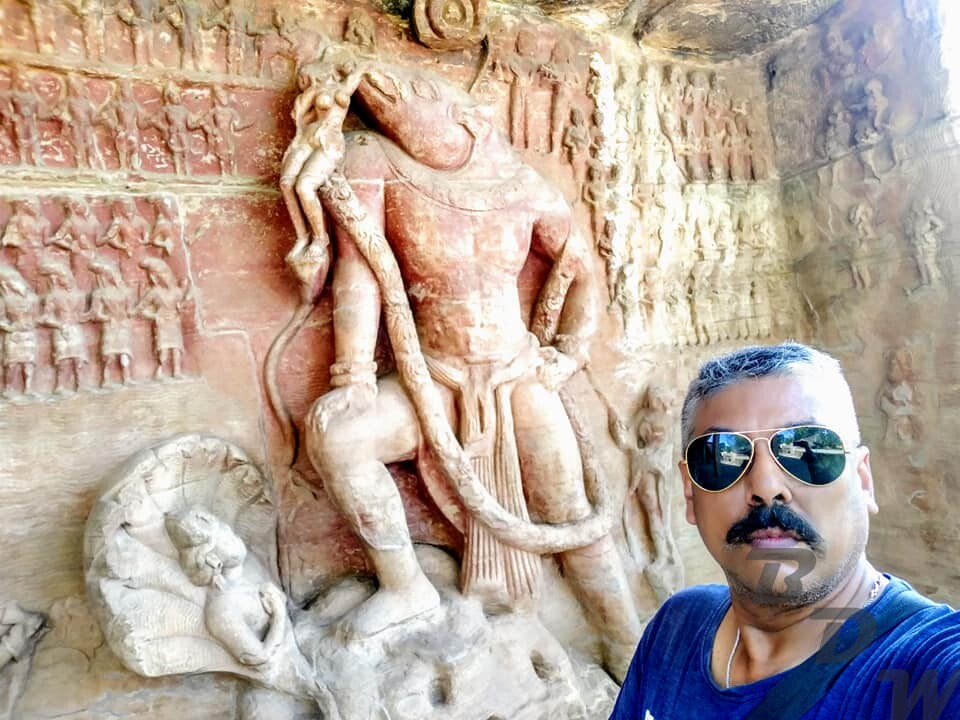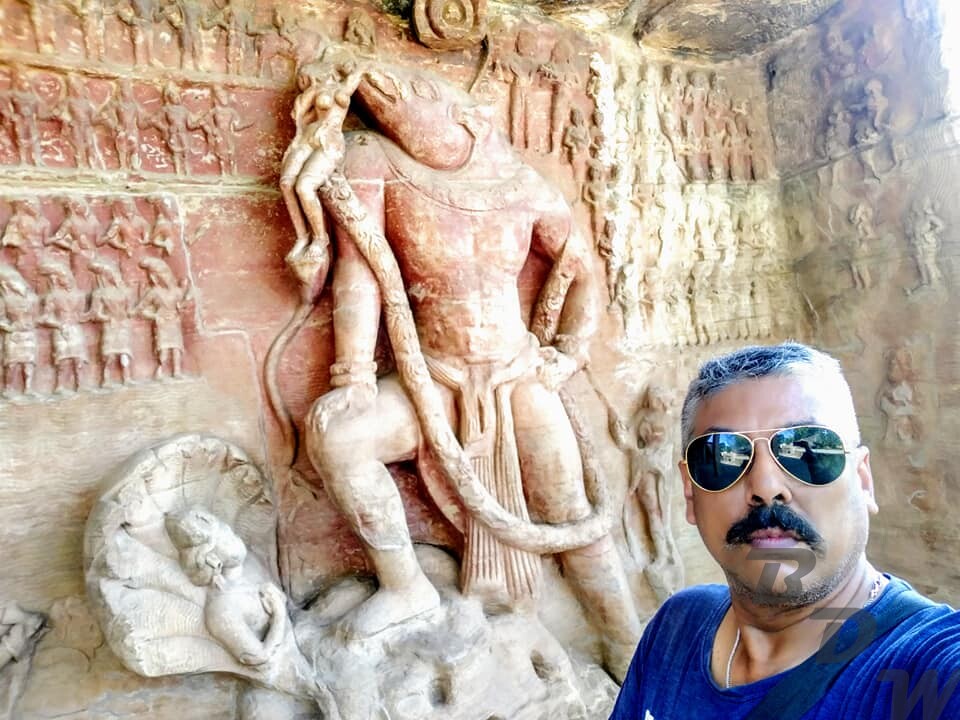 #Maladevi_Temple. A grand Portal of Ninth century AD, situated on the eastern slope of a hill and built on a huge platform cut out of the hillside and strengthened by a massive retaining wall, Maladevi temple is in fact imposing and astonishing building, provides a panoramic valley view, in Gyaraspur, about 40 km from Vidisha, Madhya Pradesh, India, which can be accessed through NH-86.
#Hindola_Torana. Hindola means a swing and Torana is a arched gate, is a magnificent art work of 9th-century or medieval period, situated in Gyaraspur. This is a developed, ornamental and decorated arched gate made of sandstone. On its both pillars Lord Vishnu's ten incarnations are engraved. Near it four carved and sculpted pillars and beams seems to be ruins of Trimurthy temple set on one raised platform, as Lord Shiva, Lord Ganesha, Goddess Parvati and their servants are sculpted on these pillars and beams. Hindola Torana with its two upright pillars and cross-beam has a truly indicative name. All the four sides of the two lofty pillars are carved into panels with insertion of the ten incarnations of Vishnu. So it may be an entrance gate for the Lord Vishnu's Temple or Of Lord Shiva and also may be of Thirumurthy. And two structures are completely in ruins.
#Bajramath_Temple. Situated in Gyaraspur, behind the Sub-Judicial Magistrate and Tehsildar's Office Gyaraspur, temple is facing to the East and significantly it was a Hindu Temple, later it was transformed to Jain Temple. Indeed it is just opposite to the Hill on which Maladevi temple is situated.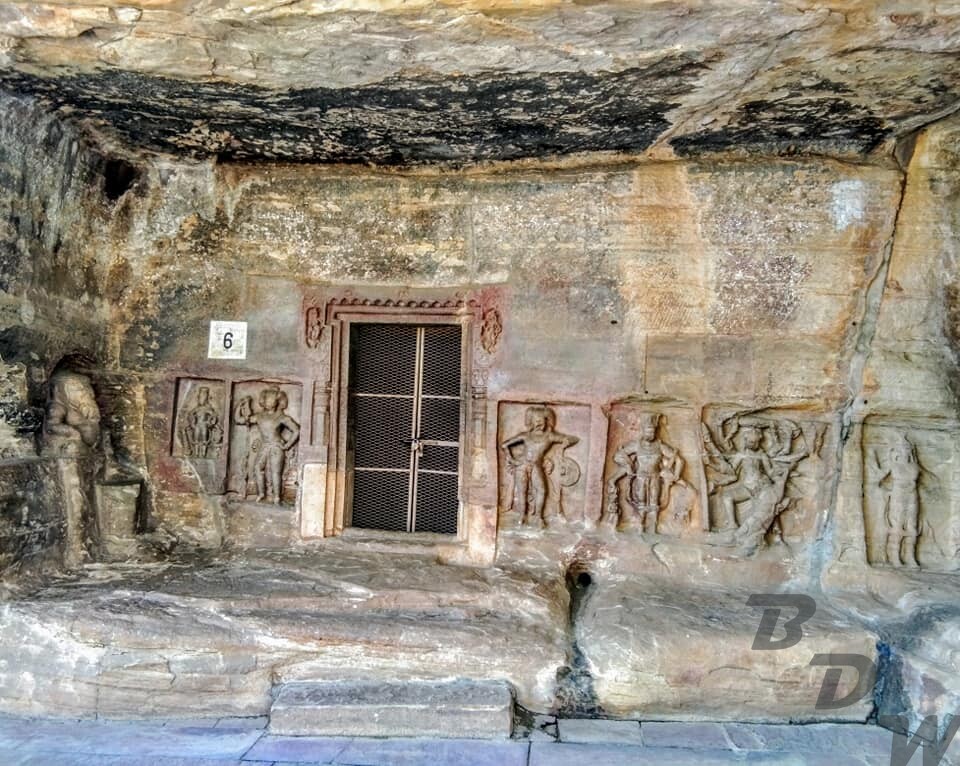 Thoughts
India is not a piece of land, neither is it a group of people. India is a grand idea, which weaves all of us together with the threads of heritage, diversity and modernity. If you do not visit these places, you will not understand the Concept of India. Without internalizing the concept itself of India, all arguements of Left, Right, Rashtra etc will not be firm footed. Vidisha is one place.. Which made India.. As we are today. Jai Hind.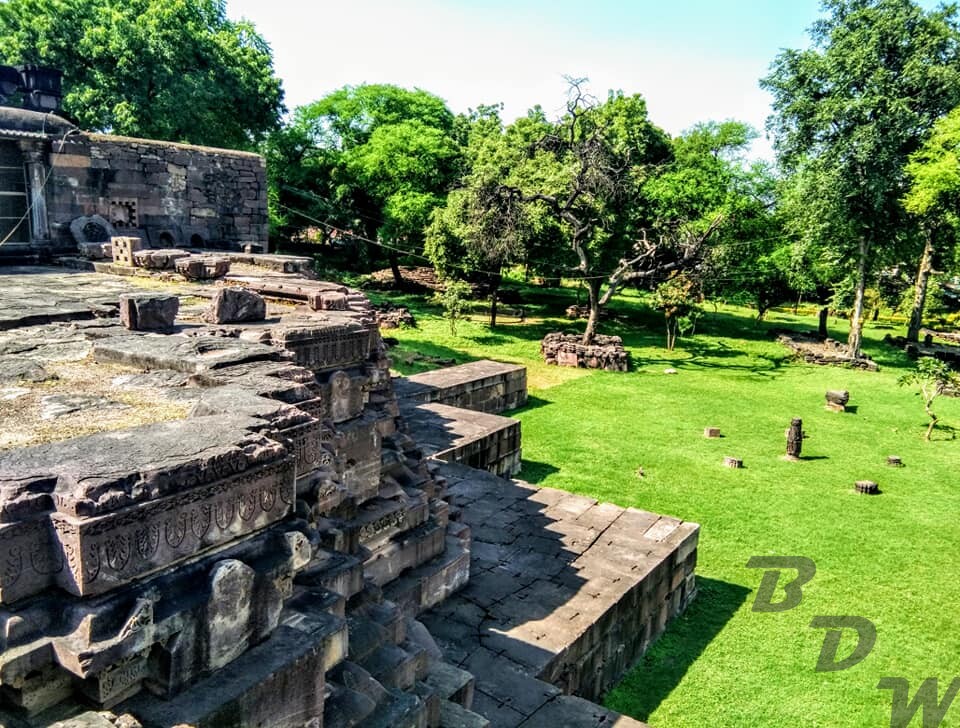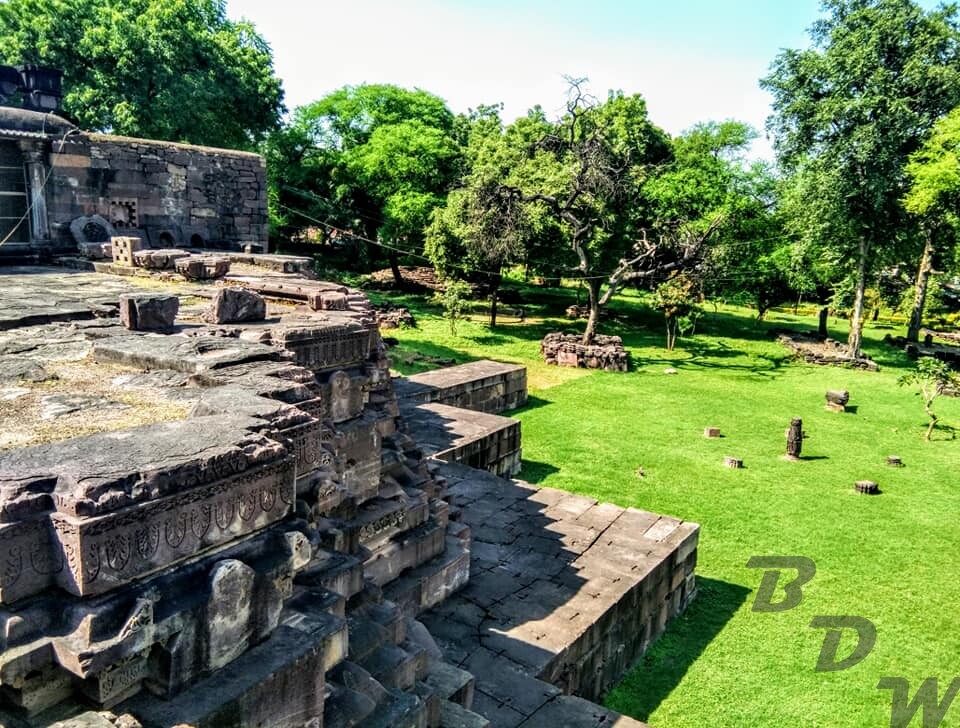 Chhatris of Shivpuri calls.
---
My normal salutation "#Jai_Hind, Sreemaan/ Sreemati" has opened all doors, won so many friends, everyone came ahead to help me in every step… Why can't it be all of our's everyday salutation?? (Incidentally, not everyone knows, but this is where our nationalist hero Ramachandra Pandurang Tope, popularly known as #Tatya_Tope was hung to death by the British).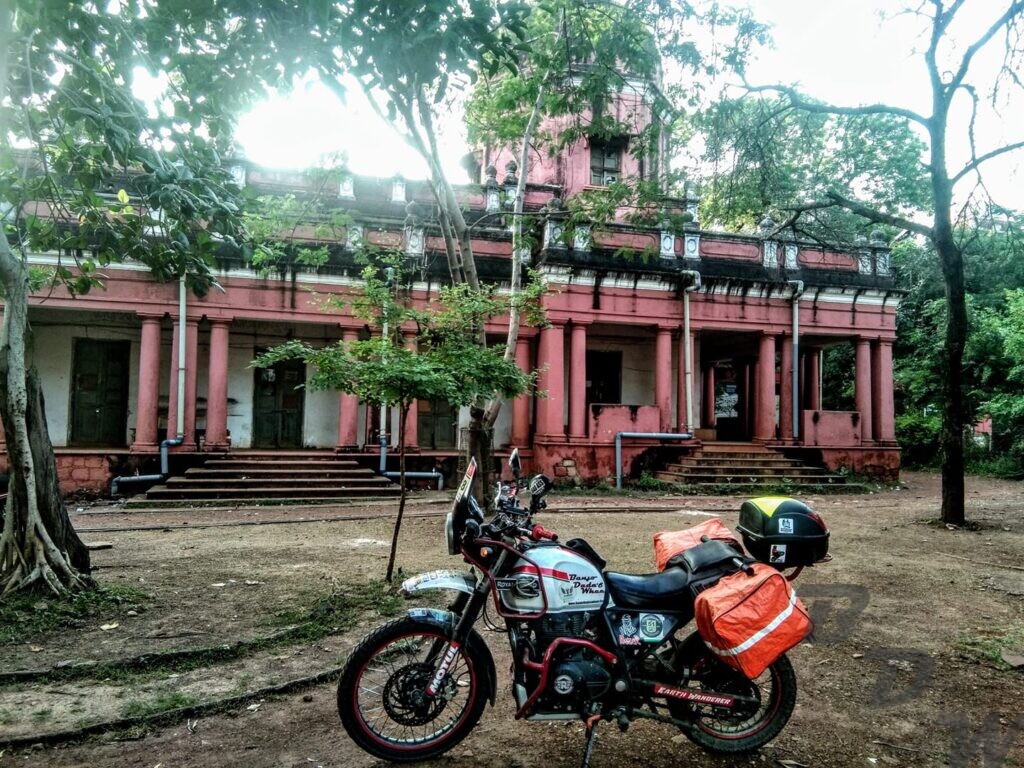 ---
Reached #Shivpuri, the exact border town of MP, UP and Rajasthan.
#Road_taken. I came out from Vidisha and took the SH 119 also called Vidisha- Ashoknagar Marg and hit Ashoknagar in good time. The road was flooded a week back, and hence buses and trucks are still not permitted, which was a big boon for me. From Ashoknagar, turned left to reach Isagarh, and rode through to hit Shivpuri.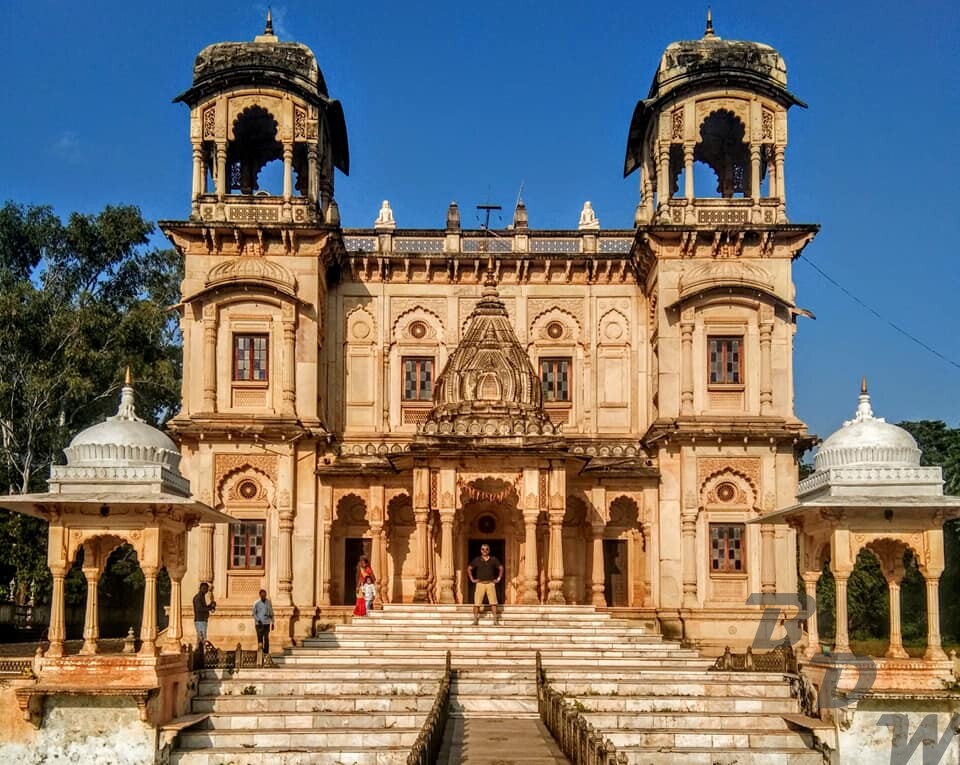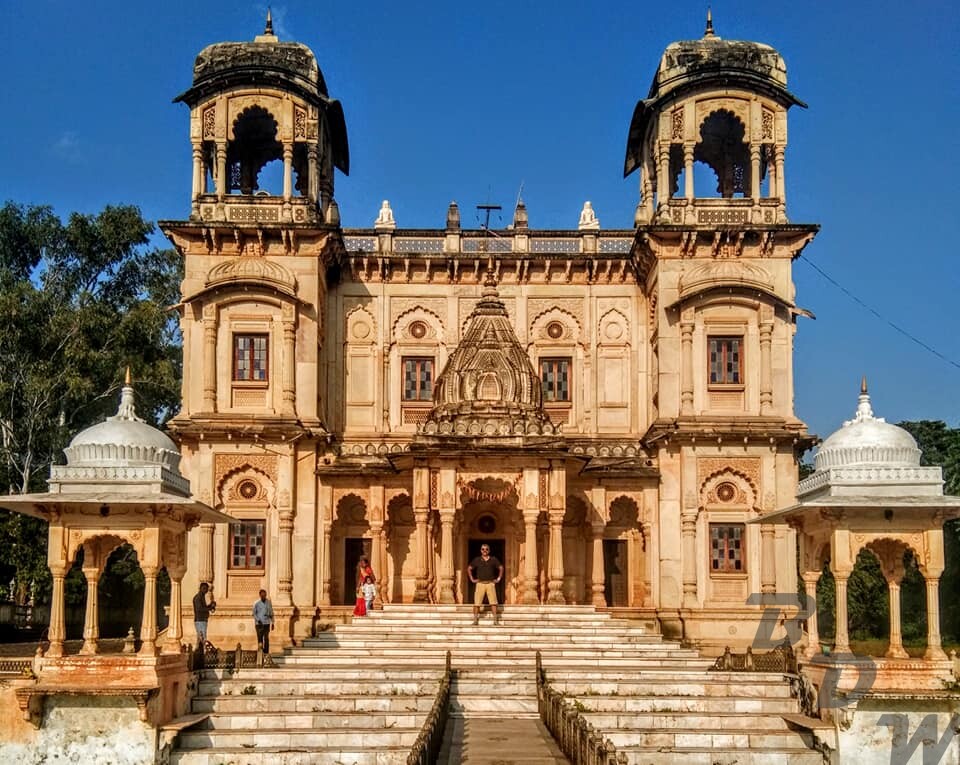 Shivpuri is an old town of enviable heritage. It used to be the summer capital of the Scindias, the rulers of the erstwhile Gwalior state. Located in the midst of lush greenery, the forest around Shivpuri officially gained the status of Madhav National.Park in 1959. And as per old records, these forests have been the Tiger hunting ground for many royalty, including King George of Britain. Shivpuri also was in national limelight once, when the famous nationalist #Tatya_Tope was hanged by the British, in this city. I managed to look around the town and found the following worth a mention:-
#Chhatri. Cenotaphs of Scindia kings and queens, located on the city outskirts. Flanked by the Mughal gardens with path adorned with picturesque fencing. The chhatris are a great blend of Hindu and Mughal architecture. In order to give a similar effect like Taj Mahal, the cenotaph of Madho Rao Scindia is ornamented in the pieta dura style with precious lapis lazuli and onyx. Facing the chhatri is the memorial of Madho Rao's mother, Maharani Sakhya Raje Scindia. Both the cenotaphs are very popular among tourists.
#Banganga_temple. Famous temple with 52 kunds. Its fabled that here only Arjun (of Mahabharat) shot an arrow into the ground to get Ganga out to satiate the thirst of Bhishma pitamaha. Hence the name Ban (arrow) Ganga (holy water).
#Bhadaiya_Kund. A natural spring and artificial waterfall having high mineral and sulpher content. It is a popular belief that a dip here cures all skin ailments. Also fabled that a couple taking a dip here becomes closest and never fights…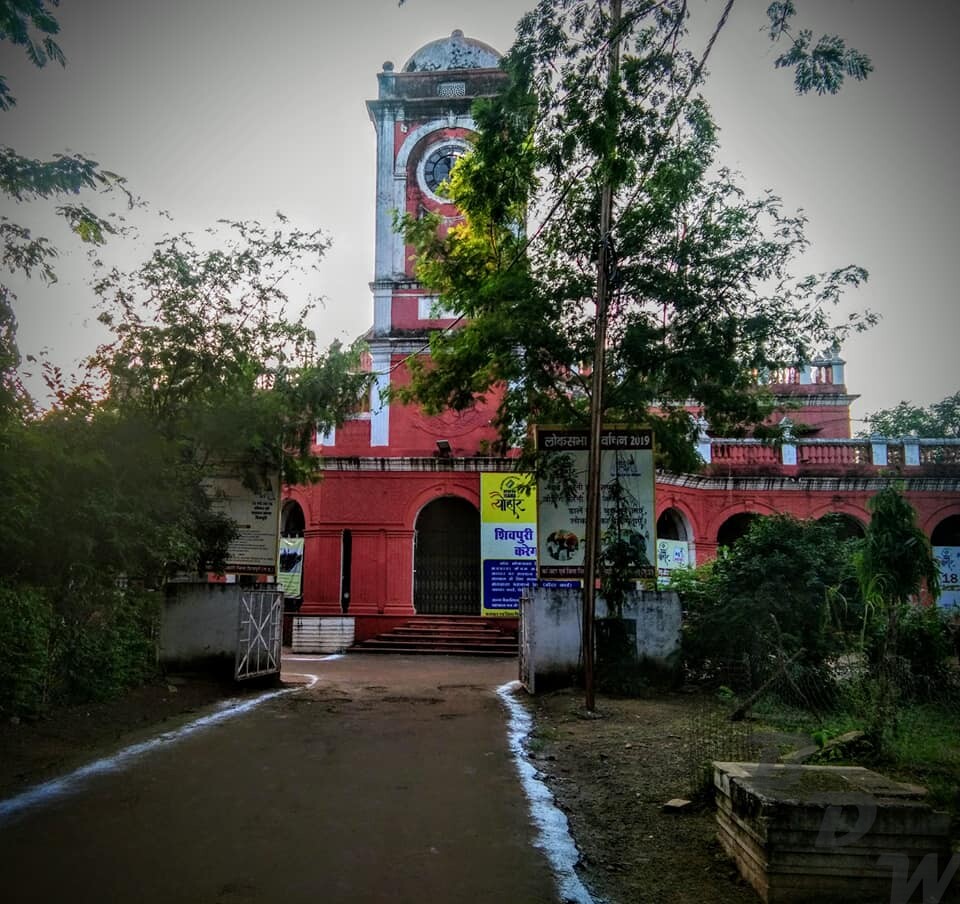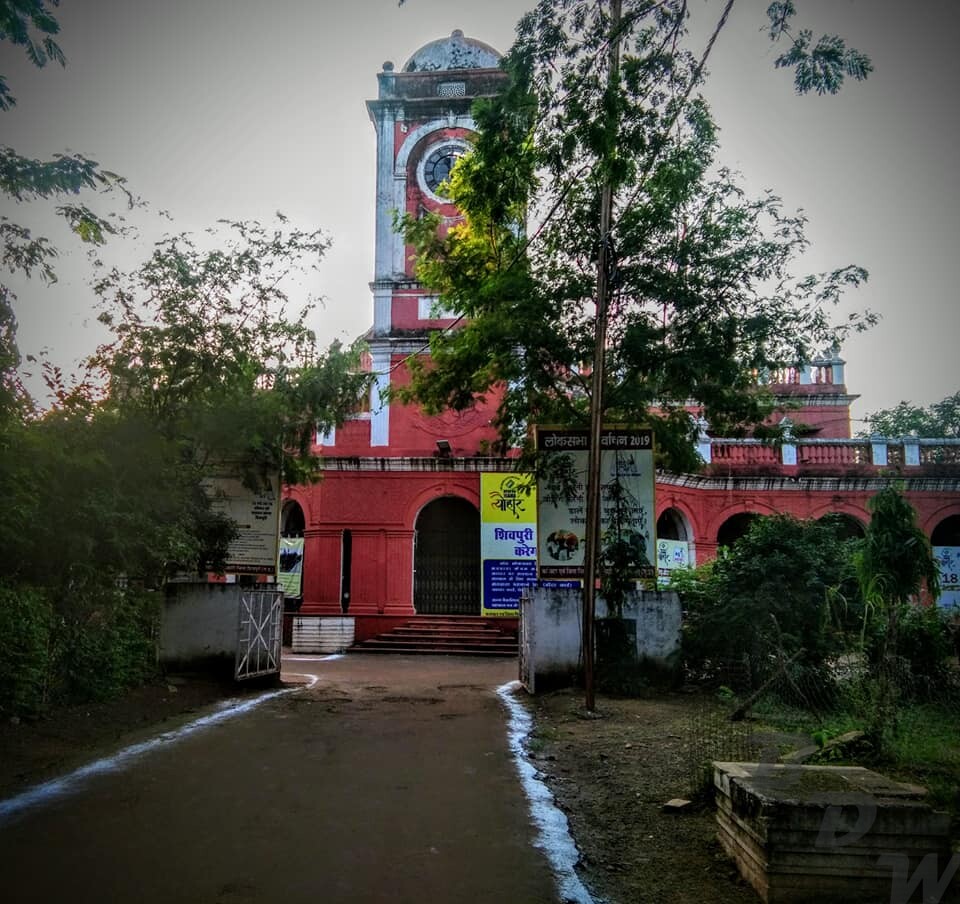 #Madhav_Palace. This was the summer residence of the Scindias. Structured in pink colour, the palace has a colonial influence that can be seen in its marble floors, iron columns, and quaint terraces. Today, the property is used as a training school for the Intelligence Bureau of Government of India. I was permitted to see this, but photography is not allowed there, being a restricted area.
#Collectorate. The collectorate or collector office of Shivpuri used to be the "Secretariat" during the British era. It is assumed that it's the same place where nationalist hero Ramachandra Pandurang Tope, popularly known as #Tatya_Tope was hanged. I did find out the statue and the mela ground, which now is a popular hangout for the tosn elders.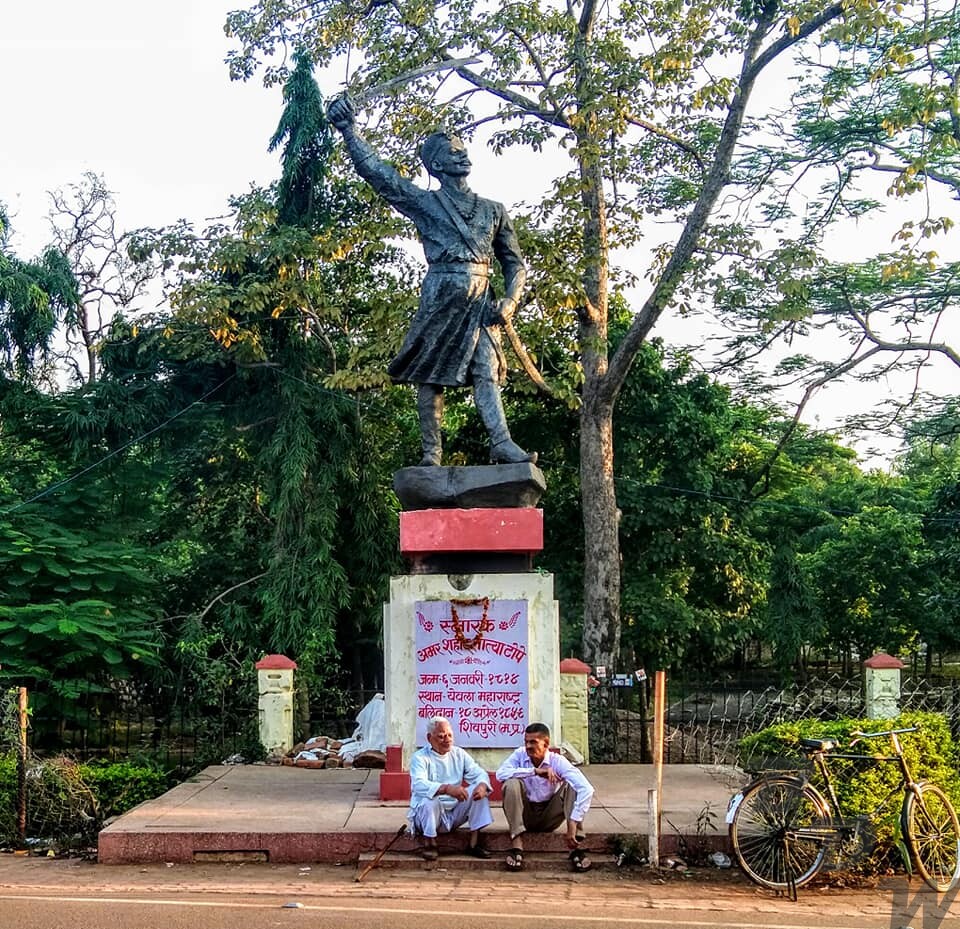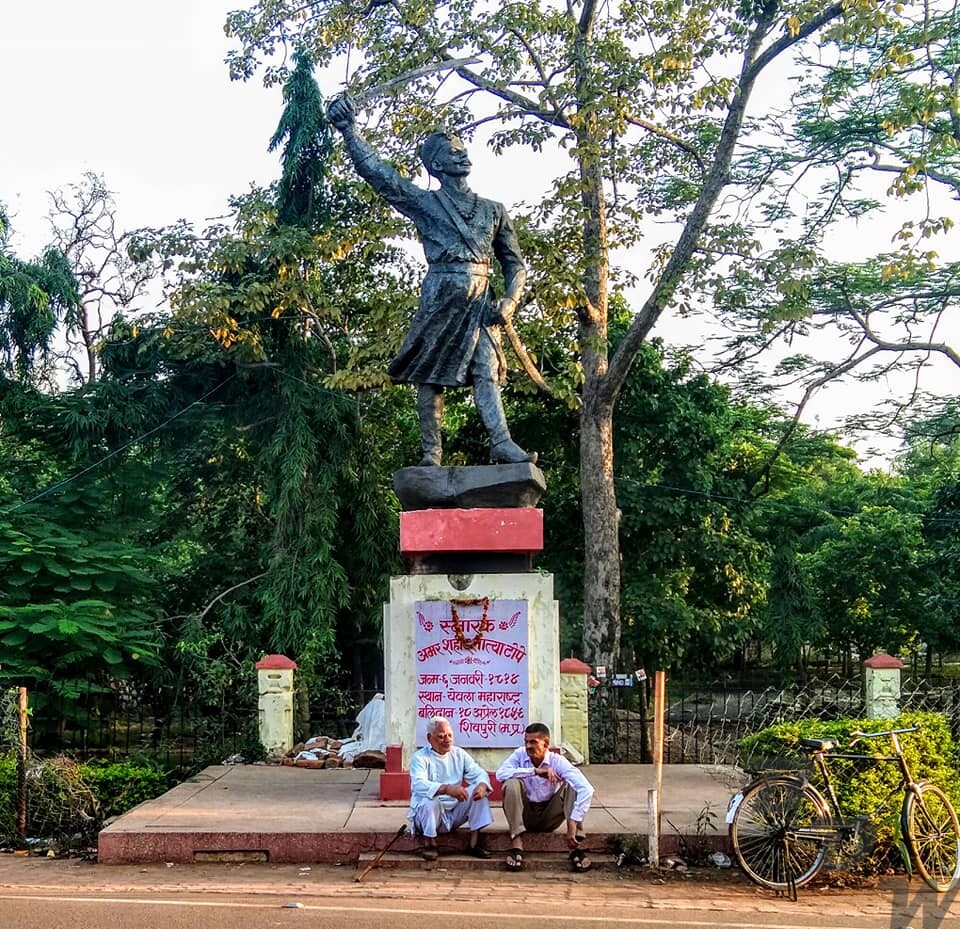 Thoughts
A jouney is sweet because there is a Home to go back to. Lots are happening in Jaipur. Khushi back from Singapore, Bullet participating in Robotics competition, Parents in laws, and own parents visiting soon, Diwali knocking on the door… Home beckons … Will summarize on reaching home. Jai Hind…
Jaipur calls…
---
Reached #Home safely.
#Endpiece… 3800 km in 12 days. Was a part of Heartland India, and now back home. So what are my #take_home realizations and thoughts?? I usually talk about places and monuments… Today let me talk about people, I usually talk about positives… Today let me talk about a few negatives…
#Motorcycling. I am pushing myself too hard, I need to tell myself… "Chill, you can't see everything in one life". Thats the biggest lesson of travelling, I am yet to master.
#Development. MP is perhaps one of the most underdeveloped states in India. Having travelled through the length and breadth of India, I stand by what I say. That brings us to the basic questions… What exactly is the measure of development?? My personal opinion… If I take an infant and in the morning and evening slap him twice and give him one roti to eat everyday, cut him off from the rest of the world… The baby will grow up to understand that two slaps and one roti is life. The same case appeared to me to be true for MP. The common poor people seem to have got entangled in a time warp. No major agriculture, no major industry, no good road, no dream, no hope. They are stuck. And the political masters, whosover they may be, are having a gala day. When dream of a better day is absent… What good can great names "sarva siksha", " ujjwala" "swasth bharat", " swachh bharat", "sauchalay" etc mean?? Nothing. There exists a need for grassroot level involvement of administration and polity in the process of development.
#Roads. Roads are not good in MP. SH are OK, NH whatever I have seen are unspeakable to say the least. Roads are an indicator of how much a Govt's services reach the common man. The state of road can clearly show the disconnect between the ruler and the ruled in MP.
#Cattle_menace. Personally, I am neutral about the ethical question of ban on cow slaughter. But I am not OK with the tremendous amount of cattle menace it has created in the country. The male cattles cannot be slaughtered, neither kept at home and fed; hence they are released by all. If one million male cattle roam the countryside, then two things as is commonly seen will be prevalent. Firstly… the ecosystem of the forest and the fringe is getting badly disturbed. Tigers and leopards find the stray cattle an easy prey and kill them… Slowly coming more and more to habitation for easy kills.. Thus endangering their own and human lives massively. Moreover, road accidents due to cattle menace are commonplace… The number of people just getting killed because of no fault of theirs, but for cattle on road, is not funny.
#Hotel_app. I go without any reservation, book on the spot and always get awesome deals. I have often seen many people simply being denied accomodation by the hotel / lodge owners, because through some app they have booked rooms at an unbelievable rate… Say a double bed ac room at Rs 299. The hotel owners clearly said like Kunal Kamra… " Phone ke App mein hi reh lo… Kamra maintain karne mein 600 rupaiya lagta hai, 299 mein dun kaise?"… I think there is some great mismatch between the App owners and Hotel owners in small town heartland India.
#Casual_relationships in small towns. People in big cities and metros cant even imagine how much the small town young men and women are booking rooms together, by the hour, casually in hotels, oyo etc. I am not at all judgemental about sex between condescending adults… What surprised me was that I had thought that rural India is more orthodox and the boys must be cajoling the girls for sex, who would be more demure… Thats not right.. The young women seemed equally if not more enthusiastic than the guys. India is changing… Hopefully for the good.
#Phone_addiction. We may shout youth-power… But the youth is only interested in one thing… They will put 3_4 packets of chips and some water and pepsi in front of them for sale, sit there and play some game on mobile, chat with some girl or watch porn the whole day. No job, free net… So I thinks thats that.
#Heritage_and_relevance. Heritage exists… But its irrelevant to the people. Its just some shitty broken temple lying there… If not unchecked, the youth is too eager to get the bricks for his house or sell off a statue.
#Tyranny. Caste, creed, sex, religion are the mainstay. Big Slogans are written on the walls, at the same time, dalits are opressed, women are bred. Political consciousness is low… Fringe noise is high.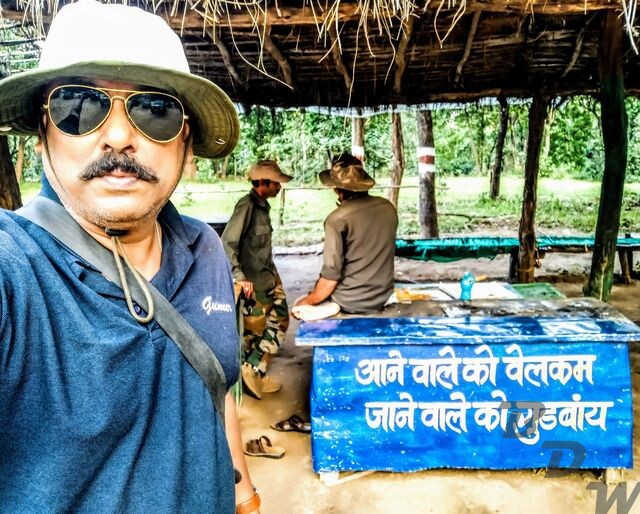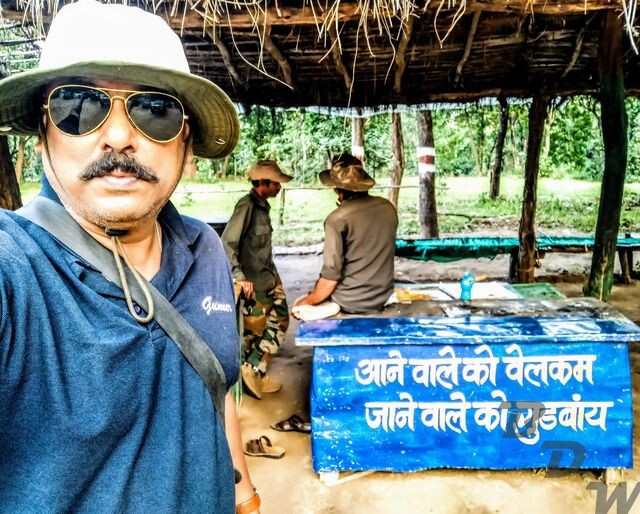 I may be painting a sad picture… Well, MP does need Redemption. Thank you all for staying with me through my journey across Hindustan ke Dil. I am blessed. Jai Hind.